Warning:
If you haven't seen the Barbie Movie, this article does contain spoilers.
The Barbie Movie. Everyone's heard of it and no one can stop talking about it. With the fun colors, the production team, and the A- list actors, who would stop talking about it? But, the question I kept asking myself after watching the movie kept being "Was it even that good though?"
The Barbie movie stars Margot Robbie and Ryan Gosling and it came out to the public on July 21, 2023. The overall plot is that the stereotypical Barbie that we all know and love, has an existential crisis when she realizes that not every girl in reality is happy. So, she goes to the real world to find the young lady whose sadness is causing her distress. But, both the Barbie Land and the real world gets muddled because of this.
 I was thrilled  to watch Barbie because of its concept and interesting trailer. The adoration of the movie online also fueled my excitement. But, as the movie played and the plot began, my expectations weren't met. The parts of the movie that were supposed to be emotional or relatable could've been way more impressionable. It's not the topic of feminism or women inequality that threw me off, it was the way the movie went about these topics that caused uncertainty. 
When Barbie steps out into the real world and realizes that this place is quite the opposite of Barbie Land, she begins to break down. Men are berating her with catcalls and making fun of her ideals. But thankfully, Barbie finally finds her saving grace, Sasha. She's the angsty teen that spent her time with Barbie's when she was little. Barbie believes that Sasha's depressing teenager thoughts are what's making her inflexible body malfunction. Unfortunately, when Barbie meets Sasha, it's not the heartwarming interaction that she was expecting. Sasha says that Barbie is a capitalist and a fascist that set the feminist movement back decades because of her unattainable body standards and stronghold on young girls. When I watched this part in the theater, I can't say that I didn't cringe. The prototypical representation of a Gen Z girl who hates her mom, hates everyone who isn't socially acceptable in her mind, and just uses political rhetoric to make fun of people for absolutely no reason is getting old. 
The idea that Barbie is destroying the morals of little girls and should be described as a "fascist" is ridiculous to me. It's not Barbie's fault that the world has made her into something problematic. 
Addison Bedi is a freshman at Greenwood High School. She's seen the Barbie movie twice and cried a total of ten times while watching! It's safe to say that Bedi is a Barbie fanatic. "I feel like in general, if a giant Barbie showed up here, I would literally be so excited." she smiles contentedly, "Like, I wouldn't have yelled at her, I probably would have hugged her!" But even this Barbie lover had criticisms of Sasha's attack. "I think Barbie herself is a doll. It was started by Ruth Handler [the creator of Barbie] for her daughter. Like, it wasn't made to be an unrealistic standard, I think we decided that she was a standard." She explains, "We decided that we liked how she looked, and that should be the standard. We put that on her." Why are we blaming the things that people created for the bad things that happen in society? Sometimes, society is what causes the problem, including people like Sasha.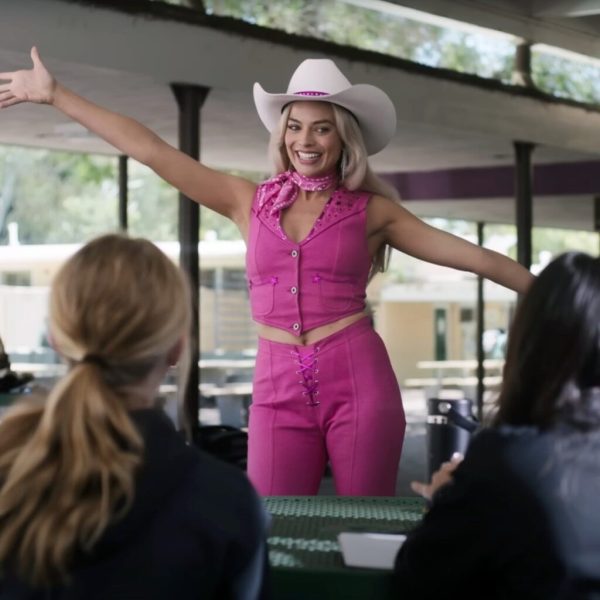 More on this topic, the mother-daughter dynamic between Sasha and Gloria was so sloppy. When Gloria is giving her respected monologue about what life is like for women, why was Sasha's response so forgettable? That should've been a scene where a daughter finally sees her mother's point of view and their relationship improves because of it. But, that didn't happen.
Mrs. McGinty, the English, Journalism, and Drama teacher at Greenwood High School, expresses a similar view to mine. "The speech that America Ferrara's character gives was a really good speech, I think it was great. I think it was aimed at the wrong person though." McGinty says incredulously as she thinks of her own two daughters, "[Gloria] is dragging her angsty pre-teen around, I feel like she should've aimed it toward her. And like, even if it was for her [Sasha] and she was saying it to Barbie for herself too, but she didn't even like…It didn't put a wide shot of her daughter going, 'Yeah mom, you're right!' It didn't show her daughter's reaction at all."  Gloria's speech was the pinnacle of the movie, but they gave up the opportunity to amplify those emotions even higher.
Another one of Gloria's monologues that didn't hit the mark for me, was the idea of "Ordinary Barbie." When the ghost of Ruth Handler is in Barbie Land, Gloria asks her to make a new Barbie doll – an "ordinary" Barbie. She specifies that Barbie doesn't need to project such extraordinary characteristics, like being a supermodel, or an astronaut, or the president- she just has to make it through the day feeling confident. This concept makes sense but the idea would make all of what Barbie represents for young girls revert backwards. The whole point of Barbie is to show children that women can be anything that they want to be, and anything that a man is capable of. Instilling these "prestigious" positions of employment on young people isn't a bad thing. Of course your childhood dream job isn't the same as what it used to be. You grew up and changed your ideals, and that is a great thing, not something that anyone should be ashamed of. The natural process of maturing is what should teach you the lesson that you change as you get older, not a Barbie. Let young girls dream about their adulthood instead of pushing an "ordinary" Barbie that would not only look boring in their eyes but also make them feel misrepresented because of the big question "what would an 'ordinary' Barbie even look like?"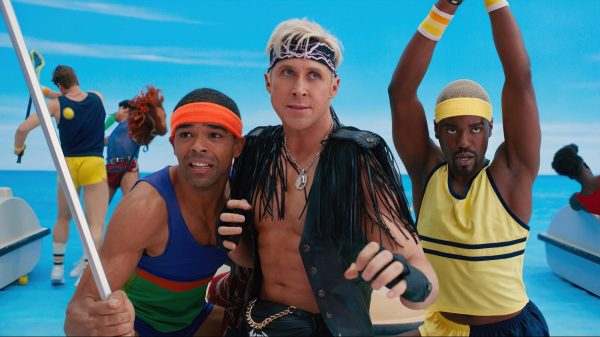 Moving on from the Barbie's, let's talk about the elephant in the Mojo Dojo Casa room. I don't think that the Ken's were utilized to their fullest potential to direct the plot and message of this movie. Ken was given no thought or consideration as a character even though he was the main antagonist of the movie. They used his character to create a cliche musical number and then gave him five minutes of screen time for a development arc that was extremely forgetful. If this movie is supposed to be for everyone, why make the concept of the Ken's and the men in the real world so unrealistic. All of the men in this movie managed to be so overly aggressive and destructive while still being so bland and stereotypical. They're just dumb characters that ruin everything and have internalized insecurities, but those emotions are never fully discussed. Including the Mattel employees, why were they there?! They did absolutely nothing and they weren't funny at all. Why couldn't they create a dynamic that wasn't so lackluster for the Ken's but still focused on womanhood? 
Olivia Sewell, a freshman at Greenwood, explained that she was also confused by Ken's character. "I didn't like Ken throughout the whole movie. He wasn't like how I expected Ken to be." She then elaborates, "In like, the show of the original Barbie, he's a good boyfriend, he does everything for Barbie, and he wouldn't hurt her in any way. And he's kind of like that in the beginning, but not so much towards the end. He's like, rude to her and it's not him." And that's true. It's unlike Ken to be so insufferable. And, in the original Barbie movies, there's no jealousy or animosity between Ken and the others, so why is it there now? When Barbie feels self conscious and starts to compare herself to all of the other exceptional Barbies, it's unusual and disempowering but when the Ken's compare themselves to each other throughout the entire movie, it's described as annoying and egocentric. This is just one of the many contradictions and sloppy writing arcs in this movie. 
One part of the movie that I thought was inattentive is when we find out the real reason why Gloria is the connection to Barbie's unusual behavior. We see that Gloria is drawing upset Barbie's that have depressing thoughts of death and self consciousness all because she misses the relationship between her and her daughter. Okay, that's cool…but why make such a dramatic sense of feeling when Gloria and Sasha's relationship is never even verbally expressed to improve? Sasha just tags along to Barbie's and Gloria's adventure and sometimes expresses attraction toward her mother and then that's it. There's no verbal conversation of resolution or self improvement. Madelynn Kemp is a freshman at GHS. She also has criticism for the movie's portrayal of a young teenager. "I guess she was kind of a good character but like, she was kind of as a Gen Z… stereotypical in the way she was displayed." she voices, "We need a better representation cause I feel it's always just kids on their phones." We don't even see why Sasha dislikes her mother so much. Does she just do it because she's a teenager and that's what teenagers do? Because if so, then that's an awful way to create a character.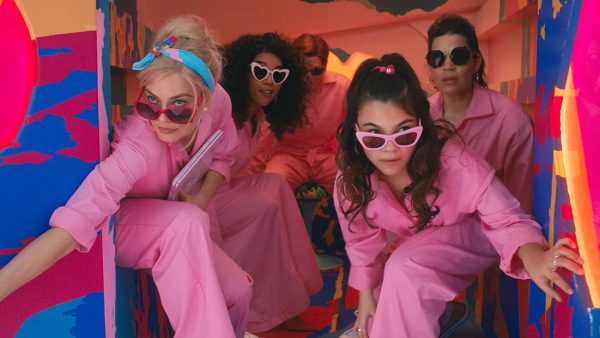 Another contradiction is when Gloria snaps the other Barbie's out of their patriarchal daze. She does this by telling them what life is like for a woman in the real world and somehow, it takes them out of their abnormal element. But this doesn't make any sense because besides Stereotypical Barbie and Ken, no one knows that the real world isn't the happy, matriarchal society that Barbie Land inhabits. So, why would telling the Barbie's this monologue do anything? 
But don't even get me started on the end of the movie when the Barbie's are back in power. To prevent the Ken's changes to the Barbie Land Constitution, they pretend to care about their interests and then they destroy their ego by flirting with the other Ken's right in front of them. How is this considered 'okay' in any society? The entire point of the feminist movement is to create equality. Without fairness and inclusion of both the genders being displayed, then the movie didn't do feminists justice.
Now that all the Barbie fans hate me, please allow me to explain the excellent gems I found in this film. All of the amazing outfits and production designs were breathtaking. Barbie Land and the houses that encompass it were perfectly made. It was really nice to see so much diversity of the Barbie's and their stories. Despite my criticism towards the delivery of Gloria's monologue about womanhood, her thoughts were still beautifully described. She really hit the mark for how difficult it can be for women in all environments. My rating stands around a 6 ½ out of 10 for the whole movie because I genuinely think that it has so much potential to be even greater. There are very enlightening descriptions that made me and many other watchers feel seen. With just some tweaks and more depth of the characters, this could've been the best movie of the year for me. 
If you read this whole article without watching the movie, I encourage you to watch it and make up your own opinion. I do have something to tell you before you watch it though: remember that you are Kennough and always stay beachy!