In late April to early June of 2022, photos were released of actors Margot Robbie and Ryan Gosling on the set of the Barbie movie. They were seen dressed up in their bright colored outfits with their neon green roller skates, skating around Venice Beach, California. This was the very first taste the public eye was getting from the Barbie movie. Little did everyone know, it would become one of the most popular movies to see in 2023 making nearly over 1 billion dollars. The newly released and highly anticipated movie, Barbie, is able to paint a perfect picture of what it means to be human.
Barbie has been a beloved doll since the 60's and has always taught kids that they can be anything they put their mind to. But would Barbie still agree with that statement after seeing how hard the real world can be? One morning, Barbie woke up not feeling her best self. Soon she found out that this existential crisis was occurring since the child that was playing with her was not feeling like herself either. Both Barbie and Ken went to the real world in order to change Barbie back and along the way, they learn all the struggles and joys of being a human. Barbie is considered to be both a comedy and adventure movie but, the main question is: what made the movie so appealing to viewers to cause so many people to see it? More specifically, how was it so appealing to teenagers? Over 40% of the viewers for the Barbie movie were under the age of 20 so they had to enjoy it, right?
As a teenager who you could consider to be highly opinionated I am the perfect person to give their interpretation of Barbie. When I heard that there was going to be a Barbie movie I was thrilled. Ever since I was a kid, my twin sister Charlotte and I were obsessed with playing with dolls, so I was so excited to see a more realistic perspective on it. It wasn't just the movie that I loved but how much hype it was getting. I loved seeing all the merch, videos, food, any way you could think to advertise something, the Barbie movie was doing. It hit me that the movie was going to be big when I was in Time Square in New York City. The very first thing I noticed when we arrived was the huge screen that had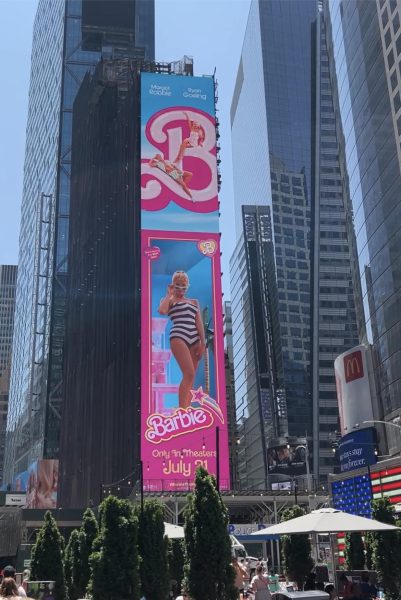 Robbie in a big Barbie box in her iconic black and white striped swimsuit. I was so shocked the only thing that came out of my mouth was "Barbieeee! Look at her life sized!" I thought that was going to be it, but no. When we started to walk past that big billboard, there were even more pictures that were all of the other Barbies which was so cool to see too! All the advertising gets a 1000/10 for me because it was so fun to see all the new things that were being made. I loved how much thought was being put into all of the items made and it was super smart because it kept reminding me that it was coming out soon, making me want to see it even more. Freshman Aiden Goettsch, states what I exactly felt, "It was a movie that was waited for and intoxicated for a while." After waiting for what it felt like forever, I was finally able to see it! My sister Charlotte Davis, my friend Addison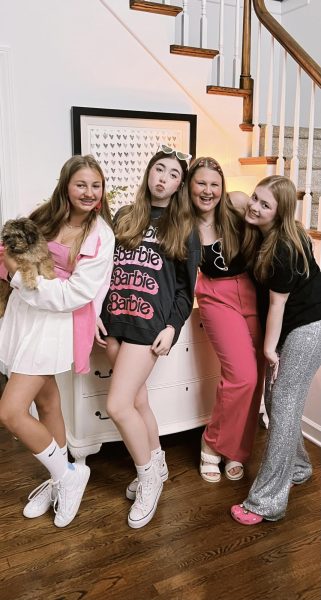 Bedi, her sister Emerson Bedi, and I all went to see it together. As a group, we loved the movie as a whole. Again, the advertising might have been one of my favorite parts of the movie. Even if it wasn't directly a part of the movie, it was still amazing in my opinion.
Another big part of a movie that can make it or break it is the soundtrack. Think of one of your favorite movies, you love the soundtrack don't you? Now think of one of your least favorite movies, is the soundtrack even that good? Music is one of the main things that can instantly change a human's emotion, so movies typically have music that matches with the scene. Sometimes, it doesn't match perfectly but that is not the case with the Barbie movie. In total there are 17 songs on that soundtrack that were all made for the movie. Every single song has its own unique style whether that be tempo, lyrics, or melody that match exactly with the scenes. The songs on the soundtrack that have become the most popular/viral are "Pink" by Lizzo, "Dance The Night" by Dua Lipa, "Barbie World (with Aqua)" by Nicki Minaj, Ice Spice, and Aqua, "Speed Drive" by Charli XCX, "I'm Just Ken" by Ryan Gosling, and "What Was I Made For?" by Billie Eilish. My top 3 favorite songs were "I'm Just Ken," "What Was I Made For?," and "Speed Drive" because they gave me the best emotional reaction and had the best impact on the scenes. "I'm Just Ken" was so iconic and hilarious all at the same time. The tone in Gosling's voice when singing tied it all together because it was able to convey the message that he was hurting inside. I'm not the only one to think this since freshman William Terry says, "The song I'm Just Ken I feel like hit men on a different level." Not to mention the amazing transition from more soft singing to him singing more passionate also was a great way to show his emotions while still managing to be comedic. The songwriting was genius since it was so catchy, I've been singing the chorus in my head since the day I saw it. My next favorite song was "Speed Drive." In the scene it was playing, Barbie was escaping from the men working at Mattel so the upbeat and quick tempo had me very engaged in the scene. There's just something about watching an actor doing something impressive with a great song in the background that makes me so excited to see what happens next. Lastly, my favorite song from the soundtrack is "What Was I Made For?" I am not one to cry during movies but when this song started to play, I was literally sobbing. Billie Eilish was the PERFECT person to pick for this song because her voice is so angelic and pretty so putting behind an already emotional scene just made it so much more powerful. Freshman Addison Bedi, my friend I saw the movie with said, "The montage at the end of the movie to the Billie Eilish song. That made me ball my eyes out both times I saw the movie, it was like uncontrollable sobbing. It was just so beautiful and it really encompassed what it is to be a human and what it feels like and I didn't expect it to be that moving." I agree since I don't think I have ever been so moved by a scene before. It isn't just me that loves the soundtrack but my peers do as well. "My favorite part was with the different songs from the album because I already listened to the songs and I loved seeing them being incorporated in the movie," says Terry. Another freshman Makayla Autry agrees with Terry, "I love all the musical parts, definitely." As a music obsessed person, I can be pretty picky when it comes to what I listen to, so the only negative I would say about the soundtrack is I think they could've had some better artists. I would've loved to see more famous pop singers rather than just decent singers. The two I was disappointed with were The Kid Laroi and Sam Smith since they aren't really popular anymore. I also wish there were more musical numbers like "I'm Just Ken" since that was so good. It would be fun to have maybe Barbie or even the weird Barbie to be able to sing and have their own song. A soundtrack to a movie has many things that could go wrong but overall, the good qualities definitely outweigh the bad qualities so, the soundtrack gets a 7/10 from me!
Next, we can not forget the most important part of the movie which is the plot. The plot is the whole foundation of a movie. Something that falls under what makes a good plot are the characters and their development. Right off the bat, I really liked the plot but there were still some things I think could be changed. Starting out on a positive note, I love how much it shows a woman's perspective on the world. A big moment in the movie is when Barbie and Ken both go to the real world. It is a great way to show how women can get treated. They show how women aren't treated equally in the office, how they can be sexualized, or even get sexually assaulted. Terry says, "The part that really shocked me is when the guy slaps Barbie's butt when they are roller skating." The plot was also great since it was very relatable. I have been through some times where guys have not been the nicests to me so seeing Barbie struggle with made me feel seen. Barbie started to struggle with some personal issues whether that was mental issues or physical issues. The movie was amazing at showing how she got through it. "Yea, being a high school girl I can definitely relate to Barbie sometimes." says Autry. "I related to Barbie especially towards the end when she just started to question like oh this is what being a woman is and I have just had doubts in my mind about being a woman and the world that we live in and I think seeing her embrace the humanity and the good and the bad really like felt like something I've gone through recently." said Bedi. While it may be easy for women to relate to the Barbie movie, what about guys? Aiden Geottsch says, "I wasn't able to relate to any of the characters but I can definitely see how a lot of people male and female would." While Terry said, "Not really because none of them resembled me." Both of these responses didn't shock me too much since I actually partially agree with them. The Kens is one part of the movie I do think is weak since they aren't realistic but they are more there for comedic relief. More specifically, I want to focus on the main Ken. This is the one Ken I think was portrayed well which is good considering he is one of the main characters. Since I love humor, I liked how silly he was while still trying to be manly, like a stereotypical Ken. The first thought that came to my head about Ken was man baby so it was quite funny to me when Bedi said, "I think that it was good portrayal of Ken and the idea that he's just kind of a giant man baby because he just wants to be in control so he tries to be in control and he fails and he gets upset and has a breakdown and expects Barbie to fix everything so it's a great way to show how it feels sometimes with men." Again, how do men think Ken was portrayed? Terry had a positive view on him, "I think he was made out to seem great in my opinion!" While on the other hand, Goettsch did not share the same views. "I think he could have been portrayed better, it makes him and all the other Kens look like everyone out there is like that when that's not completely true." Something I think could be changed about the plot is when they are running away from the men working at Mattel. I thought it was slightly irrelevant so I think they could've deleted the scene overall or made it less boring and slow. They could have added more antagonists as well. The main antagonist was Will Ferrell who played the Mattel CEO. He didn't do anything very antagonist-like. They could have made him more harsh or they could've had a different type of character. Everyone I knew saw the movie disagreed with me except for Goettsch. "There could be a main villain, it just felt like there were three small antagonists that don't do anything by the end." But at the same time, I liked how Barbie was kind of her own enemy. She had to almost fight her own emotions to solve her issues rather than an unrealistic fantasy character which is how it goes when you're a human. While I thought some things could be changed, some said they didn't think it would be necessary. Autry says, "Honestly I loved the plot so I wouldn't really change anything about it." Then Terry claims, "I think the plot was fine how it was." Even though the plot got slow at times, I still loved it whether that was because of the feminism, humor, or even how the characters developed. All in all, my rating for the plot would be a 9/10!
Lastly, something I am very opinionated about are actors and the casting. It is extremely important for the right people to be cast for a certain character. For example, in order to fit Barbie's aesthetic, the actress that plays Barbie would have to be girly and smiley, rather than somebody who looks miserable. It turns out that Barbie was portrayed very well but we'll talk about that later. The main characters in the Barbie movie were Barbie by Margot Robbie, Ken by Ryan Gosling, Mattel CEO by Will Ferrell, and Gloria by America Ferrera. All of these characters have their own unique roles that are played by very talented actors. I am going to first start out with the second most main character, Ken. I think that they couldn't have picked anyone better for this role. Gosling's acting style in my mind is very subtle when changing his emotions whether that be through tone of voice or his facial expressions. Gosling is also great at being naturally funny. This is perfect for Ken since his character isn't overly expressive but yet still manages to be hilarious. Not to mention that Gosling has the perfect Ken look because he is good looking enough but not unrealistically good looking. I think most people all have a similar opinion considering that both Terry, "He was portrayed PERFECTLY I love Ryan Gosling." and Bedi said similar statements, " "I think Ryan Gosling was perfect for this role. I think he did really great." Moving on to the next character, The CEO of Mattel played by Will Ferrell. Ferrell is a very famous actor due to how humorous he is. The role he played could be considered to not be as humorous but Ferrell still made him so funny. He is supposed to be a mean and evil CEO that tries and prevents any more Barbies from coming into the real world. And yes, he does a great job at being mean yet still is able to smoothly add in some jokes. Towards the end, he selfishly ends up letting Barbie into the real world mostly because it will make him money, and Ferrell was amazing at presenting himself as the greedy CEO. Next character is Gloria played by America Ferrera. Gloria is a regular human from California who is a mom. Gloria is a very empowered and strong character so they would need someone who appears as confident. Luckily, Ferrera has been put in similar roles before so she already knew how to execute the character. I loved how confident she is when she is giving her lines. Immediately when she started her speech it just made me think "Wow, she knows what she's talking about." Bedi also agreed with me. "I was able to relate to Gloria especially when she gave her monologue about what it is to be a woman and just what that feels like really touched me." Ferrera was also very good at giving mom energy when she was comforting Barbie. Speaking of Barbie, last but not least is Margot Robbie. Robbie is typically known for playing more serious roles. Her most famous role was Harley Quinn in a couple of D.C. movies so it is quite a transition. Robbie is such a joyful person and so is Barbie! Even when she wasn't filming a happy scene, she is amazing at showing emotion. Robbie has such a satisfying way of slowly getting more sad that automatically sets the mood for what the audience can expect next. I know looks aren't everything but Robbie exactly resembles a Barbie doll. Her blonde hair, big blue eyes, and white smile definitely ties the whole Barbie aesthetic together. In the end, I cannot imagine the cast being altered in any way and I can't say anything negative about the casting and the actors' acting performances. So, this is the only category that I will be giving a 10/10. Everybody just did so great and made the movie so much better!
I know that was a lot to unpack but, I think it was worth it. After diving into many different categories and judging each one, I would say that an overall rating from teenagers is a 7/10 but, what did I think of it? Now, the moment we have all been waiting for, I give Barbie a 9/10! I have come to the conclusion that this has been one of the best movies I have seen in a while. I always love new and fresh movies that I can relate to, so Barbie definitely met my criteria. I cannot believe how well the soundtrack was put together, how the plot was made up, and how all the characters were incorporated. But the next question is, will there be a sequel? Don't worry, I'll let you know what I think of that too.