Do you remember the movie M3GAN? The horror movie that starred a creepy, realistic doll/robot that turned neurotically controlling. It was weird, right? Her face, her human-like movements, but the scariest of all- her ability to control and maneuver her way into the minds of real humans. But, M3GAN was just a movie, so there's nothing to worry about, right? Wrong. Because at the rate that Artificial Intelligence is advancing into the daily lives of the population, humanoids like M3GAN are creeping their way to you and your career.
Artificial IIntelligence. It's the intelligence that machines and softwares use to mimic human knowledge and human capability. AI has the proficiencies to research and analyze data across multiple subjects and generate a product faster than people. It makes everything easy for everybody. It's the 'work smarter, not harder' gateway of today's society. You can download all of the answers to your questions with just one click of a button. But, isn't there a point where that can get out of hand? Mr. Spears, the Business Marketing and Accounting teacher at Greenwood High School, seems to think so. "If you rely on robots, at what point do we not matter?" he asks, "And are you hurting Americans and hurting the world by taking jobs away and taking money off of people's plates and people's houses and homes? I just worry about that." Mr. Spears confidently admits that he leans on Chat GPT, an AI powered language model, to create templates and documents that can be used for his students. He indicates that AI can greatly help businesses by performing menial tasks. But Spears specifies that removing jobs from the hands of fully capable and deserving people isn't okay. Data Entry Clerks, cashiers, and even journalist's jobs are being taken over by Artificial Intelligence. According to Time Magazine, "Gabe Dalporto, the CEO of Udacity, which offers online courses in programming, data science, AI and more. 'A billion people will lose their jobs over the next 10 years due to AI," Just imagine how it would feel to see a computer in the place of a hard working person.
CNBC explains that Google recently announced that doctors will be helped by an AI generated software being released. In this software, doctors will be able to list the symptoms of a patient into a computer, and the program will tell the doctor what procedure to follow through with the patient. AI is even taking over the healthcare industry and some think that this is demining the skills of real healthcare professionals. This leaves people of all ages to wonder, "At what point will AI stop?" Especially people like Harper Wells, a freshman at GHS. She fears AI's ability to take away her place and the things she's excited about, like driving. With self-driving cars gaining popularity, she wonders what will happen to the youth's eagerness to drive. It really makes you think. AI is even coming for young people's futures.
The rapidity of AI's growth around all environments is the scariest aspect to many individuals. The accessibility is also alarming. Snapchat consumers are one example of this. Snapchat's "My AI" is a chatbot available to all users. It's worthy to note that Snapcaht's age demographic is 13-24 years old by 39% . With the chatbot, you can ask it questions, and have conversations with it and it'll imitate a human's dialect. Makayla Autry, a freshman at GHS, has used "My AI" before and she thinks that the realness of the bots' responses were interesting. "It's really smart, it gives you detailed answers. It always replies with something. It doesn't leave you on delivered." she laughs while she thinks of the hilariousness of an artificial robot ignoring a person, "It's very PG-13, you know. It tells you not to cuss and it tells you what's wrong and right." Many reports of "My AI " being "creepy" have come out. Allegedly, the bot has posted pictures of ceilings to its story and left their user's concerned. If you have Snapchat premium, when you send a snap photo, it'll occasionally send you a photo back. My AI also gives students a larger opportunity to cheat on their school assignments. You could ask it to write an essay, answer academic problems, etc.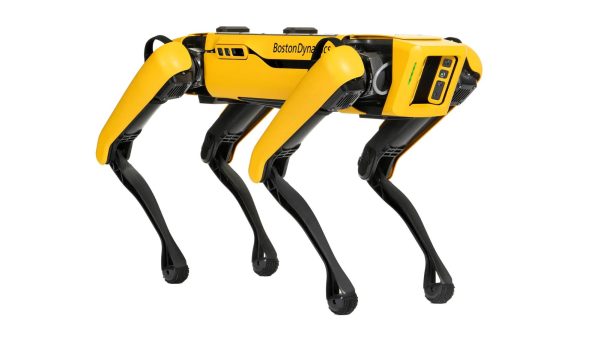 A real life personal assistant that answers all of your questions and keeps you in check seems like such a stretch, but that's exactly what is coming out to the public as AI advances. But only a more physical version.
Whether it's "Hey, Siri" or a robot vacuum cleaner, robotic advancements have made their way into everyone's daily life. But, companies like Boston Dynamics are creating real robotic figures that are set to physically replace the jobs of factory workers. They call it "Spot". A mechanical dog-like robot that's arms are capable of picking up and placing down objects.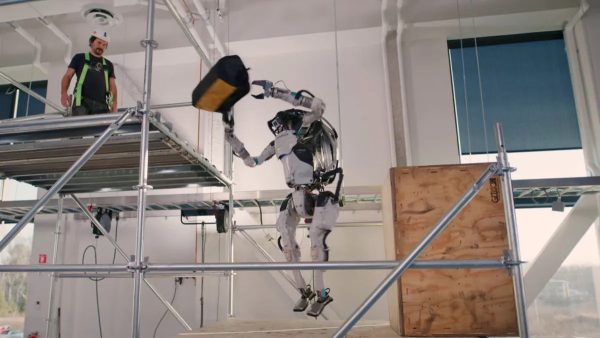 But if you think that's crazy, check out another robot called "Atlas". It's a walking AND jumping robot that mimics human movement.  Big and real assisting robots like these are usually something that you only see in the movies but Spears, Wells, and Autry all think that they'll become a part of real human lives, despite their fear of it. Spears exclaims, "In my generation, we had things like IRobot and I Am Legend and those kinds of movies terrify me." he then describes, "I don't want things that can think on their own based on who programs them." Boston Dynamics say that their mission with "Atlas" is to demonstrate their efforts to evolve the next generation of robot's capabilities, like the mobility and intelligence necessary to become ordinary in everyone's lives. How would you feel about a Robot in your house assisting you?
It's clear to see why the apprehension towards AI and the progression of real robots is so vigorous. Everyone has an opinion on it. Even though AI can be remarkably helpful in some places, many think that the cons outweigh the pros. Either way, it'll continue to increase its involvement in more environments. So, what's your opinion on AI?