Thoughts on Fashion at the Met Gala
Hang on for a minute...we're trying to find some more stories you might like.
The Met Gala, formally called the Costume Institute Gala, is an annual fundraising event for the Metropolitan Museum of Art's Costume Institute in New York City, New York. Tickets cost about $30,000 per person, and a table is reserved for $275,000. The Met Gala is a chance for celebrities to wear something highly fashionable and that wouldn't normally be seen at a red carpet. Each year there is a certain theme that can affect the outfits of the night. The 2018 theme was Heavenly Bodies: Fashion and the Catholic Imagination. Here are 81 of the looks from the night:
PRETTY
Amal looks gorgeous in her dress.  I seriously don't think the woman can look bad.  She makes George look amazing and he's just wearing a plain suit.
Washington slays in another gold dress. The bottom is very pretty, and the color fits her personality well. We also love the hair.
Rita's dress is gorgeous.  It's not over exuberant, but it has just the right amount of elements that make it look amazing.
Lynda Carter, who is best known for her role as Wonder Woman, looked like a queen in this outfit.  The blue color is striking on her and brings out the color of her eyes. Her jewelry went perfectly with the dress, and everything about her is gorgeous.
I'm usually not a fan of a yellow as bright as this one, but let me say that Gabrielle Union pulls it off.  The dress and the matching heels give her a beautiful glow that makes her look powerful. You do not mess with a woman in yellow.
Thurman looks very classy in this shiny, white, off-the-shoulder dress. Her jewelry adds to the look nicely.
I was stunned when I saw Priyanka in this beautiful dress.  The dress itself isn't a masterpiece, but the cape and the headdress really bring the look together.  She looks like a goddess, a solid 10/10 for Priyanka.
Winnie looks stunning in her all-white dress.  The dress itself is very elegant, but the crown adds pizazz to the outfit.  She is truly the perfect Snow White.
Cooper is wearing a very plain suit, while Shayk looks like a goddess in this gold dress, very stunning
Rae looks classy, and the gold design adds some glimmer.
Nicki looks hot in this dress. She's on fire.
Zendaya's look was inspired by Joan of Arc, and she makes armor look hot.  Let's be honest, no matter what Zendaya wears she will always look like a queen.
WEIRD
Rihanna definitely took the theme of the night very literal.  I even read that she is wearing a borrowed Cardinal's hat. Now she still looks gorgeous, as usual, but the outfit itself is very odd.  It also looks very heavy to wear
, so props to her for rocking it.
Ariana is another celebrity who took the theme seriously. She is literally wearing the ceiling of the Sistine Chapel.  The dress itself is beautiful, but the print on it is very odd. Only Ariana can look good in a dress full of naked people.
I am a huge fan of Frances McDormand, but this look is just plain weird.  Whatever is on her head is not the same color as her clown cape, which really bothers me.  Underneath her clown cape is a lime green dress. The color combination is very strange, and overall I didn't like the look.
Kate Bosworth looks like Little Bo Peep went to the red carpet.
First thought: "They look like the three blind mice."
The short dress and the long cape in the back was an odd combination.  The outfit looks unfinished, and a little bit crazy.
Rose looks nice in this dress, paired with gold shoes. However, what's with the large belt?
Wood looks like she has been swallowed by a gold bird.
Nuns gone wild.
I have never seen a look that has so many elements, yet is so underwhelming.  The wings are way too big, yet do not provide any excitement. She looks like an angel who has come to tell you to do your homework and stay in school.
At first glance, I thought Sarah Jessica Parker had a birdcage on her head.  Turns out it is a nativity scene. Still weird.
Woodley's outfit is very interesting, and her stance makes it look very uncomfortable.
Delevigne's outfit is intriguing and reminds me of something out of a horror movie.
Cardi's dress is not the most flattering, and the extra material on her dress makes it look like a pain to drag along.
I was a little bit disappointed that we didn't see any flamethrower references from Elon Musk, he just looks like a normal guy.  However, Grimes, on the other hand, looks like she told her mom that it's not a phase before she left the house.
Jared Leto looks like Prince John from Disney's Robin Hood.
HALOS
Murdoch's dress is a very pretty color, but it looks like she just came from prom.
Collins' outfit also reminds us of a wild nun.
Both dresses are gorgeous, and both women look stunning.  Rosie Whiteley is the one wearing the halo, and boy does she look like an angel.
QUEEN, that's all we have to say.
Heard, a master of DIY, wore a halo made out of zip ties. Her dress also makes her look amazing.
Hathaway is rocking a halo, and also a red bedsheet.
Lively is a queen. This dress made her look so much more beautiful.
Anna and I are debating on whether this dress looks more like a rhinoceros or an elephant.
INTERESTING BUT NOT BAD
Wintour looks nice, but the sleeves and the tan chiffon on the bottom of the dress are not the cutest.
Bow down to King T'Challa, he looks absolutely amazing in the outfit.  It is a little weird, but the dude makes it work.
Jasmine's dress is stunning, and she looks like a princess from a movie. However, it also looks very bulky.
Lili and Cole are the cutest. Cole looks very fashionable, while Lili looks beautiful in this silver dress.
I really like Amanda's dress, however, it does remind me a tad bit of a banana.  Thomas looks normal.
This is a pretty dress, it just has a really funky shape.
Emma Stone made her own fashion statement with an outfit that reminds us of a pirate. Ghesquier also looked pretty normal, but his shirt looked too plain without a tie.
I'm digging the dress and the headdress, but the hat needs to go.  She still slays though.
Anna and I really liked this look, until we saw the weird gloves.  Then we also saw that the bottom of the dress looks like she stepped on toilet paper, and the look went downhill from there.
Emily looks very nice in yet another gold dress at the Met Gala. The wind, however, was not helping keep her dress down.
The put-togetherness of these outfits is amazing, and the twins can pull off anything.  However, it was lacking something special to really make it stand out.
Shahidi always looks stunning, even though this dress makes her look like a toy doll.
Normal
Nothing really to look at here, just some black cloth.
Kaluuya's suit was also nothing special. However, the pants look a little tight.
Hill's suit was very normal.
Garfield's suit was more eye-catching than most of the men, however, it was still nothing extraordinary.
Livia looks beautiful, and I absolutely love her dress.  However, standing next to Colin Firth, she looks like a plain Jane.
Fanning's dress was very pretty, however, was kind of out of style.
Zoe Kravitz has an amazing style and looks great in everything she wears.  But compared to other looks of the night, hers was a little lackluster.
Domingo's dress was very classy. The only thing that stuck out to us was the different cream colored off the shoulder part that didn't match the rest of the white dress.
Michael B. Jordan looks amazing, and I'm madly in love with him.  He needs to step up his suit game, though.
Miley's dress was also very pretty, however, it was also pretty scandalous.
Nick's suit was boring, and the way he is standing makes him look constipated.
Diddy's suit was a blinding white, and not really our taste.  Cassie looked okay as well, however, her shoes were interesting, and the rest of her outfit made her look like a pirate.
Noah's suit was like any other, except for the giant, bedazzled cross on his left shoulder.
Scarlett's dress is very pretty, however, the ombre on the bottom was not our favorite.  Jost's suit was pretty normal.
Kim's dress was very eye-catching and shows off her curves, but she also looks like a brass trophy.
Ugly
Knight's dress, although flattering on her figure, has a very ugly design on the front.
Olivia Munn looks like she got caught in a fishing net, so she decided to paint it gold and call it fashion.
Versace's dress clearly matches her boots, maybe a little too much. The blue poofy skirt looks like a bed comforter.
I don't really know who Princess Beatrice is, but she looks terrified to be in America.
Bella's outfit makes her look evil. Although she herself looks beautiful, the dress reminds us of Maleficent.
This outfit choice would be fine if it was worn separately, however, the pink and red clash really bad, making it ugly.
Vikander's outfit choice looked like she had pieced it together from more than one outfit. The white top does not match the style of the dress at all, and the gloves don't go well with it either.
We all expected a weird outfit from Smith.  However, we were met with a boring look that doesn't really match.
J-Lo looks great in anything she puts on her body.  This dress, however, is a mix of extremely heavy bedazzling and lots of feathers, which really doesn't flatter anyone.
Kate Upton looks like an evil Virgin Mary trapped in spandex.  Also, what's with the hood?
This dress is not the most flattering. The rectangular flap on the top makes the rest of the dress look like a rectangle too.
Salma, what happened?  This dress makes you look amazing, but it is hideous!
Clarke's Dress would be pretty if it weren't for the babyfaces.
Gigi's dress has a pretty bottom, but the colors and pattern on the top are not very appealing.
Ms. Wright's dress closely resembles one a grandma would wear…
This is yet another one of Madonna's crazy outfits, however, they are still not the prettiest. This black dress accompanied by some black roses makes her look like a witch.
There's nothing wrong with this look, it's just ugly.
Kylie's dress does not have a front, what's up with that?  Travis, on the other hand, is giving me major ninja vibes.
Overall, many crosses, halos, gold, and extravagant costumes made yet another very entertaining Met Gala.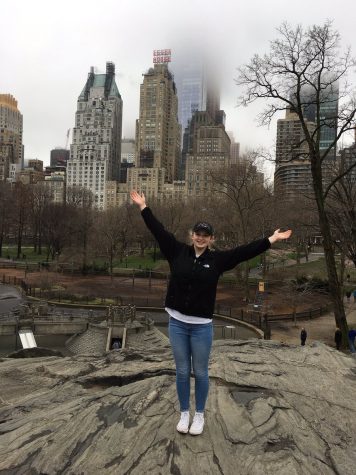 Carly Miller, Sports Reporter
Hello! I'm Carly Miller, I'm a junior at Greenwood High School.  I will generally be covering stories on sports, and I am excited to also try other categories...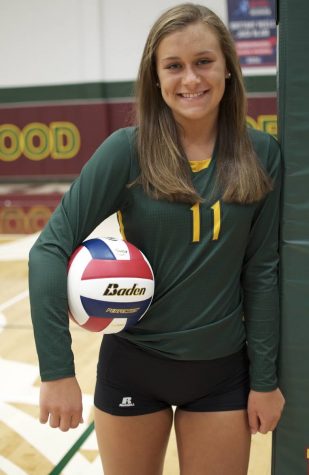 Anna Hewitt, Sports Reporter
Hello! My name is Anna Hewitt and I am a sophomore here at Greenwood. I will be focusing on the sports reporting, however I may occasionally cover some...