2018 Academy Awards were Successful
Hang on for a minute...we're trying to find some more stories you might like.
This Sunday, March 4, the 90 Oscars were hosted by comedian, Jimmy Kimmel. His humor had a lasting effect on the audience and kept everyone engaged in between transitions. These awards were said to be the most "boring, bland, and predictable." A long list of winners include:
The Shape of Water (Guillermo del Toro, J. Miles Dale)— Best Picture
Gary Oldman (Darkest Hour)— Best Actor
Frances McDormand (Three Billboards Outside Ebbing, Missouri)— Best Actress
Sam Rockwell (Three Billboards Outside Ebbing, Missouri)— Best Supporting Actor
Allison Janney (I, Tonya)— Best Supporting Actress
Call Me by Your Name (James Ivory)— Best Writing Adapted Screenplay
Guillermo del Toro (The Shape of Water)— Best Director
A Fantastic Woman (Sebastian Lelio)— Best Foreign Language Film
Remember Me (Ernesto de la Cruz – Robert Lopez, Kristen Anderson-Lopez)— Best Original Song
The Shape of Water (Alexandre Desplat)— Best Original Music Score
Icarus (Bryan Fogel, Dan Cogan)— Best Documentary Feature
Coco (Lee Unkrich, Darla K. Anderson)— Best Animated Feature Film
Get Out (Jordan Peele)— Best Original Screenplay
Roger Deakins (Blade Runner 2049)— Best Cinematography
Dear Basketball (K. Bryant, Glen Keane)— Best Animated Short Film
The Silent Child (Rachel Shenton, Chris Overton)— Best Live Action Short Film
Blade Runner 2049 (John Nelson, Gerd Nefzer, Paul Lambert and Richard R. Hoover)— Best Visual Effects
Mark Bridges (Phantom Thread)— Best Costume Design
Lee Smith (Dunkirk)— Best Film Editing
Mark Weingarten, Gary Rizzo, Gregg Landaker (Dunkirk)— Best Sound Mixing
Jeffrey A. Melvin, Shane Vieau, Paul D. Austerberry (The Shape of Water)— Best Production Design
Kazuhiro Tsuji, Lucy Sibbick, David Malinowski (Darkest Hour)— Best Makeup
Richard King, Alex Gibson (Dunkirk)— Best Sound Editing
Heaven is a traffic jam on the 405 (Frank Stiefel)— Best Documentary Short Subject
Highlights of the night included a pair of entertaining presenters, Tiffany Haddish and Maya Rudolph. They joked of painful high heels, which seemed to lighten the mood. Kimmel captivated the crowd and teased Matt Damon. However, some people were slightly annoyed that his gigs left less time for the winners to give their speeches.
Many ladies wowed the crowd with their style. 86 year old, Rita Moreno, wore a different version of an outfit that she accepted her Oscar in at the Academy Awards in 1962.
Tiffany Haddish, a comedian, wore a $40,000 white gown, the same dress she wore on "Saturday Night Live", and on the "Girls Trip" premiere. She wore another dress on the red carpet to show respect to her father that had passed away.
In order to be extra careful this year, the Academy had the presenters double check their envelope before they went on stage, along with stage managers too.
Allison Janney won the Best Supporting Actress, and she began her acceptance speech with, "I did it all by myself." Her witty comment made the crowd burst in amusement. At the beginning of the night, Kimmel promised that whoever gave the shortest speech would be awarded a jet ski. Mark Bridges received the $18,000, green prize.
Roger Deakins, with "Blade Runner 2049", won his very first Oscar, after being nominated 13 times before, but falling to other nominees.
Jennifer Lawrence and Emma Stone sat next to each other, sharing funny moments all night. Kimmel made fun Stone, and Lawrence also got in on the action. Jennifer Lawrence teasing her was a very memorable part of the night for many.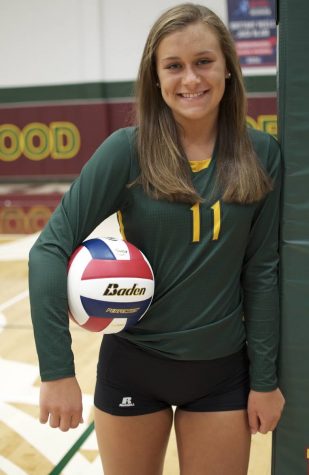 Anna Hewitt, Sports Reporter
Hello! My name is Anna Hewitt and I am a sophomore here at Greenwood. I will be focusing on the sports reporting, however I may occasionally cover some...