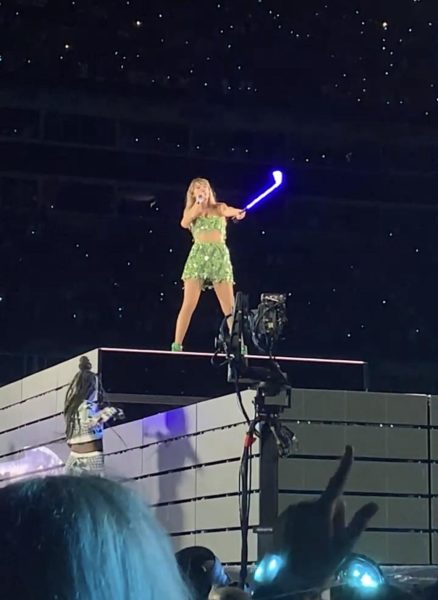 "The rumors are terrible and cruel but honey, most of them are true," Taylor Swift quotes from her hit song New Romantics, and in this case 1989 (Taylor's Version) is true. On August 9th, 2023 at her Eras Tour, the famous singer Taylor Swift announced her new re-recorded album 1989 in Los Angeles. After many hints and clues that Swift had dropped for the album, she announced 1989 (Taylor's Version) at her last U.S. show in Los Angeles after dressing in blue outfits for the 1989 era. From YouTuber Kevin Kai, Taylor quotes from the concert, "There's something that I've been planning for a really, really, really ridiculously, embarrassingly long time, and instead of telling you about it, I think I'll just sort of show you," she said as the screen behind her revealed the cover art and release date for 1989 (Taylor's Version). Her fans, known as Swifties, are thrilled, but many question why Taylor would record something that has already been released. It's pointless for people to be so excited about something that has already been out, it's still her voice, right?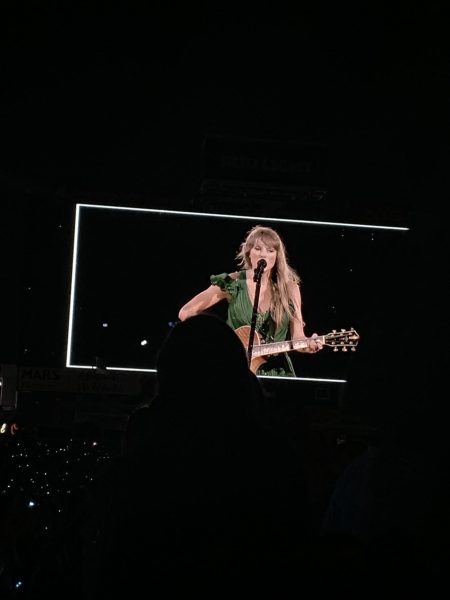 Taylor Swift is a global music phenomenon who's popular for not only her voice but also for her messages to her fans and the people. Currently, Taylor Swift is sweeping the world off its feet with her Eras Tour, which is a 3-hour-long show that covers all of her music through 'Eras,' where each album is an Era, breaking up the show into albums. In total, she has ten albums but also has 3 (soon to be four) other re-recorded albums known as Taylor's Version albums. People unfamiliar with her music or don't like Swift at all question her decision to put these Taylor's Version albums out. Why would you listen to an album that has been released? For example, Liam Brausch, a freshman at Greenwood High School, thinks that "Taylor Swift is sOo overrated and so stupid" he said with a voice crack, "Why the frick would she want to have something out if people already heard it SHE'S A FRAUD!" Liam added, throwing his arms in the air and pointing to the ground, dramatizing his words. James Davis, a teacher at Greenwood High School, and my dad, about what he thinks about the singer and her Taylor's Version albums as someone who has attended the Eras Tour. He quoted, "I mean I don't think it's a waste of time but I do think that it's a marketing gimmick to some extent, you know that she's benefiting greatly from selling her albums twice you know? So like I said it's good that she's gonna get a bigger cut of the money this time, but I'm not mad at her. You know she's uh doing what she needs to do to make her money." Then he answered amusingly about the release of 1989 (Taylor's Version), "I don't have any feeling about that, I graduated high school in 1989 so I feel old." Mr. Davis expressed laughing. "Yeah, I remember 'Style,' that was a good song in the concert. I remember that one, and you loved 'Blank Space.'" 
Overall, people will forever and always question the choice of releasing her music, but it's normally because they lack the knowledge of why Swift releases these albums in the first place. And why is 1989 (Taylor's Version) so different from the rest of the different TV (TV means Taylor's Version) albums? In 2019, a man named Scooter Braun purchased Big Machine, a record label company that Taylor Swift signed with in 2005 at the age of 15, and then owned Taylor's first 6 albums; Taylor Swift (or Debut), Fearless, Speak Now, Red, 1989, and Reputation. Later on, Scooter sold Swift's master rights for these albums to Shamrock Holdings, an investment firm in LA, for over 300 million dollars, and Swift didn't get any portion of that money. In an interview with CBS Sunday Morning, Taylor said, "I knew he would sell my music, I knew he would do that. I couldn't believe who he sold it to because we've had endless discussions about Scooter Braun, and he has 300 million reasons to conveniently forget those conversations." This is why Taylor's Version albums have been released all thanks to Braun stripping her of the music rights that she's worked so hard for. 
But why is 1989 TV so special compared to the other three Taylor's Version albums? Well, in 2014, when the original album 1989 was released, Taylor went through one of the worst periods of her life as an artist. Addison Bedi, a student here at Greenwood High School, an amazing friend of mine, and a Pro-Swiftie (she's been obsessed with the pop icon since she was seven) explained what exactly Swift was going through at this time. She quoted, "She'd always been famous, but this was when her fame really took off at that point, so she was bombarded and stalked and attacked for the first time. Then she had a lot of pressure from society and she had an eating disorder that she would talk about, but overall it was just a really hard time for her with people saying that she was a serial dater and dating too much so she wrote this album not only as a genre shift to show people she can do more but also yes, it's about love but a lot about her friends and her life as a single woman. So to hear her record 1989 in such a better and happier place is so powerful for her fans, and it's weird to listen to such a happy album when it was such a sad time in her life, especially when I'm supporting you-know-who. (Scooter Braun)" For Swift to finally own 1989 and release this iconic album while she isn't suffering in life and finding herself is just a full circle moment, and it's just so amazing to see.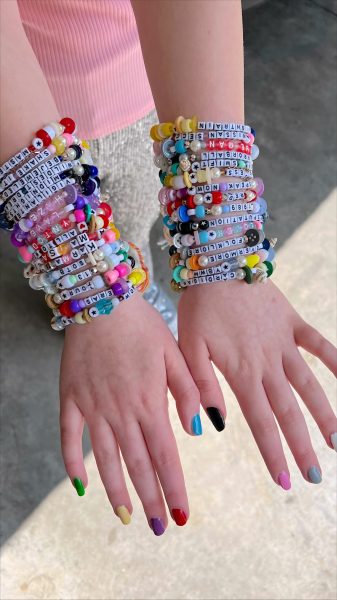 I was lucky enough to experience the Eras tour myself with my family. When I tell you that this 3-hour period in my life was changing, it was. Every single person in the crowd was just so excited, that stadium had an energy like no other. Friendship bracelets of Taylor's songs were traded among strangers covered in gems and glitters, no matter how different everyone was, no matter if they sat at the tippy top of the nosebleeds or in the very front row on the floor, everyone was there for one reason and that was because we all just like her music. My twin sister Maggie and I felt our legs go out from under us when she first came out, our vocal chords probably receiving long-term damage from all of the screaming. Unfortunately, I attended the Eras Tour the day after Addison Bedi attended, and also the day after Speak Now (Taylor's Version) was released. There are three Taylor's Version albums currently out: Red (Taylor's Version), Fearless (Taylor's Version), and most recently Speak Now (Taylor's Version), which was released on the Eras tour. Bedi expressed how it felt to experience the report of a Taylor's Version album live in concert, she replied with "I know how it feels to just like have that moment where something just like so unexpected and awesome happens and to feel like you're part of the community is so different from then just seeing it on an Instagram post, like when your in the moment it's just so different surrounded from all the people who love her music it's a great experience. So I'm very jealous of the people at LA during 1989," she explained amusingly. To witness firsthand the shock and happiness of the crowd when she walked out in the blue outfits after so many hints and speculations about the release of the album would just be so fun to experience. Ultimately, the Eras tour is truly magical with the production and 70,000 Swifties all screaming and crying tears of joy as Taylor dances and sings to our favorite songs that cheer us up when no one else is around. 
1989 (Taylor's Version) is anticipated to come out on October 27, 2023, and was announced on night six in Los Angeles, California on the final show of her U.S. leg of her famous Eras Tour. In the show, she wore special light blue outfits for the 1989 era and has released pre-order merch in her official T.S. shop. Even though many still question her choice of re-recording her albums or just completely despise her as a person, Swifties will always appreciate her music and who she is. Glad to see her in such a good place in life as she's finally recording 1989 happily and now we'll never give Scooter Braun money from 1989 again.