A little over a year after the release of their debut album, God's Country, Oklahoma City natives Chat Pile began their first nationwide tour in Nashville.
Ironically enough, the venue at which they performed, The End, and the area that surrounds it, didn't look too dissimilar from what you would see on one of the band's album covers. Kind of bleak, kind of industrial, kind of run-down, and absolutely smothered in graffiti.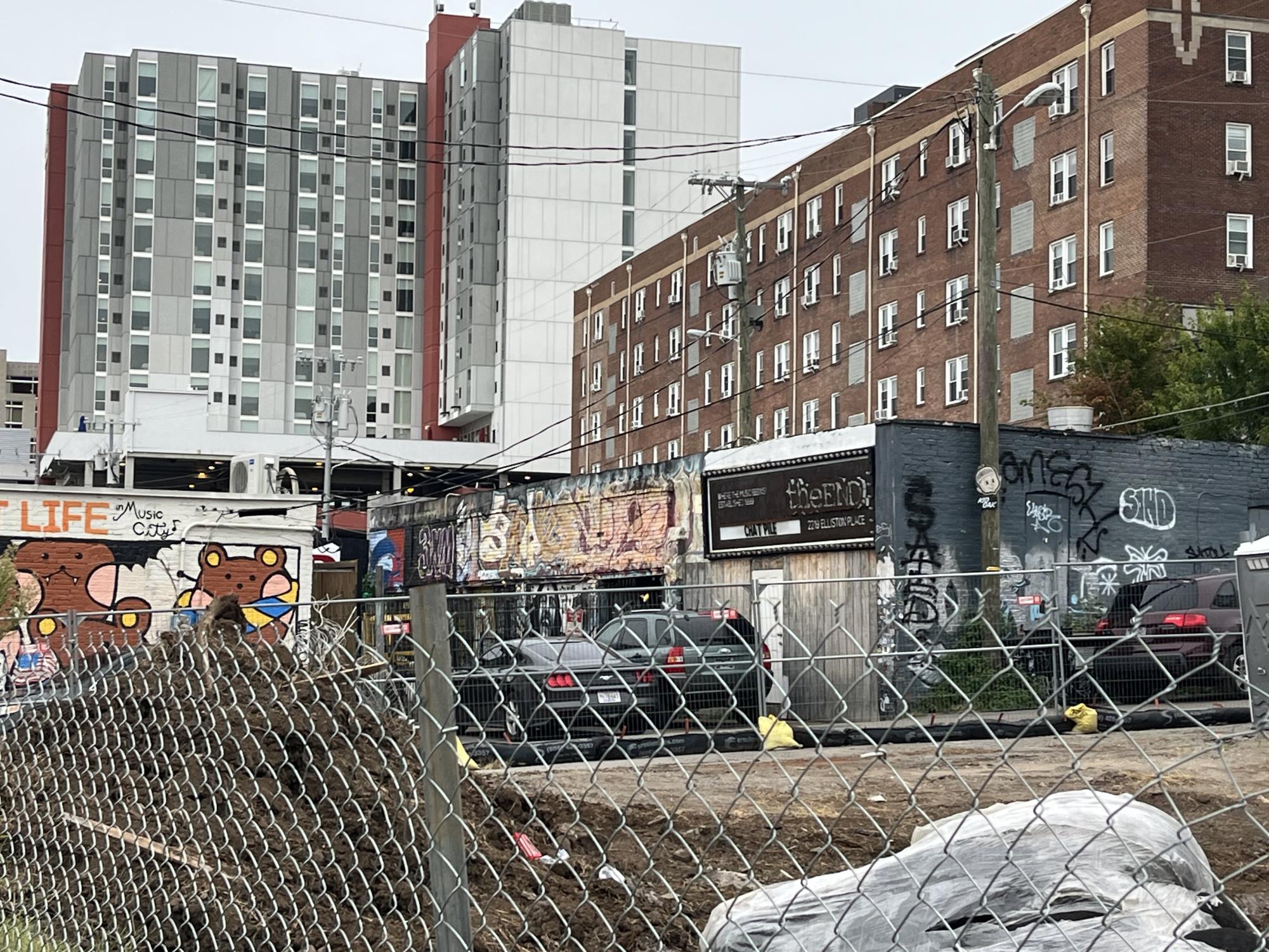 The inside of The End is a bit more inviting, however, with a bar tucked back in the corner, decorated by strings of warm lights, a couch, and posters of shows past.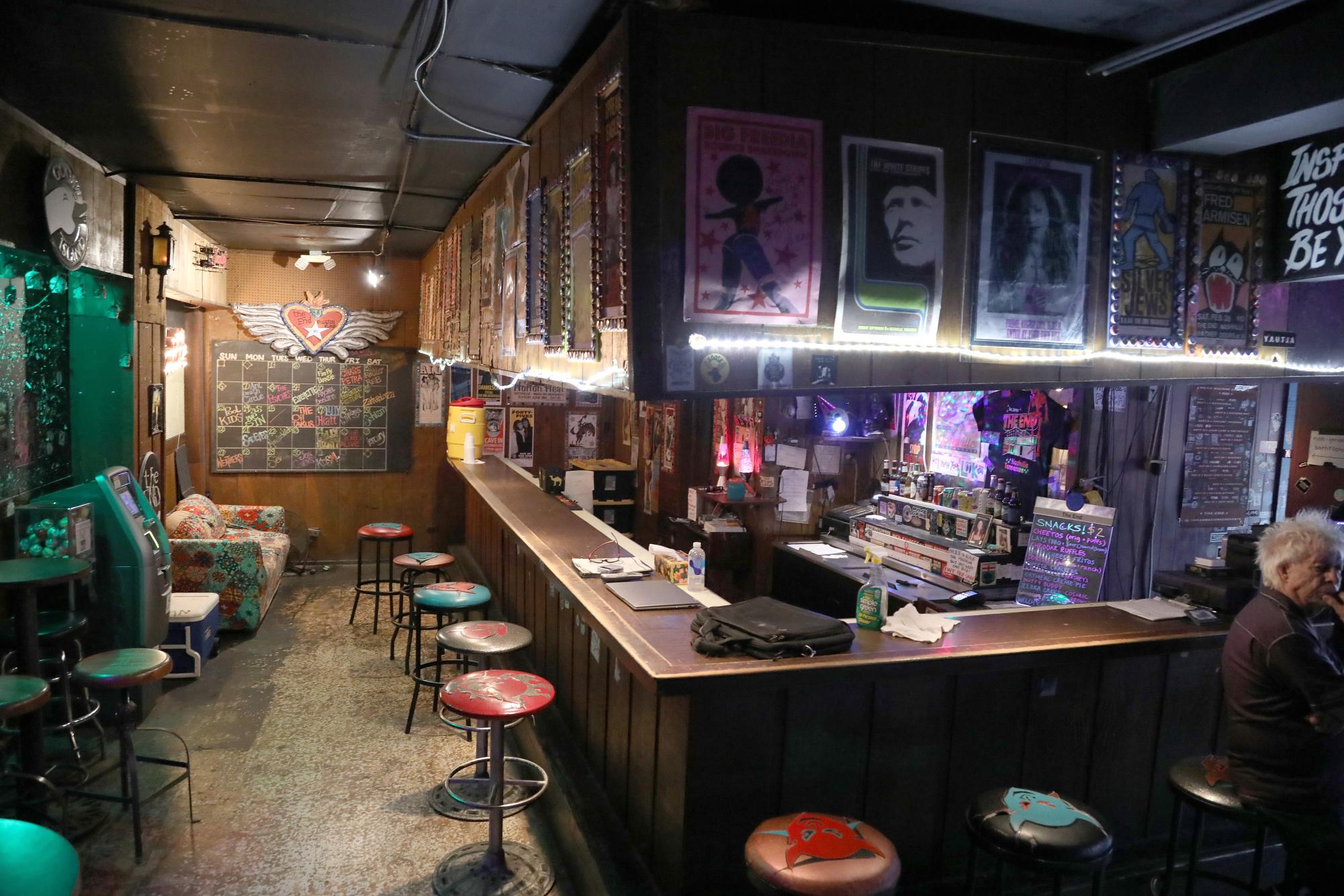 If you, yourself, were to enter The End, walking past the slowly-but-surely unfurling boxes of Chat Pile merchandise, you would walk in on the band themselves during their sound check, blasting through dirty segments of their songs "Brutal Truth" and "Anywhere." The band's sound can be easy to describe, but difficult to pinpoint, and utterly impossible to put into a box. Their songs can be extremely heavy and noisy, sometimes bordering disgusting. And yet, somehow, they don't skip on melody, rhythm, or any other magic ingredients they use to make their songs impossibly catchy.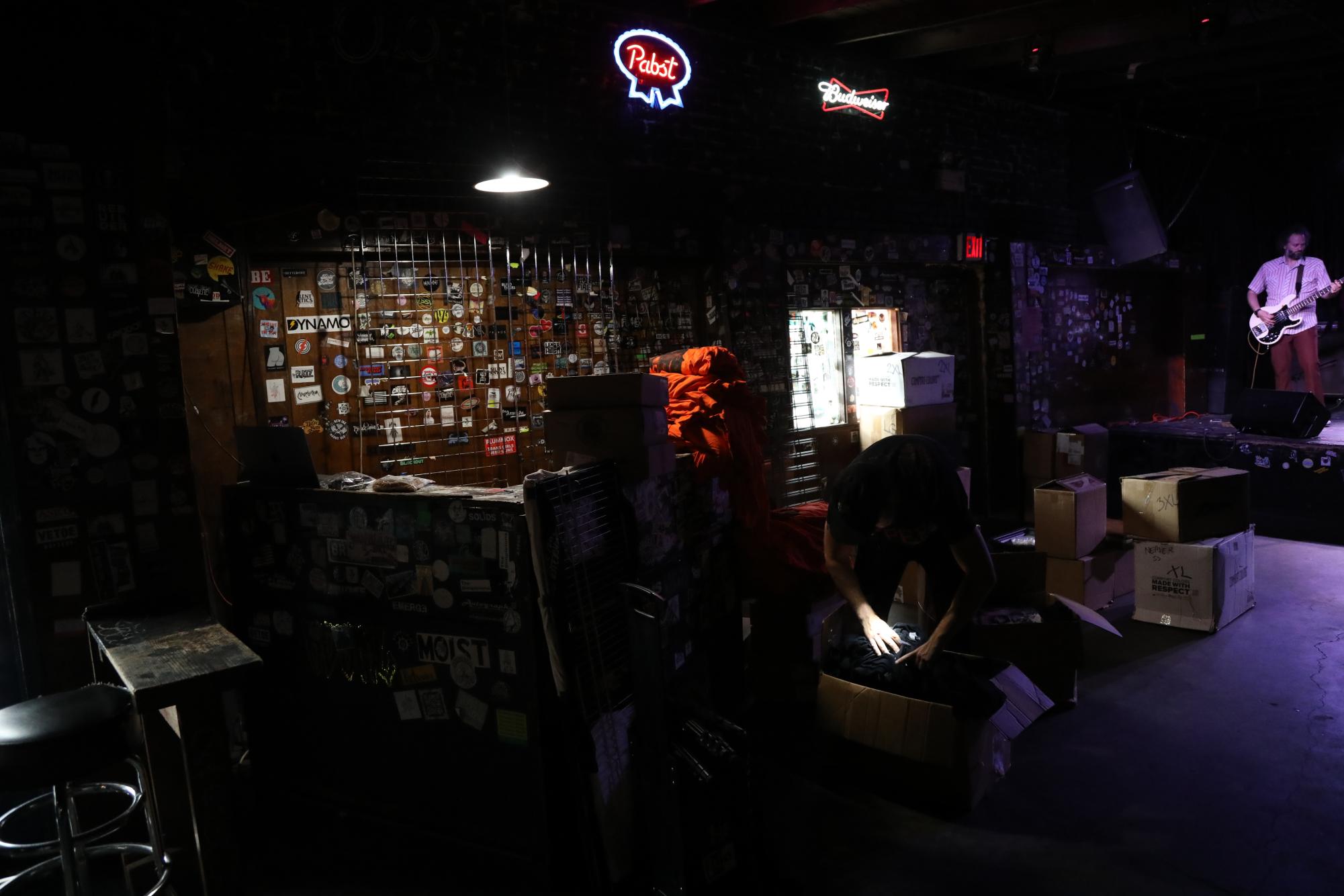 "A little more bass!" yells Stin, uttering the unofficial mantra of all bass players.
After finishing their cycle of songs and finding their perfect sound for the night, the band one by one walked up to me and introduced themselves. Starting with the aforementioned bass player, Stin, Raygun Busch (vocals), and Luther Manhole (guitar). Cap'n Ron (drums) was yet to be seen but would debut himself later during our conversation.
Moving outdoors to the patio of The End, Luther, Raygun, and Stin place themselves on… a bench? I think it's a bench. Almost a bench. It was a few cinder blocks and a couple pieces of plywood but, sure, that can be a bench. Raygun, in the middle, sits forward on his arms fidgeting with earplugs he would be using later during tonight's show. After we get ourselves situated, we begin our conversation, and they each introduce themselves one more time.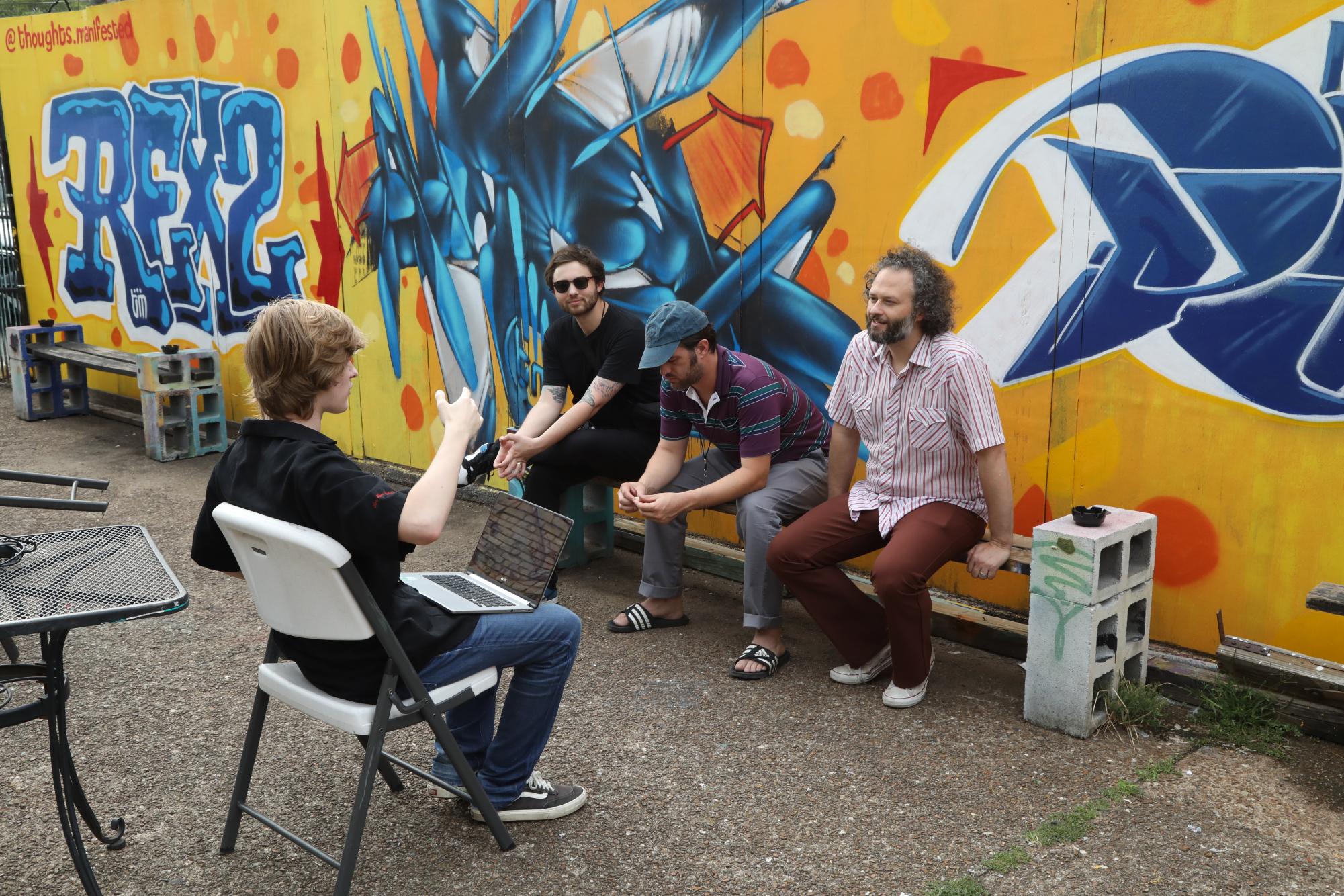 S: My name is Stin, I play bass, and I would say that we are catchy.
RB: I'm Raygun Busch. I'd say we sound kind of like Pantera.
LM: I'm Luther Manhole. I think we kind of sound like haunted Spirit Halloween music.
If I'm correct, this is your first major tour, and you just came back from a string of shows in the UK. How's tour life so far?
S: Well, it's really early on, but we're having a pretty good time. We got to Memphis yesterday just to kind of cut into the drive time, and yeah, we've been taking it easy. This'll be the first show of the whole thing.
LM: It's been good. The UK is where we just were and that was really fun, and tiring as well. The van is different than being on a plane, but I think I actually just prefer the van to the plane, personally, but it's been fun. We'll see how it goes tonight, it's just night one, so we have the most energy we're gonna have right now —
S: That's not true, we might game. It might be the worst we play, who knows!
The last band I talked to who were also going on their first tour, Flagman, said that pretty much by the end of that tour they all wanted to kill each other. So, I'm hoping you guys have better luck.
LM: Hopefully we don't get there.
S: I don't predict that, but who knows?
As described via your feature in Bandcamp Daily, each of you, "…idled away your youth bouncing between various go-nowhere bands." But with Chat Pile, you guys have found tremendous success after just a few years, and even have an IPA based off of your music, which is practically achieving Bandcamp platinum. Is there anything you would say has contributed to Chat Pile's success compared to your other projects through the years?
LM: I don't know. It seems just kind of – I think we make really good stuff, but I still just don't truly know why.
S: I think it's luck.
LM: I think some of it is. We've all made other good music, we have friends in great bands that no one has heard, and… you know, it's not like, "Oh, we've made something so good that of course, we got chosen!"
S: It's truly – it's just a combination of being at the right place at the right time and that kind of thing. Like, we just… we won the music lotto.
I think it paid off.
S: Yeah, but – it's funny because we get told how successful we are all the time. But, like, we're not that successful. We're playing a 250-capacity venue, you know? [laughs]
To me, this is successful. I love this kind of stuff.
S: To us, too, and I don't mean that to seem like we're not grateful. We don't take for granted that people like our band, for sure. But we also don't think it's —
LM: We're not living in big, giant mansions in OKC. This is still where it's turning more into a full-time thing, and we're gonna see what that's like. I just don't really know other than a couple of people like [music reviewer Anthony] Fantano heard us and a couple of other people that post about music just happened to show people. I don't know, I feel like it's an unsatisfying answer because I don't have the, "Here's the one tip you need to do!"
S: I mean, I'll say this, we've been lucky in that our music has gotten around, and then maybe what makes it click with people is that, you know, it's very troubled times that we live in, and the music we make is about that kind of thing, and I think it probably resonates with people who hear it. I think another part of it, too, is that even though we kind of play extreme music and stuff, we still make a point to like, be catchy and write songs, so I think it's easy for people to latch onto.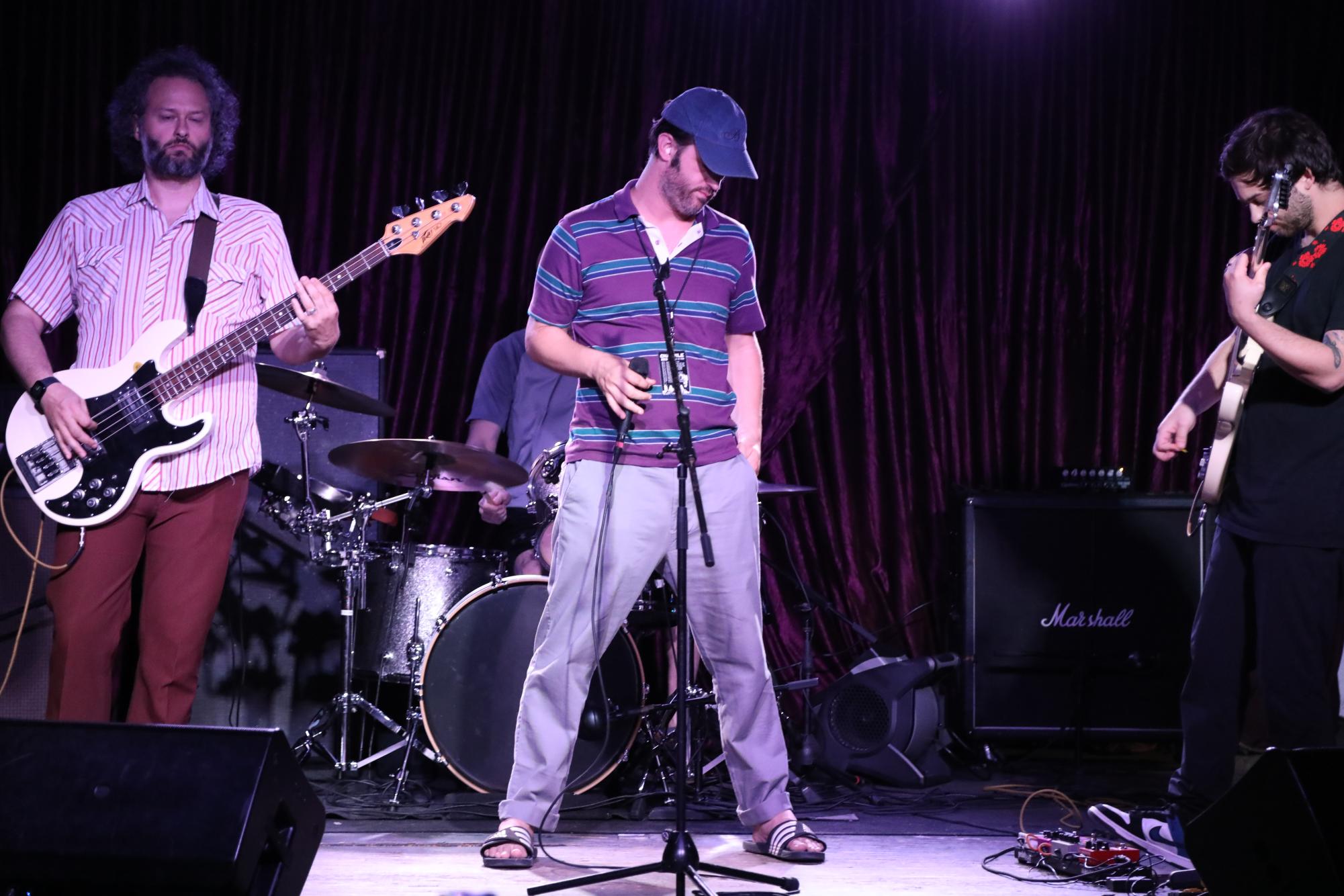 I'm embarrassed to admit it, but Anthony Fantano is actually how I found this band.
S: There's nothing to be embarrassed about! I mean, that's just how it goes.
LM: I mean, it literally was one of those things where, like, you can see your monthly listeners and stuff, but it definitely was, like – after he put us in that [Top 15 EPs of 2019] video about the EPs and stuff, it definitely kinda… tripled our fanbase overnight. That, and a couple other things – you know, Pitchfork and stuff kinda picking it up, it's just kinda snowballed in a way. So, here we are now doing a full US tour that we're splitting up into two different months!
I saw a couple of people that were really mad that – they thought you were deliberately trying to avoid California.
[Luther and Stin laugh]
S: They still think that!
LM: Cause we're only playing a fest show in LA. We are playing an actual show in San Francisco, though.
S: It just goes to show you the attitude of the coast. They're very entitled, is what we're learning.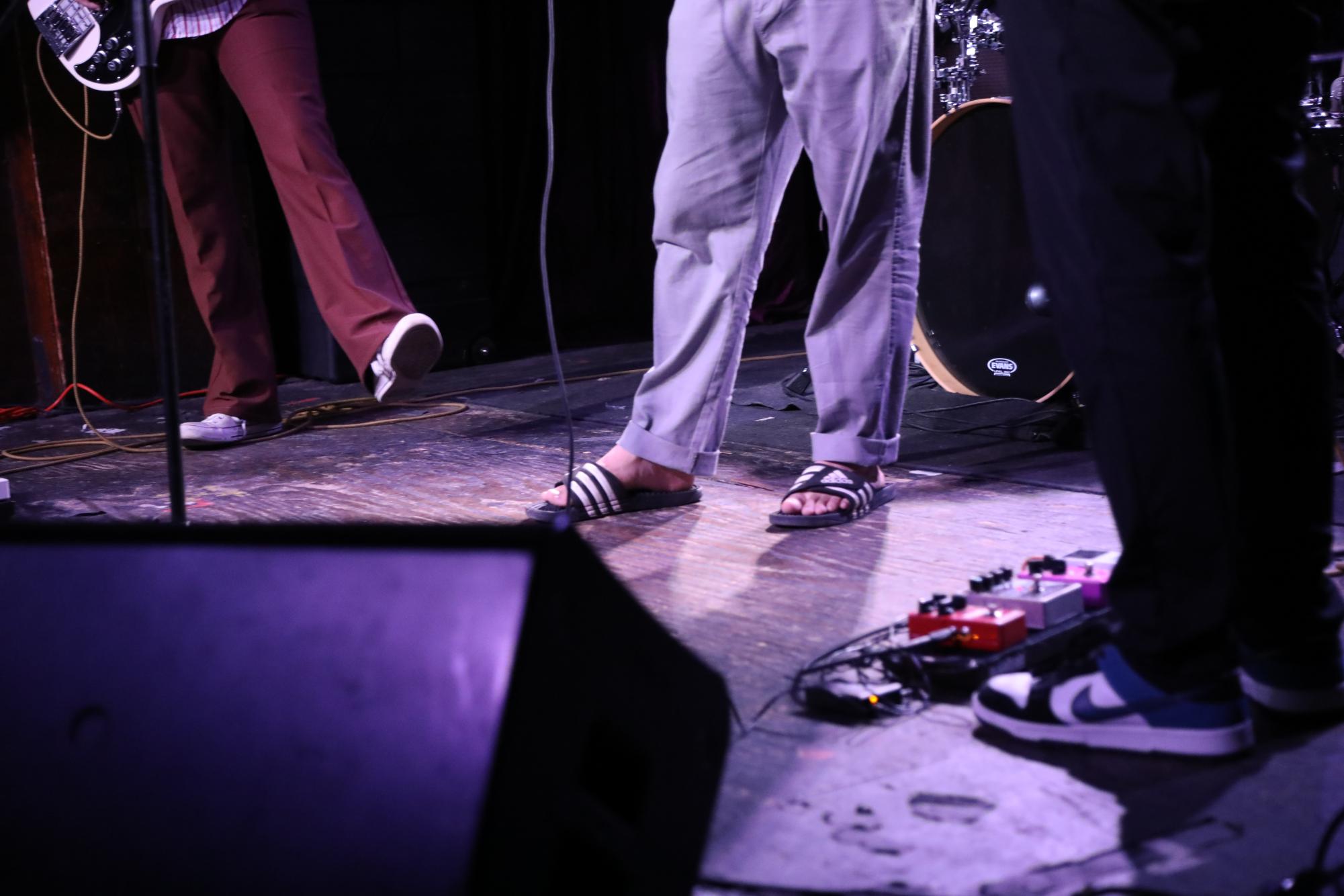 In Stereogum's cover story about you, it's mentioned that you're all pretty big cinephiles. And it's definitely evident in your activities with the subjects of your songs, theatrics on stage, and the creativity of it all. I was wondering if you could speak a bit more on what you love about film as an art form and how it influences you as a band?
RB: Well, it's kind of the best artform in a lot of ways because it just incorporates visual art, music, there's like a literary element to it, y'know? I don't know. I just love movies though in general, that's kind of the deal.
LM: It's definitely something that brought us – or at least, it started as a board game night thing but [instead] we have like a weekly movie night that kinda was the thing that we were doing every week that pushed us to, "hey, maybe we should, like, start a band or something." So it's something that we just – way more than music, I feel like [we] talk about movies with each other more than anything.
RB: It's true, we agree more on movies than we do with music and stuff.
LM: Yeah, all of us have pretty different music [tastes] from each other. Movies are something – you know, there's stuff that we don't agree on, but a lot of the time I feel like the four of us generally are pretty in line on stuff like that. I've always just loved movies, though, just the same as music or anything else. I would love to do more stuff with movies; we got to score that indie movie from our state [Tenkiller], and I would love to do more stuff like that, it was really fun.
How would you say your appreciation of film carried over into the making of the Tenkiller Original Soundtrack?
S: We had – well, all of us have a bit like a… let's say… a cinema soundtrack vocabulary? Is that the right way of putting that?
LM: We pay attention to soundtracks and stuff. Or, scores.
S: Even though we were inexperienced with doing it ourselves, we have had many, many years of kinda studying other people do it, so that helps kind of guide what we were doing.
LM: We tried a lot of different stuff. It was a lot of Ray and Ron kind of directing that stuff, and it was cool to try things and, you know, play non-traditional instruments and do different things that I don't really normally do and I think we had a really good time. I had a good time making it. It was definitely a different exercise for music and it's not a way that I've ever really written before.
RB: You can straight up just f–k around and stuff. And then give them that stuff. You have hours of it and you're like, "This is three minutes of good stuff."
S: That's actually something that I've learned post-making the soundtrack is that – I guess Tangerine Dream, that's kind of their style. They just make the soundtrack and then they give it to the director and be like, "Alright, you figure out what to do with it." That's a little bit of how we did ours.
LM: The most defined thing we did is that we wanted to do kind of like a main theme that we reprised in different ways. So, we did that throughout that soundtrack and then the rest was a lot of more improvised stuff or just different takes of us trying the same stuff.
Sort of in the same vein, I saw this post on Twitter from a couple of months ago that you guys actually retweeted that said, "I don't even want to see Oppenheimer, I just want to hear Chat Pile talk about it on stage." Naturally, I have to ask, if you guys saw Oppenheimer, what'd you guys think?
RB: [immediately] Didn't see it.
S: I didn't see it either.
LM: I did see it. I did the Barbenheimer [thing the] day they came out, watched both of them and… I am a [Christopher] Nolan hater, so my opinion was unchanged.
S: Dude, don't say that! He might not have a score in his movie…
LM: Pass.
S: Oh, I see. You're too cool to–
LM: Not too cool! Not too cool to work with hacks! 
S: Christopher Nolan, I will score your movie happily.
LM: Christopher Nolan…
RB: Go f–k yourself.
LM: Yeah, you're not as smart as you think you are man.
RB: I have no – I don't care about him. Who gives a s–t.
LM: I didn't like it. [laughs]
I went the full nine yards to see Oppenheimer. I saw it in this 70mm IMAX – I still got the fourth row, so I had to keep my head up the entire time. Y'know, for the "cinematic vision."
LM: They had a 70mm showing in OKC – not the IMAX, but just the 70mm normal format – and I saw that and I thought it looked amazing, I just…
S: I'll end up seeing it at some point.
LM: You'll definitely like it more than me. I think all of you guys will.
S: My wife and I tend to consume movies just by being like, "Alright, here's a director, we're just gonna start watching all of them." So, one of these days, Nolan will end up on the list. I might be an old man then, but…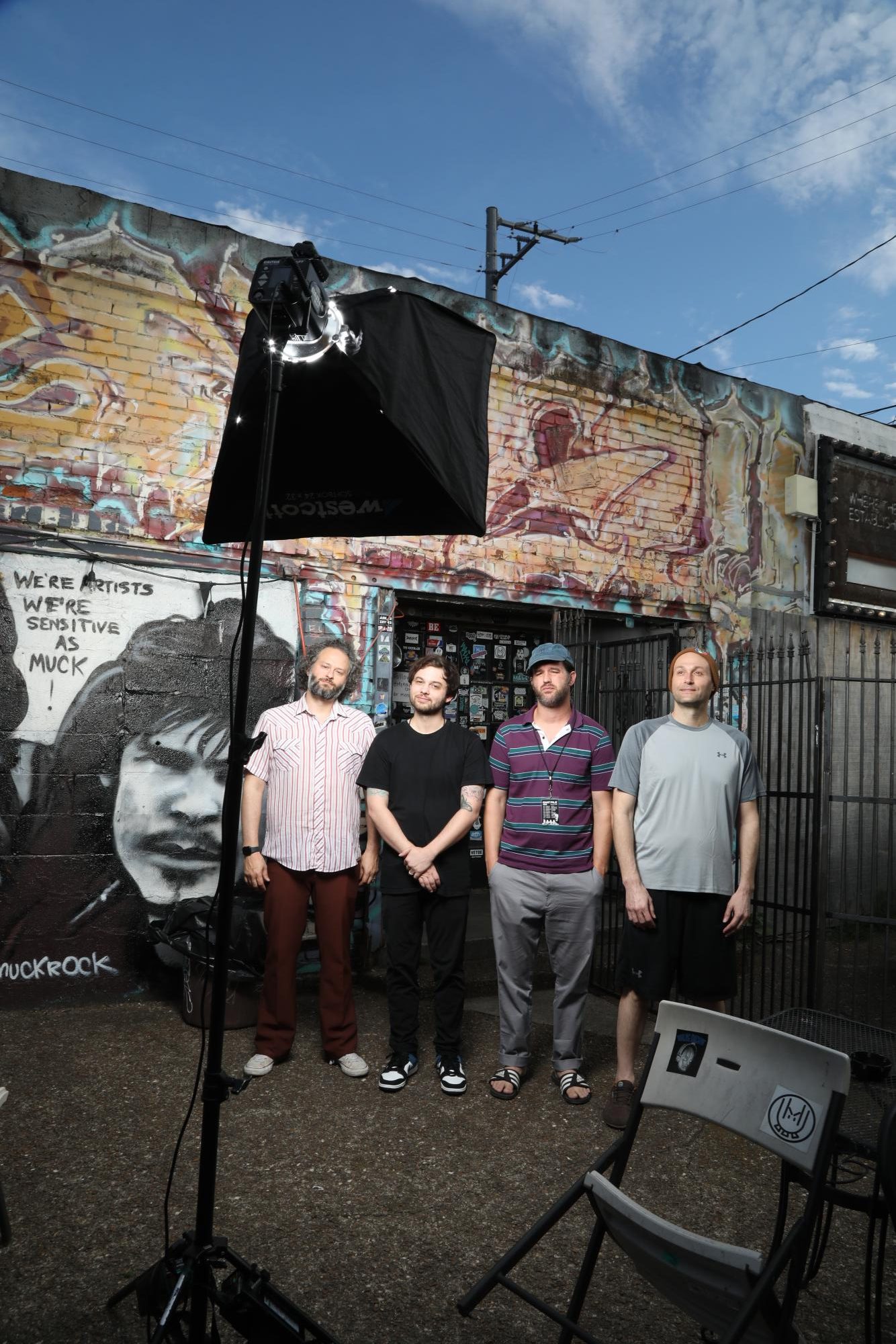 The closer on God's Country is called "grimace_smoking_weed.jpeg," which, saying out loud, feels completely made up. But, of course, McDonald's had this huge promotion this past summer all about Grimace, and I'm interested – would you say the online trend caused by this Grimace promotion has correlated to an uptick in song streams?
LM: I don't know. I guess we'd have to go back and look – we haven't actually crunched the numbers. But I mean, I will say it has increased the uptick in people tagging us on Twitter in every McDonald's thing ever.
S: And, y'know, it probably didn't hurt us, I'll say that. But I don't know if it… I don't know! I'd have to like sit and look at the spreadsheets, y'know? But yeah, I do think it probably helped add – it probably added some attention to us in some way.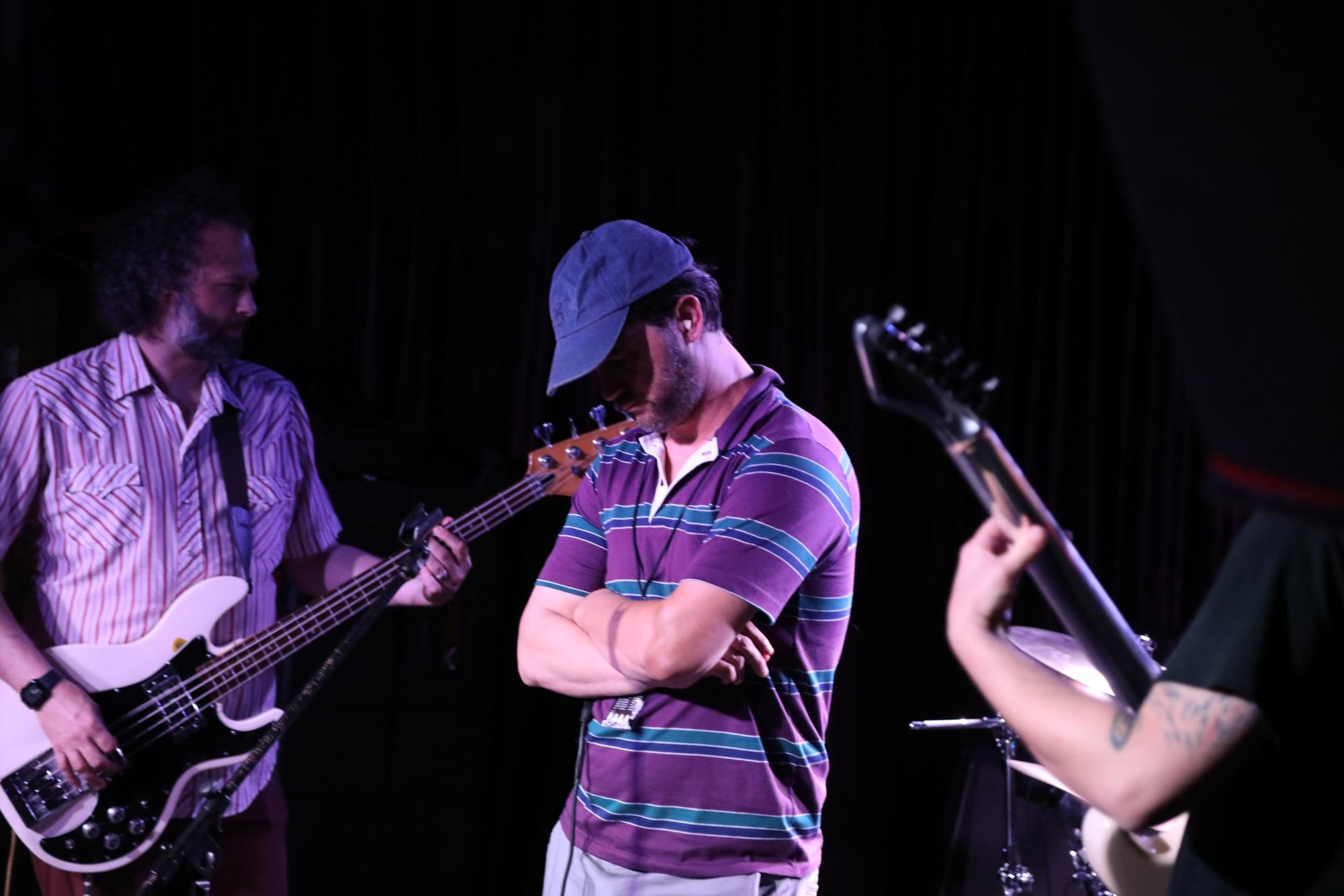 Describing your sound as "death-grunge," some of you guys have cited nu-metal bands such as early Korn and Iowa-era Slipknot, hardcore and post-hardcore bands such as Fugazi and Big Black, grindcore, and "the commercial music for Beavis and Butthead" as big influences. What are some influences of yours that listeners wouldn't expect?
LM: XTC is a big one for me. Andy Partridge's guitar stuff and Dave Gregory – just new-wave music in general is pretty big for me. The Beatles, honestly. Like people, you know, are too cool to like the Beatles now —
S: Yeah, but do you think it influences the band?
LM: I do. I think song structure… I think at least that influences how I write music; it's like, thinking about structure and the way they do stuff like that.
S: I think that one – I don't think it would necessarily surprise anyone, but the one that never comes up is Sonic Youth. I feel like it's such a huge part of our sounds and people never mention it ever.
RB: Also, Lou Reed doesn't ever get mentioned. I mean, Take No Prisoners, the live album, is a huge influence on me and how to conduct myself during a live show. I guess. And Rock 'n' Roll Animal as well, but, really, Take No Prisoners is the best one.
S: Also, weirdly enough, jam bands have kind of an effect on how we try to operate our shows in terms of live, like – we don't use setlists, we like to let the audience sometimes call out songs, we encourage people to bootleg us if they want to, all that kind of stuff. Fan art, all that kind of s–t. Like we want people to – we want there to be a community. I don't know if we're always the best at promoting that, but we do try to. So, I think people might be surprised by that.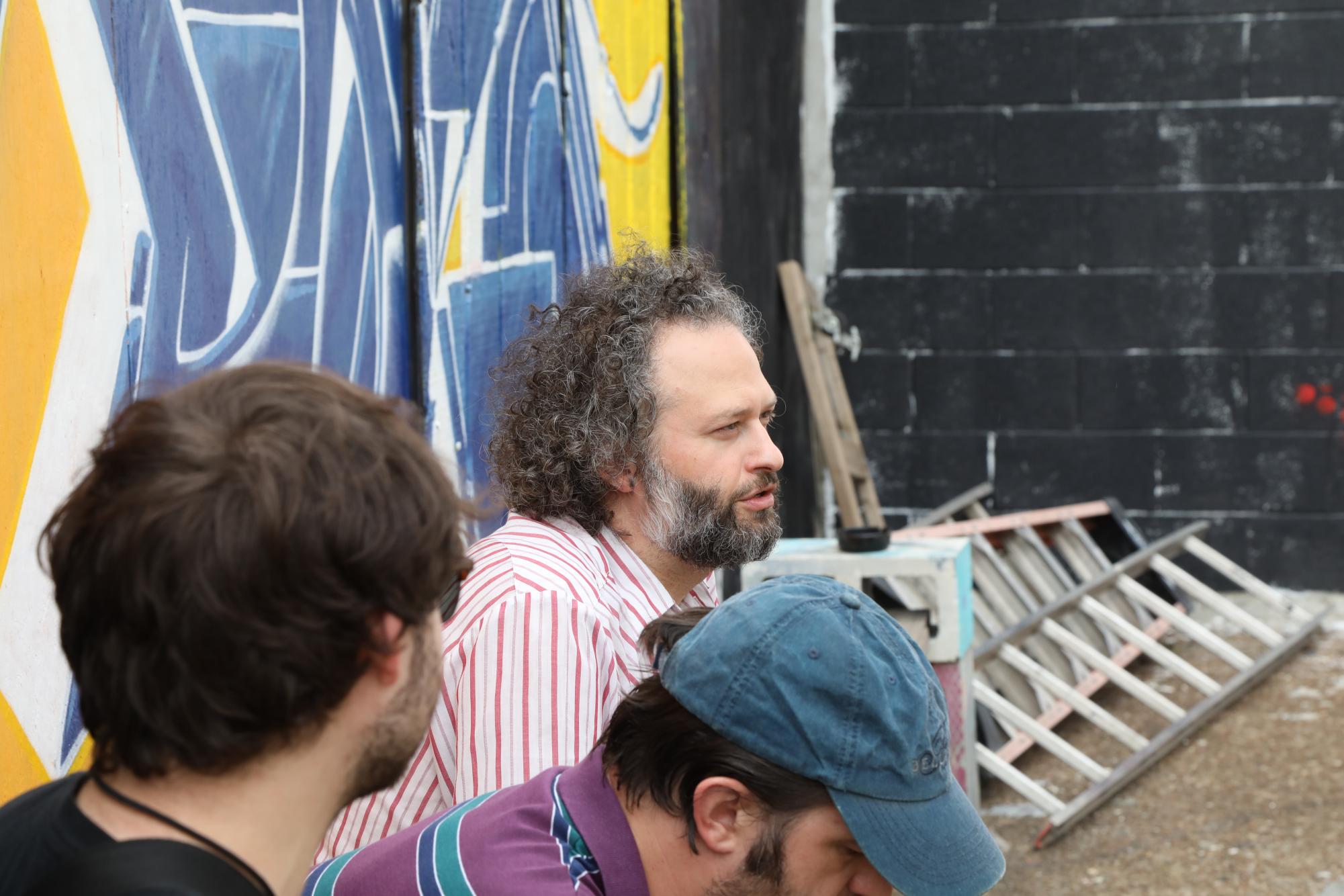 If I'm correct, besides the notable exception of Phish, you guys actually kind of hate jam bands otherwise. 
LM: I mean, I'm not the biggest Phish fan, Ron's the big Phish guy – [gesturing to Raygun Busch] I think you like Phish too – but, for me, it's always been for Dave Matthews, actually [laughs]. But, I wouldn't say I necessarily hate jam. I'm pretty jam-tolerant.
RB: I hate the [Grateful] Dead.
LM: Yeah, I don't like the Dead.
S: It's the Dead, really, that are bad.
CR: I like the Dead…
[The band laughs.]
LM: Yeah, Ron likes the Dead. It's just – as I've gotten older, I've gotten softer on all of that stuff. It's just sometimes – I don't know. It's not like I'm rushing out to go do – it's like no, I get it. I totally get it more now than I did when I was in high school. Just like the last thing I wanted to do was listen to like Phish or anything like that.
S: I love Primus, which they weren't – they've like rebranded as a jam band. So, that's my jam band, I guess. 
CR: I consider Ween a jam band.
LM: I mean, I know we're not as eclectic as either of these bands, but I know Ween and They Might Be Giants are both bands for all of us and they definitely – I don't know, stuff I keep in mind. Especially when we did like the country song ["Lake Time"] and stuff like that. I feel like there's definitely a Ween-ness to some of that.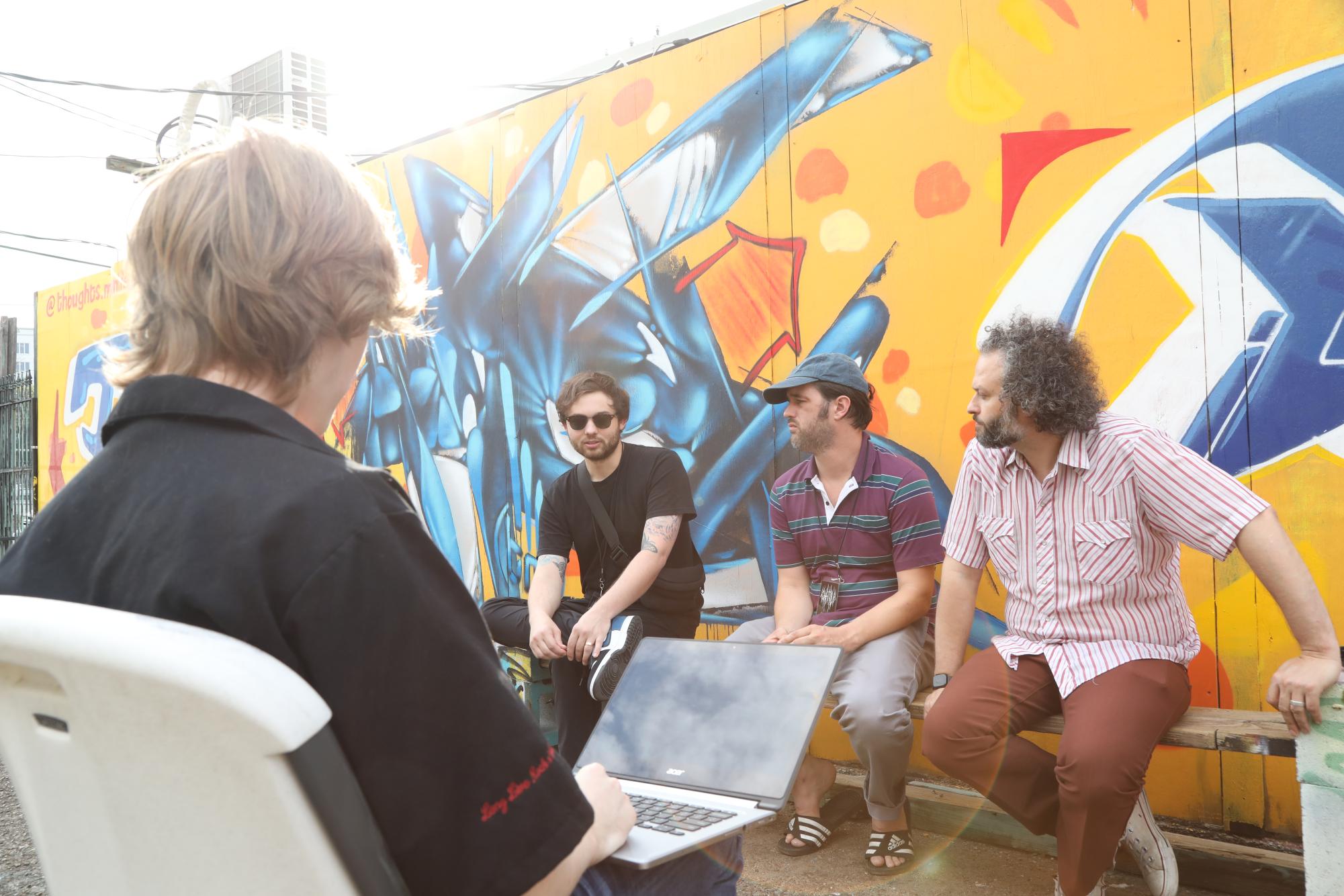 So, Luther, if I'm correct, you actually have a Deftones tattoo on your leg? 
LM: I do! 
Would you say your guitar playing is at all influenced by Stephen [Carpenter] from Deftones?
LM: Yeah, I would. I mean, he does the… playing all the strings at the same time thing a lot of the time. And like, he likes to play kind of sloppily and stuff. I mean, I grew up learning a lot of those guitar parts. I don't play a seven or an eight-string or anything, I do play a baritone guitar. But yeah, I mean for sure. Weirdly, I'm a lot more into drummers, and Abe Cunningham, their drummer, is like my favorite drummer. I just really like rhythm and Deftones has always been like, in my opinion, of the three bigger nu-metal bands. I always thought they had the most locked-in rhythm, personally.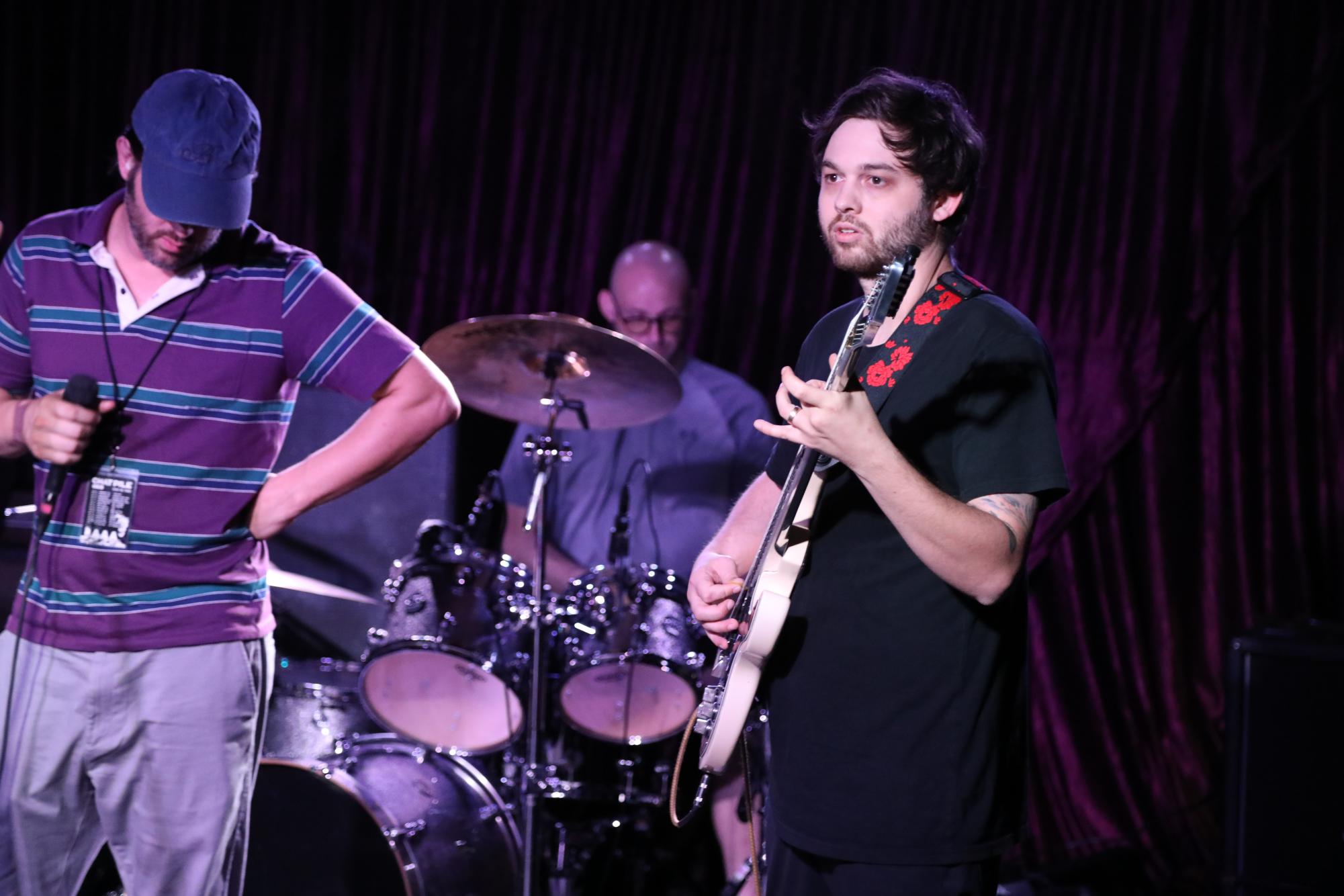 [Pulling up his pant leg, Luther Manhole shows a giant tattoo taking up the entire lower half of his calf. It's the artwork for Deftones's self-titled record.] 
LM: It's still not colored. I've had it since I was 18.
[Stin turns to the rest of the band and talks about a Korn tattoo he's planning on getting. In summary, he doesn't want to get just a Korn logo because he feels as if it would be an embarrassing, tacky tattoo. He did, however, commission someone to do some really sick art of the doll from the Issues album cover that he'll be using for said tattoo.]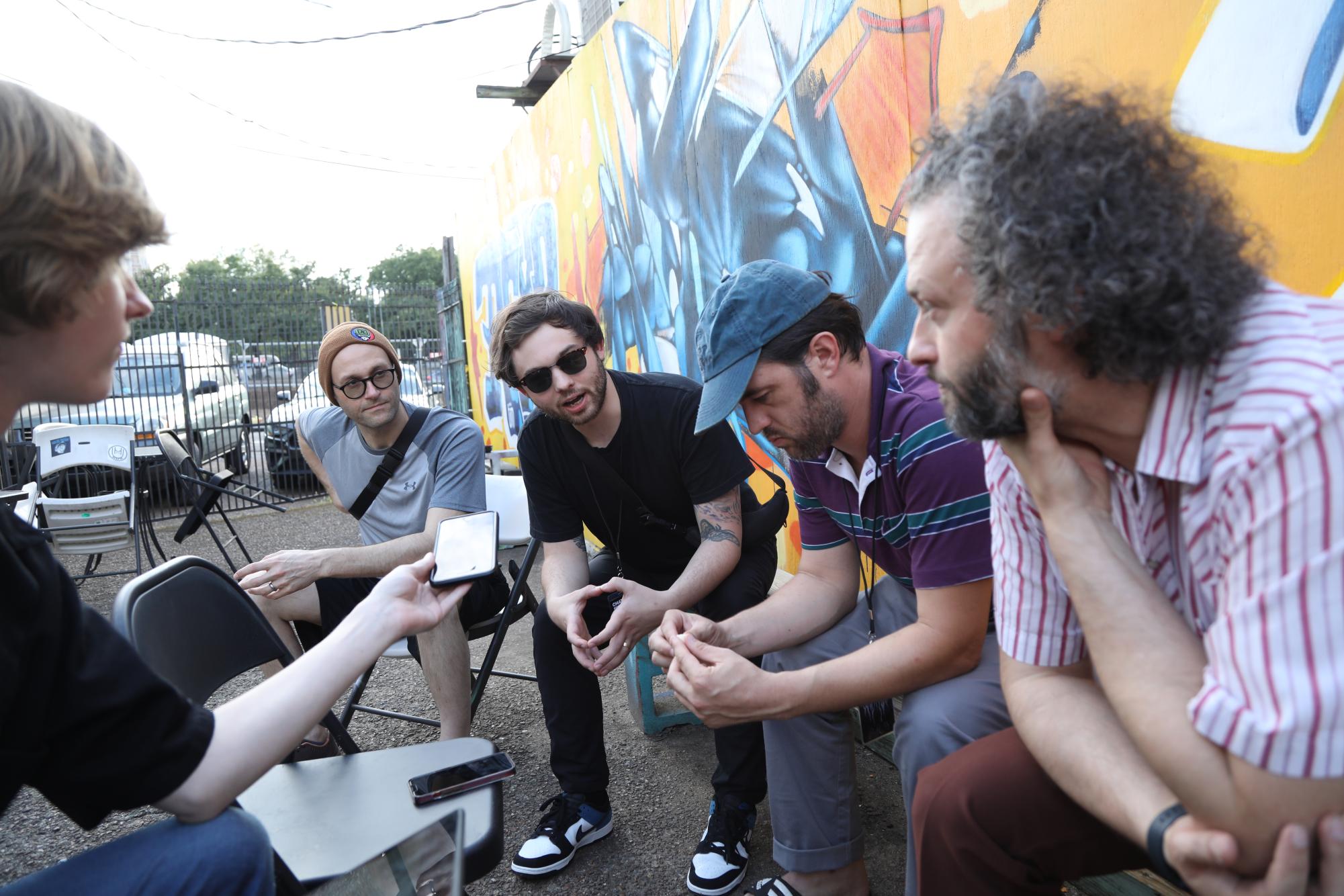 If you ever met Steven in real life, would you actually show him the tattoo or would you be too embarrassed?
LM: No, I…
RB: He'd probably be talking about flat Earth things —
LM: Yeah, I'm kind of not a big fan of Steven Carpenter these days. I mean, I'd be very happy to play with Deftones.
RB: He doesn't believe the world is round!
One track off of God's Country I found really interesting was "I Don't Care If I Burn," with Busch singing like his life's nearly over, with a backdrop of crumbling timber and pulsing a heartbeat, and I was hoping you could talk a bit more about the production and concept of that track?
RB: Well, it's kind of a continuation of the noise songs we were doing on Tenkiller. And that's just a song that I had from an album I did by myself that didn't fit on the record, and I wanted it to go somewhere, and it kind of worked for the thing. So, that's how that song came to be.
LM: It kind of works almost as an intro to "grimace," because it's the song right before "grimace," and I think it all kind of thematically goes together a little bit. It works as a good kind of breath before you – not even breath, but just like a little bit of respite before the nine-minute you know, kinda… brutalness of the last one. But it definitely was a lot of the stuff that we were doing on the soundtrack: the found sounds, scratching on stuff, using a drill, or whatever. Just doing weird s–t.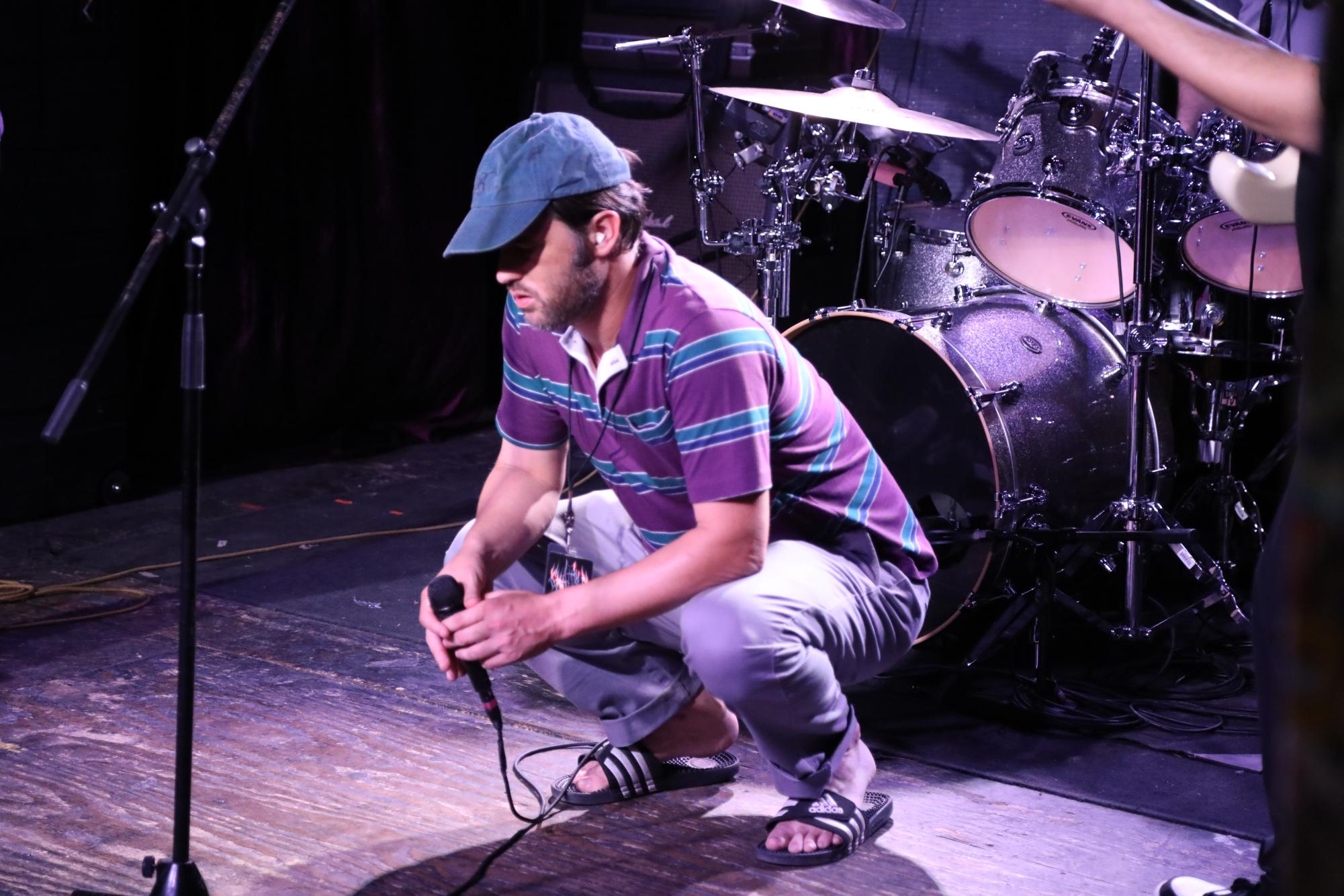 In just a couple of days, you're gonna be opening for 100 gecs at a show in The Caverns. For lack of a better term, it really sounds nothing short of magical. How did this fantastical show come to be?
S: They just reached out to us and asked if we would do it. We had a day off and we were like, "Man, we'd be dumb if we didn't do that."
LM: We played at the Stanley Hotel with Lingua Ignota earlier this year, and Laura Les and her partner were there and we met them, and I guess they like our band! They just reached out and it was kinda presented to us by either our agent or someone and we were just like, "You know what? It's adding a show on our day off, but it'd kind of be crazy to not go play in a cave with 100 gecs and Machine Girl." 
I totally forgot Machine Girl was playing!
LM: So, it's a DJ set from Machine Girl on our night, and then Machine Girl proper is playing the next night on this Friday. So it should be crazy. I have no idea what it's gonna be like, but it seems it's gonna be awesome.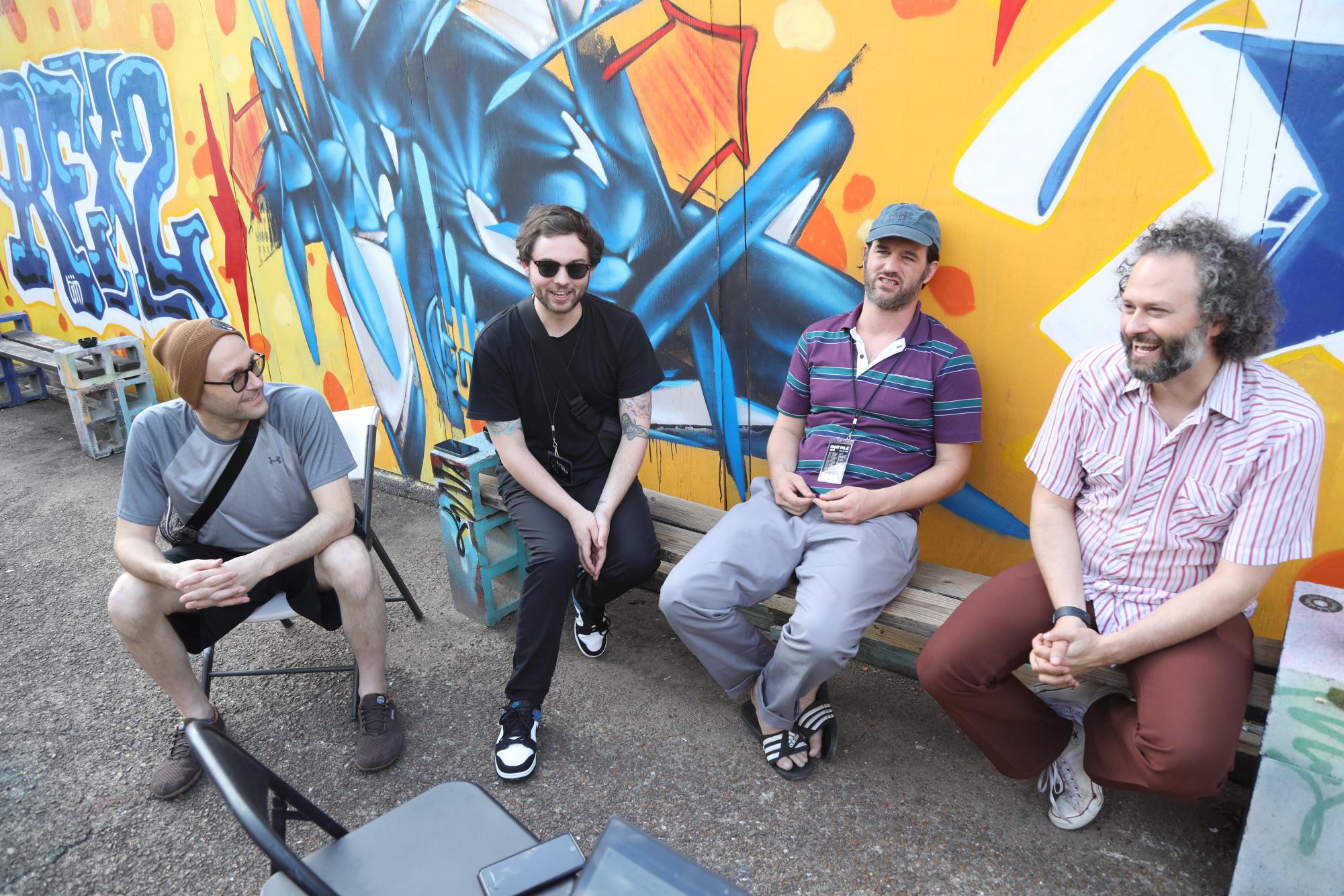 You guys have spoken nothing but highly about the independent label that you're signed to, The Flenser, and I wanted to know – what do you all admire about your label and the bands that they sign?
S: Well, as far as the label itself goes, they're just very supportive and hands-on in the good way, where they're invested in you succeeding, but you're succeeding in your own terms and that kind of thing. And Jonathan [Tuite], the person who runs the label, is just a cool guy! And then as far as the artists go, you know, we really love how eclectic the label is. Like, you know, I think something that's important for Chat Pile is that we don't necessarily like being categorized into any specific boxes, it's cool to be able to do our own thing and draw from our own influences and not necessarily follow any particular sound or style, and The Flenser is very open-minded to that type of approach. 
LM: And they definitely want bands who are kind of doing it themselves in their houses, or maybe, you know, trying… I don't wanna say, like, necessarily experimental – experimental in some senses, but they're very open to bands trying things and that is I feel the throughline of all the bands. It's usually a couple of people who don't tour a lot… maybe, you know, self-produced – that's kind of more of the throughline rather than genres. The original impetus was it was like a black metal label, but now there are probably only a couple of black metal bands. They've been great. I truly don't even know what another label would offer us.
S: Flenser's also just kind of… like, for lack of a better term, politically cool. Because like, you know, in the metal world – sometimes people overstate how like, right-wing it can be because there's just like, so many cool people in the metal world. But that said, there is that element of like —
LM: Ragana is an awesome anarchist, anti-fascist, you know, queer metal band, they're f–king awesome. They just got to finish their tour, and they put out their new album in October. But yeah, there's just —
S: They're on the right side of history.
LM: I just really enjoy – every time I've met anyone in any of these bands that were playing with – like, we did a showcase in Austin at Oblivion Access earlier this year, and it was awesome just to get to hang out with everyone. It definitely just makes it feel like more of a thing rather than just a place that's putting out our records, you know? I feel like I'm making a lot of lifelong friends through it. So that's… that's pretty awesome.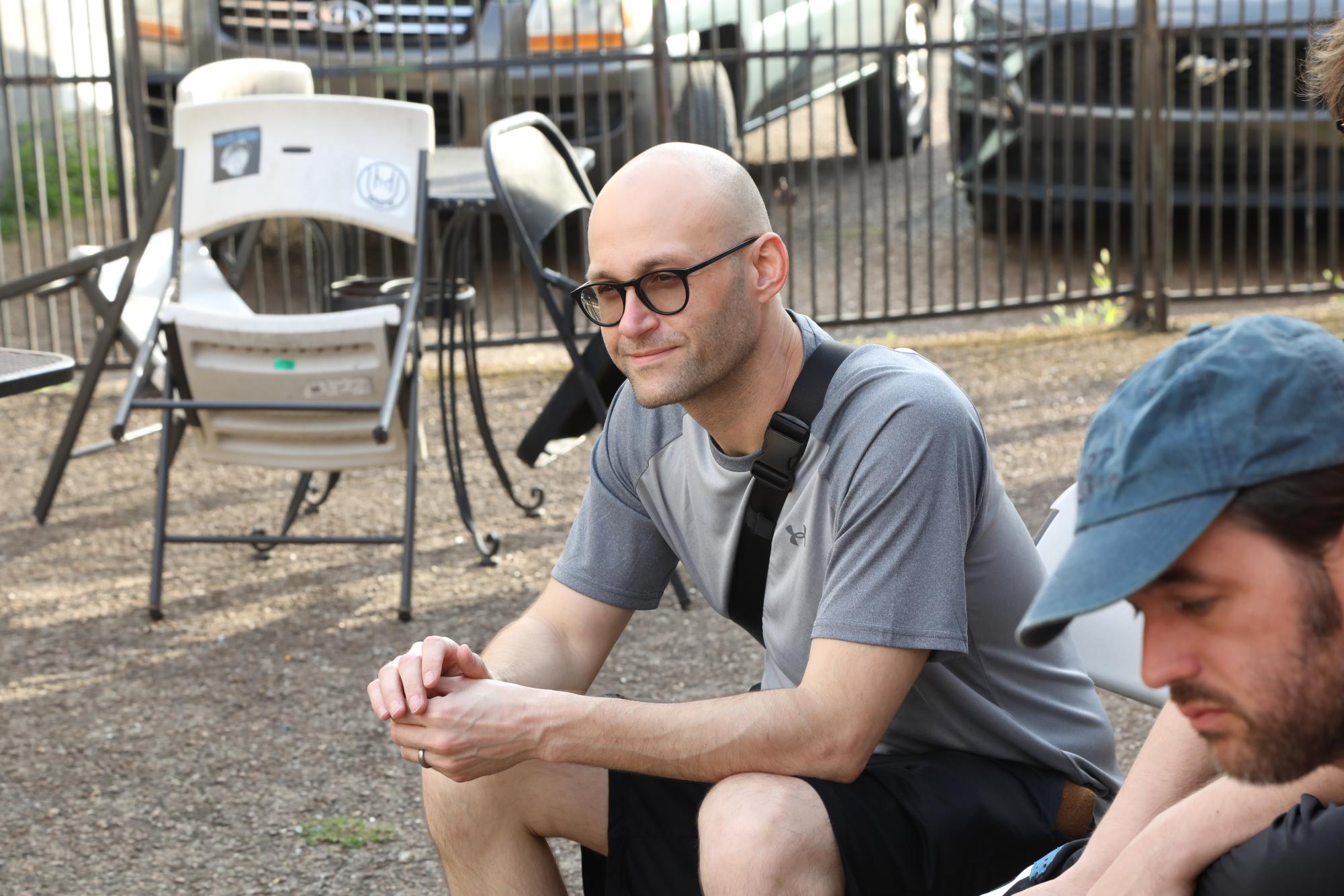 What would you guys say is the most important thing to you during the music writing process?
S: Groove!
LM: I don't know… this is gonna sound so simple, but just having it sound good to me, you know what I mean? 
S: Everything in the song has to happen for a reason. It can't just be riff salad or just stapling parts – like it all has to flow cohesively, and it needs to make your head nod, you know? 
LM: I think a lot about transitions and making stuff go together, instead of – yeah, like pieces and bits, doing the riff salad thing, and it's just a bunch of different riffs patched together. That's the most important thing just like, making sure whatever we put out is something that I think is good. It's hard to make good stuff, so you know… I know it seems like a very obvious answer, but, you know, not everyone's trying to make stuff that's good!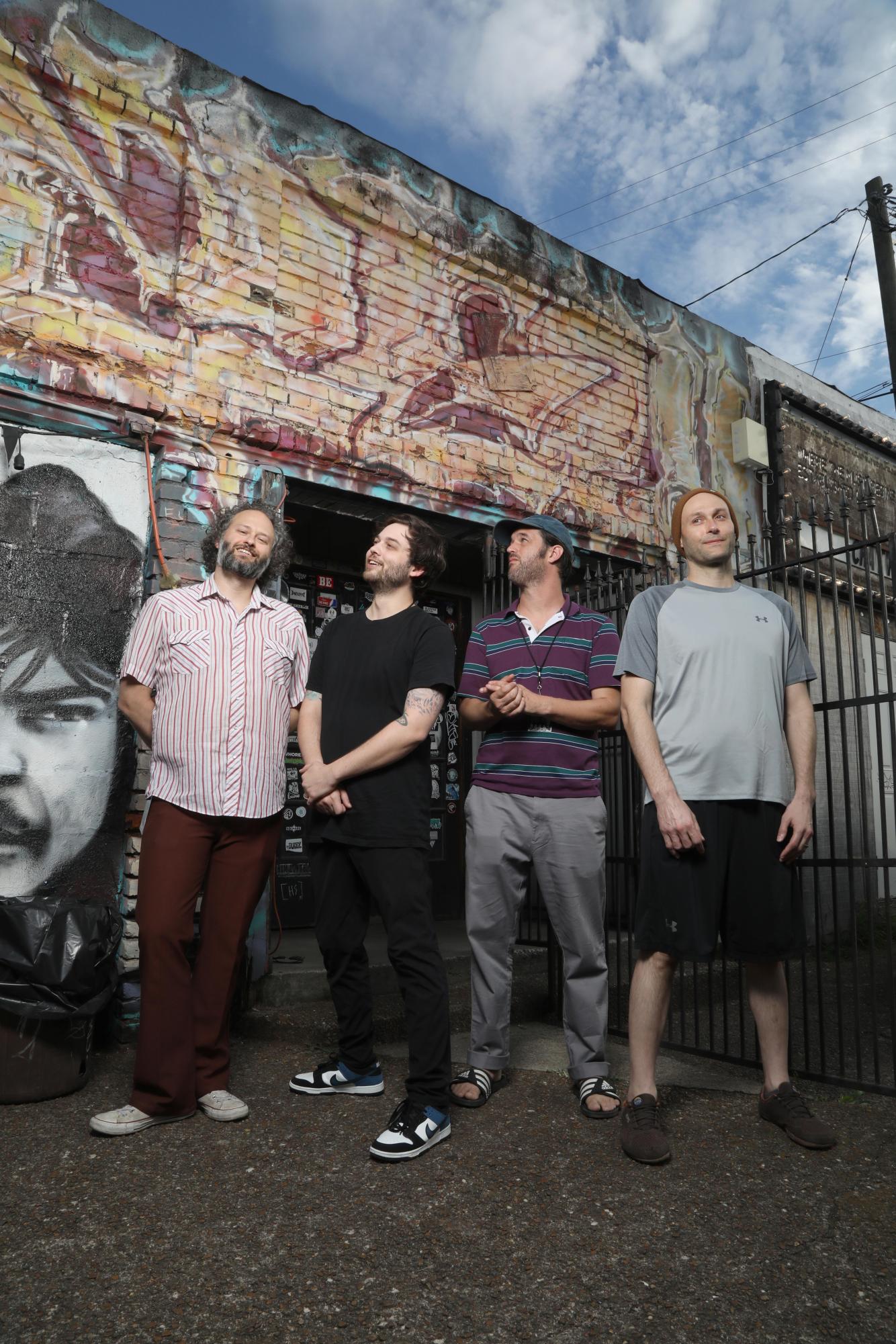 Much of your music is derived from the bleakness of your home in Oklahoma City. Raygun once said, "We're simply too poor to leave Oklahoma, which is unfortunate for Oklahoma." If you each can move anywhere outside of Oklahoma, where would you go? 
RB: Amsterdam!
LM: We had such a good time in Amsterdam. It was really magical. 
RB: A paradise.
LM: In the States… I know it's almost stereotypical because there are like, only a few places people from Oklahoma move to. It's like Austin, Denver, or like, Portland, basically. And I would move to Denver. I just really liked it. I love the mountains. But you know…
RB: I don't have any desire to. 
LM: I'm pretty fine staying in Oklahoma right now.
S: Oklahoma is bad, but all our friends and family and our community and stuff is there. So we're a little too old to try to uproot and change our lives.
RB: We have better weed than anyone now.
LM: So, yeah, especially us childless guys who are not going to have kids anytime soon or like —
RB: Ever.
LM: Ever, like, I don't know. You know, the school system is very bad in Oklahoma, but that… doesn't really – I mean, it matters to me because I want it to be good and I want our citizens to be educated but like, you know, it's not necessarily like "I have to move so we can be in a good school district." You know, it's… it's where all of our friends and family are and, like you said, it's where our lives are.
Have you guys started work on your next project? What's in store?
S: We have! We have a long way to go on it. We've just been so busy with playing shows and stuff, we haven't had a lot of time to focus on it. But we are working on the new album. I'd say we have about four songs that are kind of like… mostly done. But our goal is to write 12 to 15 or so. We'll be spending basically all winter hyper-focused on trying to work on that so let's see how it goes. No promises, but if everything goes to plan, we'll be done with our record by the beginning of the spring, is our hope.
LM: After we do all these shows it's basically, "Let's just buckle down and get the album done."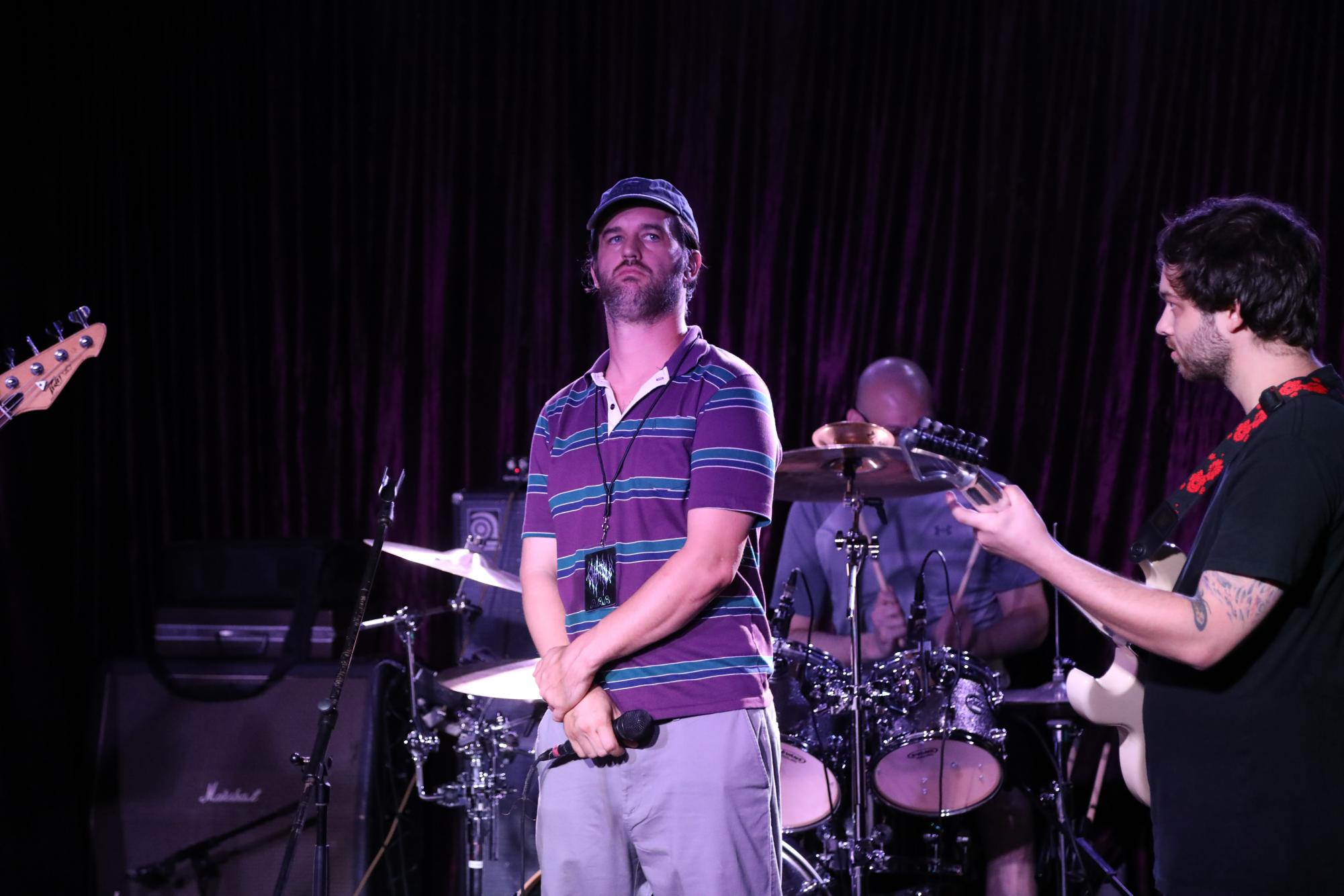 Is there anything else you'd like to say or promote to whoever's reading? 
S: Thanks.
RB: What is this for?
It's for my school newspaper.
RB: What's your team?
Gators.
RB: Go Gators! 
LM: Go to live shows, go see bands in houses and DIY spaces, and buy merch, and dude, you can start a band. You know, do anything. Do something.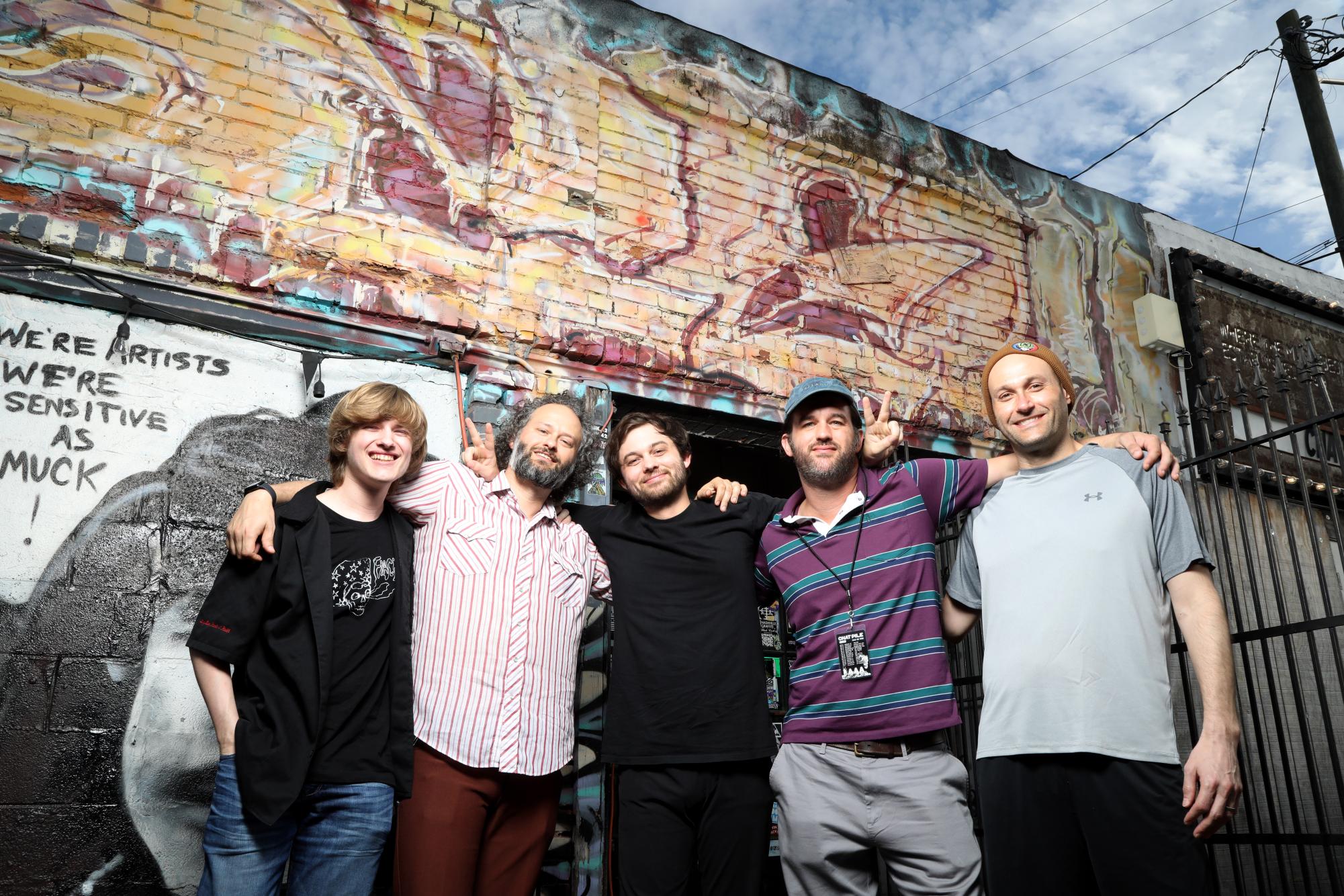 GIGANTIC thank you to the boys from Chat Pile for giving us the time of day. You guys are awesome!!!!