Irving, Durant Part Ways With Nets' Coach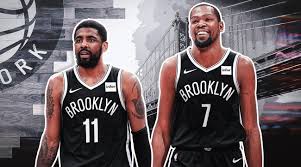 Kenny Atkinson stepped down as the basketball coach for the Brooklyn Nets, where Kyrie Irving and Kevin Durant play. NBA coaches never know if they will stay the coach or just get fired due to the top players not wanting them as a coach anymore. Kyrie Irving and Kevin Durant are two of the top players in the NBA and they believe that Kenny Atkinson wasn't a great coach after all because they only like his image. Which means that Irving and Durant liked him watching him but until they actually play with or for him and don't like what they have been going through.
Kenny Atkinson blames Kyrie Irving for doing this, he believes that Kyrie doesn't likee him and he's the reason that he has gotten fired because its a top player in the league and later on said after getting fired that he didn't even want to coach the team anymore, even though the Nets were having a better season than before, he has championship winners on his team, and he snagged the top two players that everyone wanted.
Kyrie Irving
Irving has won some MVP awards, a ring, and many other awards with the Cavaliers when he and LeBron James became the best duo. Later on James and Irving would soon split up because Kyrie wanted to bring his talent somewhere else and make a big impact instead of sitting in James' shadow.
Kevin Durant
Durant is also a really big name who won two rings with the Warriors and was a killer with Klay Thompson and Stephen Curry. Durant makes a big impression to a team, leading scoring, can dunk, has moves, like he's top notch. Before his time in Golden State, Durant and Russell Westbrook were a dynamic duo in Oklahoma City, like Kyrie and LeBron in Cleveland, but without a ring.
If you have Durant and Irving, then you should have a really interesting team and high expectations. You have two all-stars, two players who have gotten rings and know how to play based on who they used to play with and work with. Kyrie is the handle king, and Kevin Durant is the jumper king, so you should expect what will happen once they come back from injury, which won't be anytime soon due to Kevin Durant' torn Achilles and Kyrie Irving torn shoulder, where he has to go get surgery.
Due to this Irving and Durant will not play a single game until Atkinson gets replaced by an actual coach who can win, which is why Irving and Durant have their eyes on coaches they have had before such as Steve Kerr (Warriors) or Tyronn Lue (Cavs). Durant and Irving are superstars and they both will get whatever they want due to their name and past. Their coach will mostly be likely to be Phil Handy which is the Lakers assistant coach.