Charter Bus Crashes: Killing Youth Football Players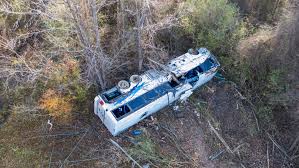 The white charter bus that was traveling from Memphis Tennessee, that was heading to Dallas that was unexpectedly skidded off a highway when the bus driver suddenly lost control. They had played in a championship game on Sunday in Dallas. The bus was reported to roll around several times before coming to a complete stop.
The youth football team that were injured are  around the ages of 8-13. Also there was reported that many coaches and chaperones were also injured during the bus crash. The doctor Mr. Maxson looked at everybody that was injured and has said " The injuries have ranged really from injuries to the skull and brain to lots of lacerations, lots of broken bones, lots of contusions. We saw a whole bunch today." Two kids had a emergency surgery and have been reported that they are doing well with everyone else that was recovering from the crash.