U.S. Troops Fear a Major War is Coming
Hang on for a minute...we're trying to find some more stories you might like.
The United States and Russia have been predicted by U.S. troops and Nostradamus, a French physician and reputed seer, to go head to head in what could be known as World War III.
Nostradamus wrote a book in 1555 called "Les Propheties," a collection of 942 poetic quatrains predicting future events such as the French Revolution and 9/11. In the book, Nostradamus said: "The big war will start in France and all Europe will be attacked, it will be long and terrifying for everyone and then finally there will be peace but only a few will enjoy it."
This led many to believe that war will outbreak in France, but a line that reads: "A war will start between the two great world powers and it will last for a period of 27 years" suggests that conflict could begin not in Europe, but between Russia and the U.S., two of the world's greatest powers. 
The Military Times, an independent source for news and information, held an anonymous survey between Sept. 20 and Oct. 2 where 46 percent of troops responded saying that they believe the U.S. will be drawn into a new war within the next year. 50 percent disagree, but that number is reported to be falling down.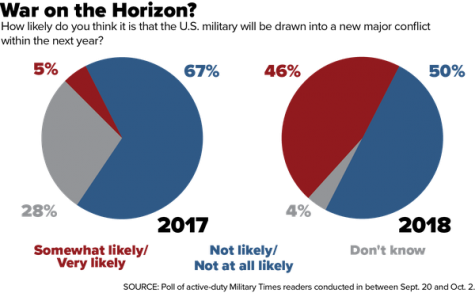 In 2017, Russia was recorded to be the world's second-largest arms exporter, selling around $15 billion worth of weapons to China, who has been Russia's biggest trade partner for the past seven years.
Though they are not necessarily allies, the economic success and the involvement of Chinese troops and military hardware in Russia's recent military exercises could mean bad news for the United States if World War III does actually happen.
There have been claims that even together, Russia and China would still be weaker than the U.S., but the dying support for Trump among active-duty troops seems to contradict those claims. Some service members who once supported the president, have even stated that they believe Trump is contributing to the fear of global instability, making the war more likely to come.
Many suggest that since China and Russia are some of North Korea's only allies, that all three countries will take on the U.S. during World War III. After a government official tweeted a statement from Trump, who blamed China for hurting relations between the U.S. and North Korea, it's more likely than not that North Korea's military will be joining forces with China and Russia.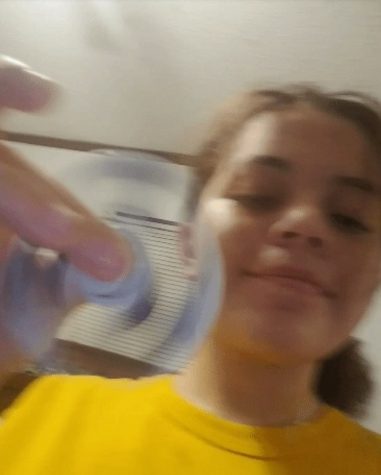 Destiny Sears, Reporter
Hi, I'm Destiny Sears and I am a freshman at Greenwood High School. I'm a Taurus, my favorite color is yellow and I like pretty all music but fallingforyou...