20 Songs and Why They Should be in Your Playlist
Including indie, alternative, rock, and chill music.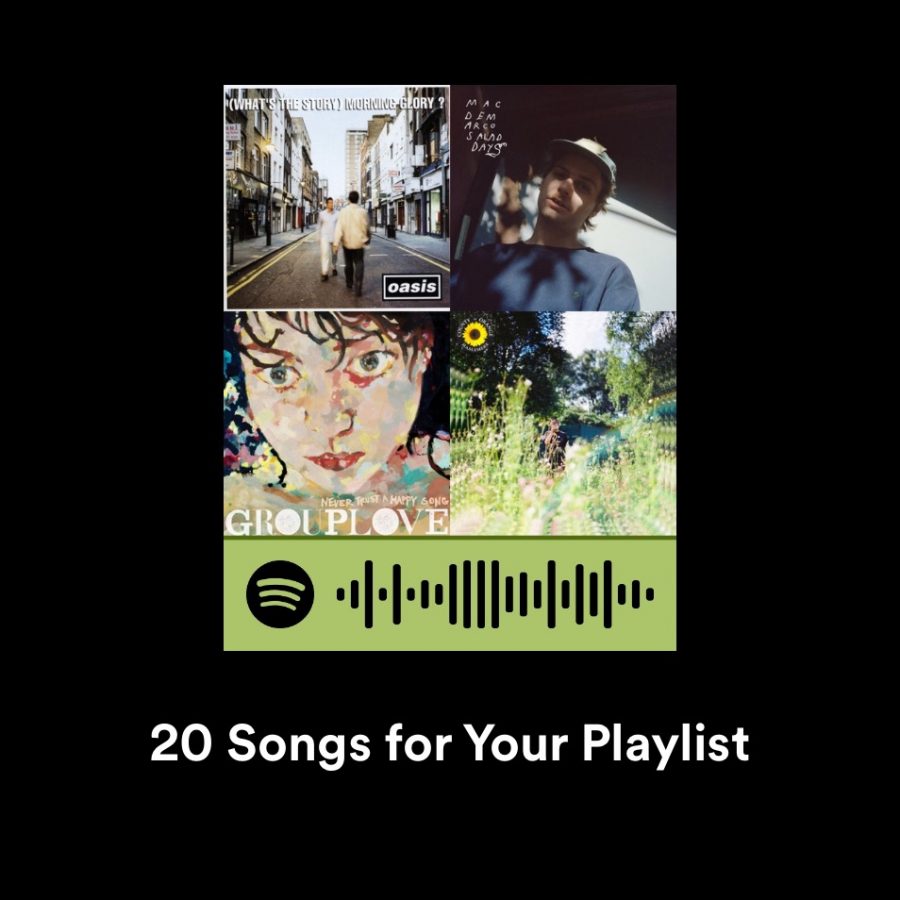 A multitude of great songs are hiding in the shadows of mainstream pop and hip hop music. Genres like indie, rock, and chillhop aren't being played on the radio as frequently as pop and rap music. People are missing out on a large amount of songs, solely because they aren't being advertised and displayed on the top music charts. Here are 25 songs that deserve more recognition:
Disclaimer: some of these songs include explicit language.
Click Here to Go to a Spotify Playlist with these Songs
"Sunflower" – Rex Orange County
Genre: Alternative/Indie
Listening to "Sunflower" will put you in a generally happy mood. The intro is soft with a static overtone, like it were being played on a record in the 1900s. After this intro the tone clears and the song rises in tempo. The rest will leave you wanting to dance and sing along to this happy love song.
"Tongue Tied" – Grouplove
Genre: Alternative/Indie Rock
A great song choice when you want to forget about your problems and just dance. "Tongue Tied" begins with a simple guitar tune that slowly builds, then drums and a melody are added in. After just 20 seconds of listening, you will want to jump up and dance to this song. Even though it is about love, its hard to hear through the banging drums and loud guitar, which will surely leave you in a hyper-happy mood.
"Wonderwall" – Oasis
Genre: Alternative/Indie
This '90s bop will leave you in your feelings in a way that you've never been before. A great song to sing, cry or just listen to. This song can leave you in any kind of mood: joyful, sad, or anywhere in between. A jam that should never be forgotten. You may not like '90s music, but a chance must be given to this song.
"Chamber of Reflection" – Mac Demarco
Genre: Alternative/Indie
The vibes that Mac Demarco gives off in this song put you in your chill state of mind. The slow beat with great melodies and calming vocals will have you putting this song on repeat. Great to listen to any time.
"Dead to Me" – Kali Uchis
Genre: Neo-Soul
Kali Uchis expresses her self-confidence through the lyrics of this song, including "I think that we both know the truth, you're osbessed just let it go." Uchis's confidence will ooze through the speakers and into your soul, leaving you feeling like you are the boss of yourself and the world.
"LA Devotee" – Panic! At the Disco.
Genre: Alternative/Indie Rock
The hard rocking beats and guitar will have you up and dancing. This is another great jam when you just want to dance. Brendon's vocals combined with the mysterious tunes given off in the song will have you wanting to listen to this song all day. (Plus, if you like conspiracy theories, the music video has a lot of subliminal messages and a creepy plot line.)
"Skinny Love" – Bon Iver
Genre: Alternative/Indie
"Skinny Love" can bring tears to your eyes, and push out all of your emotions. The lyrics express the heartbroken feeling in the soul of the singer. The vocal tone and expression shows the angry emotions he is feeling throughout the song. Listen if you are really in your feelings.
"My Type" – Saint Motel
Genre: Alternative/Indie
Feeling flirty? "My Type" is the song to listen to. Even if there is no one specific person, dance to this song while A/J Jackson (the singer) sings about finding a girl just his type. Though this description may make it out to be one, it is definitely not a slow and happy song. The tune and the beats of the intro of the song build up to a fun and loud jam.
"Fool" – Fitz and the Tantrums
Genre: Alternative/Indie
Another confidence booster. You aren't the fool, they are. Fitz and the Tantrums did an amazing job expressing how a relationship should be. If you aren't a fool, add this song into your playlist. And "mama didn't raise no fool," that's for sure.
"Lover is a Day" – Cuco
Genre: Indie Rock
In a chill mood? Vibe with Cuco in "Lover is a Day." The lyrics can put you in a happy or sad mood, make you appreciate your love life or want one. The expression in the lyrics of this song is amazing, even if you don't like love songs. Definitely a great song to listen to when you want to calm your soul.
"Watch" – Billie Eilish
Genre: Alternative/Indie
Billie Eilish seems to always please her audience with the music that she puts out. The vocals in "Watch" are extraordinary, but Billie somehow still keeps the song minimalistic. Another revenge love song, but these never get old. A great calming bop.
"Bonzo Goes to Bitburg" – The Ramones
(Cover by the Huntingtons is in the spotify playlist, you can find the much better, original version of this song on youtube.)
Genre: Indie Rock
Though this song was released in 1986, it still remains as a great song to listen to in 2018. The Ramones sing on their political views in an amazing and catchy way, while the guitar compliments the melody super well.
"Fault Line" – Tennyson
Genre: Dance/Electronic
"Fault Line" is for those who love techno songs and chill songs. A perfect combination of both is represented by Tennyson in this great song. It can always put you in a good mood, no matter when you're in listening to it. Super fun and fast electronic tunes mixed with the great vocal stylings of Tennyson makes for an amazing song.
"Chateau" – Blackbear
Genre: R&B/pop
Blackbear always puts the greatest elements into his songs. "Chateau" consists of a great tune, catchy lyrics, and the best beat drops. A great song to add into a party playlist, and an everyday playlist. Listen to if you want to have a good time.
"Two Princes" – Spin Doctors
Genre: Jamband
Another great song coming out of the 1990s. Even if you didn't grow up listening to this kind of music, "Two Princes" is still a fun song to listen to. Catchy and another great upbeat love song. Don't like love songs? Don't worry. Still a great song with a great guitar track included.
"Redbone" – Childish Gambino
Genre: R&B/Soul
The mellow vibes Donald Glover expresses in this song can instantly put you in a calming mood. The R&B aspect of this song still shows through in the beats/rhythm, and can instantly put you in a fun/sing-along kind of mood.
"Sound Color" – Alabama Shakes
Genre: Indie Electronic/Rock
This song manages to be slow yet chaotic, giving off chill yet exciting sensations. Though the song may start off slow and dragged on, it pays off when the "Sound Color" aspect of it is portrayed in the rest of the song through the tunes and lyrics.
"The Night We Met" – Lord Huron
Genre: Alternative/Indie Rock
Even before "The Night We Met" acquired popularity from the iconic Netflix Original "Thirteen Reasons Why," this song was still amazing. Lord Huron easily conveys his emotion through his vocal stylings and lyrics in this song, leaving listeners longing for the love they've lost (or in my case, never had). A song with the skill of easily bringing tears to your eyes.
"Get You" – Daniel Caesar ft. Kali Uchis
Genre: Neo-Soul
A beautiful duet based on a perfect relationship of two souls that are very much in love. Though Daniel Caesar takes up most of the song, Kali Uchis's small part towards the end (the bridge) can leave you wanting these two artists to do more collaborations. A song to put you in the mood to fall in love.
"Never Enough" – Rex Orange County
Genre: Indie Rock
The perfect song to listen to if you want to think to yourself, 'Same, dude." This song perfectly explains how hard it is to please the ones you love, when they are here and when they are gone. Perfect song for teenagers to relate to, considering a line of the lyrics is "You might feel what it's like to not know how to feel." But just because the lyrics are amazing doesn't mean the whole song isn't. Actually, the music lives up to how great the words are. "Never Enough" is just enough to please your ears.