Music Review: XXXTentacion '?' Album
Hang on for a minute...we're trying to find some more stories you might like.
XXXTentacion, whose real name is Jahseh Dwayne Onfroy, is a rapper that is well-known by the younger generation, and is appreciated for his songs that are realistic and truly touch a person's feelings. His most recent album, '?', has a more gentle approach, as opposed to some of his older songs that contained more aggression in his voice and in the music. This album has been on replay for me lately, and I consider it another favorite of mine.
Below are all of the songs on this album and what they're about, along with a link to direct you to it. Hope you enjoy it as much as I do!
*Warning: Songs contain explicit content.*
Introduction (instructions) – This is the first track on the album, and it is actually XXXTentacion flat-out speaking, giving his listeners a set of instructions on what to expect when listening to the album. He addresses that the goal for this album was to have it be felt in a, "less aggressive way," and to give his listeners an opportunity to enter his mind. He wants to be heard, and make others feel in both comfortable and uncomfortable ways–to truly open up. X makes it clear that in order to enjoy and understand the album, you must have an open mind and allow yourself to feel his energy and your energy.
"ALONE, PART 3" – This song is very deep, and X's emotion when singing the lyrics is what makes you feel his pain. He is questioning his worth, and is in need of finding someone to be there for him. He can't find anyone to rely on, he doesn't know who to run to when he's weak, and he is tired of feeling.
"Moonlight"- This song is one of my favorites from the album. It's more of an up-beat song compared to the others, and it puts you in a good mood. Here, all X is singing about is how people around him are bad-minded and need to get their mood in check. It's also talking about a specific girl who looks good in the moonlight, and how he feels good whenever she calls him up and gives him attention.
"SAD!" – Another one of my favorites; I am constantly listening to this song, and I absolutely love it. X's voice puts you in a relaxed mood, and the lyrics being sung are so realistic and open. He has no shame in saying that he is a sad and lonely person, who is afraid to let go. He believes that being in love is torture, and it leaves you broken in the end.
"the remedy for a broken heart (why am i so in love)" – Surprise, another favorite. This song is also very deep and emotional. He is gentle and relaxed while singing, and he is questioning why he's so in love. He is coming clean and saying he is falling for a certain someone.
"Floor 555" – This song is super aggressive, and X actually begins shouting the lyrics. It's one of the songs that could be considered out of character for this specific album. He comes off as very threatening in the song, and is warning people not to test him.
"NUMB" – This next song flips us back into the gentle and more emotional approach when listening to the album. X is, again, very open in the lyrics, talking about how he's "drowning in his tears" and he isn't able to forget the pain he underwent or is undergoing.
"infinity (888)" –  X is addressing how real of a person he is, and how he means what he says. He isn't afraid to do what he feels is necessary.
"going down!" – This song is very explicit, and is mostly talking about having certain relations with a girl.
"Pain = BESTFRIEND" – This is the type of song that could make you fall asleep from how slow and steady the music, along with X's voice, is. He sings about feeling deeply, and how pain will always be a friend of his.
"$$$" – This song talks about getting money, and the lyrics seem to be directed towards those who judge and hate on him. He calls them out on being bitter and jealous, and lets them know that they're "doomed."
"love yourself (interlude)" – Keeping it short and sweet, the song simply talks about loving yourself and forgetting about that boy.
"SMASH!" – Another very explicit song, X is singing about certain relations with a girl, and how this girl felt no pain and all she wanted to do was lie to him.
"I don't even speak spanish lol" – A favorite of mine from the album, it is an up-beat song with X mixing in some Spanish lyrics to spice things up. All that's being sung about is having a good time while out in the club, and how a specific girl is attracting him.
"changes" – This song really hits the heart. X sings about how he can't handle the damage of his significant other changing. He's in pain, he's hurt, he doesn't understand, and he can't stand it. It is also one of my favorites.
"Hope" – X dedicated this song to the victims of the Parkland shooting. Summing up the lyrics, he is putting his personal problems aside, and is singing about how he's envisioning a better life for the rest of us, and is hoping for the rest of us. (A favorite!)
"schizophrenia" – Leaning more towards the dark side, X uses more aggression in this song. He sings about not giving up, and how there's another side to his mind that's encouraging him to fight.
"before I close my eyes" – X wraps up his album with this final song, making it more emotional by singing about praying to the Lord to save his soul, and he's hoping it's not too late for him.
I encourage you to take a listen, and once again, this album does require mature audiences! Hopefully you're able to connect on a more personal level, the level XXXTENTACION wants you to connect.
Below is the album. Enjoy!
https://open.spotify.com/album/2Ti79nwTsont5ZHfdxIzAm?si=1J3D4a1OT468Vw8FHs48Cw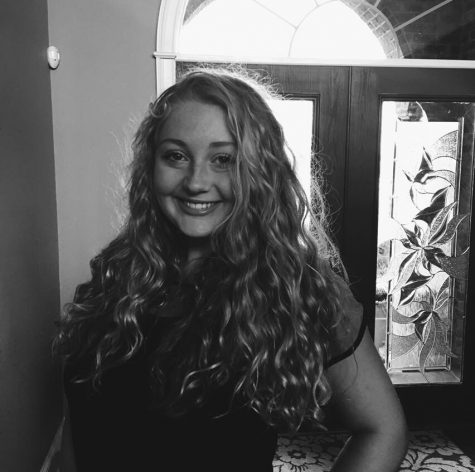 Selena Heldic, Arts and Entertainment Editor

Hi! I'm Selena Heldic, a tenth grader at Greenwood High School. I'll be here to inform you about the Arts and Entertainment department, as well...