Review of New Post Malone Album!
Hang on for a minute...we're trying to find some more stories you might like.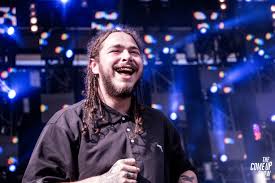 Recently, rapper Post Malone released his new album "beerbongs and bentleys," and fans were going absolutely crazy over it!
"I think it's better than 'Stoney' and is perfect for summer 2018 vibes!" said junior Jackson Smith.
The album came out on April 27th of this year, and it has already been officially certified Platinum by the RIAA, and Billboard has released that the album is "aiming for a streaming record and number one debut on the Billboard 200."
Although there are a couple of songs i'm not a huge fan of, overall I would tell others to give it a listen. (Disclaimer: Most of the songs on this album are EXPLICIT! Listen to your own discretion).
My personal favorites include the following:
*Rockstar- This is a great song to listen to at a dance or to get hyped for sure! The collab with 21 Savage was genius, and I feel that incorporating him to the song was a great choice. Overall I like the song and how hype it is, and I love Post's and 21 Savage's voices on this track.
*Ball for me- Post describes in this song how he treats his woman right by buying her things she wants, especially expensive things. Nicki Minaj comes in talking about how she wouldn't "cut slack" and what she thinks of her man. The addition of Nicki Minaj was a great idea, and added a great addition to the song! I love the beat and vibe to this song, especially in the car.
*Psycho- This song has a very chill vibe and beat to it, and the addition of Ty Dolla $ign was perfect. Post talks about how "bad" his woman is and how rich he is. Overall, this song would probably be one of my top favorites from this album because of how much I am in love with the beat, and the singers sound perfect on it!
*Candy Paint- The beat is very hypnotizing, and his voice is very satisfying on this song.. He talks about how he has lots of money and how he "does what he wants." He makes a sly remark to The Office by saying how he "loves paper like he's Michael Scott." He also says that people are trying to stop him, but he's the boss and he's ahead of everybody. This song was also implemented in the most recent "Fast and the Furious."
There are also several songs in the album that really open up listeners to a more emotional side of Post Malone. These songs listed are definite tear-jerkers for me, and I am intrigued at how real Post gets with his lyrics.
*Paranoid- This song contains lyrics that are very raw and real. It's explaining how he feels depressed, has anxiety, and feels that he can't trust no one. He goes on about how he wonders when he's going to find peace and relief, and tells how paranoid he is. This song for sure gets you in your feels!
*Over Now- I love the guitar introduction to this song, and the lyrics are depressing but very real. It tells about how a girl broke his heart, and he would've given her the world. He then describes how it's over, and how he's moving on and not going to let the situation bring him down. I love this song, the beat, and you can hear the pain in his voice.
*Better Now- He describes in this song  that he would've given his girl everything and that he's sorry. He talks about how he put her and everything second, and he talks about drinking to forget about her and their memories but it wouldn't work. He later tells how she's with another guy, and that he's broken without her. He swears to her that he's okay and that she is only the love of his life. This is a very heartbreaking song, but it has an amazing beat and you can feel the emotion he is putting into the song.
*Stay- This song is very sentimental and sweet, and describes how he doesn't want this woman to "break her back" for him, and how he'll provide for her. He goes on to talk about how they fight, make up, and the cycle of that. He also ends it by telling her "I'm here, but don't count on me to stay."
*Rich and Sad- He sings about how rich he is, but how he feels so alone. He also describes how he wished the money would've made his girl stay, and went on about how she doesn't care about him being wealthy and rich. He sings about all of the money and things that he has that doesn't satisfy him, and how he would throw it all away for this special girl. This song is sweet, but very real and heartbreaking for him.
*Blame it on me- The intro is very suspenseful, and it describes how people are just using him and taking pieces of him. He goes on to say how there is a hurricane going on inside his brain, and how a girl loves the pain and seeing him go through it. He gets into the chorus by describing how this girl cuts him down, and that they both know that they can't "blame it on me." He talks about how he lost himself and how its his fault for not giving up his soul and how he paid the costs. The ending is very raw, and you can feel the words he is expressing in this song. The emotion that he emotes on this track is insane, and I was almost in tears.
There were also a couple of songs on "beerbongs and bentleys" that I wasn't huge fan of including "Spoil My Night" and "Same B******."
*Spoil My Night- The intro beat is very interesting. Swae lee talks about spending so much money and about a girl he's with. Post starts getting in to how everybody knows him and he saw a girl who liked him back, and continued by saying "I think she rock with me like Jumanji." He knows he's not doing the right thing by hooking up with her, and the publicity and trouble he will get in for doing it, but he blows that off and describes how he doesn't want to "spoil" his night. I'm not a huge fan of this song because I didn't care for Swae Lee on the track and I didn't care for the message of this specific song compared to the other tracks on this album.
*Same B******- The intro is very dark, and opens up with him questioning how he sees the same people all of the time, even though LA has a large population. He also talks about how he got a girl many of followers for being with him, but she is still broke. G Eazy gets into his verse describing how the girl looks so rich online, but she's actually not in person and called her a "hollywood devil." He also gets into how he's a beast, and that a guy won't get his girl back if he gets with her. YG goes into seeing all of the girls over and over again, and how he's with the program. G Eazy always goes hard on his verses and songs, and I absolutely love his voice! I was iffy if YG was fit for the song, but he sounded better as he got into it on his verse. Not my favorite song, but it is okay.
Although there are a few I didn't cover, I am still overall impressed by Post, the rappers featured, and how raw Post got in his lyrics. You can check his album below:
https://open.spotify.com/album/6trNtQUgC8cgbWcqoMYkOR