My Twenty One Pilots Experience
Twenty One Pilots is a band made up of two members–drummer Josh Dun and singer Tyler Joseph who are both from Columbus, Ohio. The band was formed by Joseph in 2009 with two of his friends, who both left in 2011. Dun eventually joined and the duo have been inseparable ever since. Over the course of several years, the boys have made the albums Regional at Best and Vessel. It wasn't until their album Blurryface came out that their fame quickly rose. They have sold out nearly every since venue they're scheduled at across the world. Because of their success, they've found themselves with a massive following called the 'Clique.'
Personally, I've been a fan since their Vessel days. So, it was definitely a huge shock when one of my close friends, Haylea, offered to take me to one of their concerts. Of course, I had to say yes. That's when the long wait began. Before we knew it, 283 days had turned into 100 and eventually, it was just a week before the concert.
We also invited a mutual friend of ours, Destiny, who stayed at my house the day of the concert. We spent hours deciding on what we clothes we should wear, what type of makeup was acceptable to wear at the concert, and what we should bring. Haylea's mom picked us up at two o'clock and then we were on our way.
The drive to Louisville was spent listening to the Blurryface album on repeat and trying to convince ourselves that we were actually going to a Twenty One Pilots concert. When we got to the KFC Yum! Center, we were surprised at how many people were there. There had to have been just thousands just outside the front doors.
We began hunting for food. Unfortunately for us, all of the surrounding restaura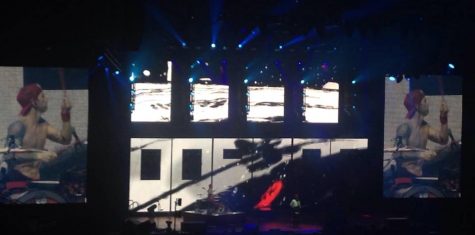 nts were packed full of people with hour long waits for food. Luckily though, we could eat something inside the arena, despite the outrageous prices. We went in, got something to eat, and were seated in the span of fifteen minutes. Eventually, the first opening act came on and the arena became so loud, you could hardly hear yourself think.
Judah & the Lion were an energetic band, singing popular songs, such as Mr. Brightside, that had the entire arena screaming with joy. The next opening act was Jon Bellion, who charmed us all with his bright smile and soothing music. Though, we all knew who we were really there for.
We got moved to different seats about halfway through Jon Bellion's part, which had been a major disappointment for me–Jon Bellion is one of my all time favorite musicians. We managed to find our seats and were seating just in time for Jon to end and the intermission started, allowing Twenty One Pilots to bring their stuff on stage. All three of us were on the brink of tears, excited for what was to come.
Then, at precisely 8:00, the Blurryface came on, quoting lyrics from the song Fairly Local and everyone screamed. The curtain fell and Tyler Joseph jumped over his piano. It was the best opening to a concert I had ever seen.
Over the next two hours, so much stuff happened: Josh had a drum battle with himself, there were dancing masked men, Tyler rode on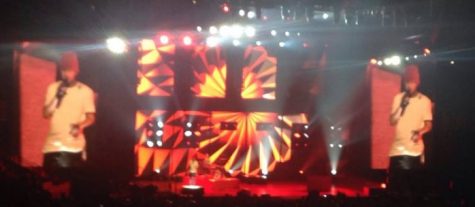 the crowd in a hamster ball, and the two opening bands came out to sing a few covers with the main band.
I ended up taking over 100 videos, all of which are still stored on my phone. The ending song, Trees, was just as eventful as the beginning. Josh and Tyler stood on the crowd and had a drum battle, confetti raining down above. Luckily, I managed to catch about a handful of confetti. The show had been stunning with the full of colorful lights, the different engaging activities for the crowd to participate in, and the overwhelming feeling that the band actually cared for their fans.
Even as I sit here writing this, I can still say that the Twenty One Pilots concert had been the best concert I had ever seen. It was brilliant and if I ever had the opportunity to go again, I'd take it in a heartbeat.