March Madness: Final Four and Final preview and predictions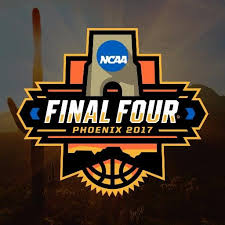 According to ESPN, only 657 entries total correctly picked the unique final four of Oregon, South Carolina, North Carolina, and Gonzaga. Roy Williams is the only coach who has been this far in the tournament so far, and will be looking for his third title. Gonzaga and South Carolina are making their first final four appearances, while Oregon is back for the first time in 78 years.
1.Gonzaga vs 7. South Carolina
If your bracket is busted (as if there are any that aren't) you probably are thanking the 7th seeded Gamecocks. Just around .4% of all brackets had South Carolina's cinderella ride going all the way to the final weekend. But no one is more deserving of being here then the Gamecocks, with a 20 point win over Marquette, an upset of heavily favorited number two Duke, a suffocating 20 point upset of Baylor, and pulling away late against fellow SEC member Florida. All wins after the opening round have come against higher seeds. Sindarus Thornwell has been the most exciting player in the tourney, and has an underrated support group led by PJ Dozier and Chris Silva. The Gamecocks have triumphed because one of the best defenses in the nation and an offense that is hitting its stride after struggling all year. This will be their first ever Final Four appearance.
Also making their final four debut is South Carolina's opponent Gonzaga. With a one seed and being in 35% of brackets final four, the Bulldogs have been a favorite all year. They feature one of the best defenses and a very well balanced offense. They cruised into the Sweet 16, where they avoided a near upset courtesy of West Virgina. Then, they wrecked havoc on bracket killers Xavier on Saturday. Lead by star Nigel Williams Goss and towering big man Przemek Karnowski, the Bulldogs look poised for a title.
Prediction: Gonzaga 68-64. Eventually, everything must come to an end. I don't see the Gamecocks being able to pull this one out. I think this will be a hard fought defensive battle. I see South Carolina's magic continuing early, but Gonzaga finding their stride late and ending South Carolina's fairy tale run. Sindarius Thornwell's magic will be halted by Gonzaga's tight defense. Still, with the pure madness this year, South Carolina could play a close game and if they catch some breaks, who knows?
1. North Carolina vs 3. Oregon
The last time Oregon came  this far, Nazi Germany was preparing to start their quest for world domination. The word NBA was nothing but an odd assortment of letters. Anyways, when Chris Boucher went out just before the tournament, everyone (including me) for some reason thought the Ducks season would end before the Sweet 16. Well, here they are in Phoenix. Kansas, a heavy favorite- was disposed by Oregon almost too easily. That was probably the most impressive win of the tourney- going into to Kansas City and handling them. And they beat them. The Ducks also ended Michigan's cinderella run, came back in the final 6 minutes against stingy Rhode Island, and crushed Iona to get here. With Jordan Bell going god mode (blocking eight shots against Kansas) Oregon's inside game seems to be doing just fine. And then of course, their perimeter game. With Tyler Dorsey shooting an absurd 63 percent in the tourney and Dillon Brooks being Dillon Brooks, the Ducks are for sure a threat to take out the last blue giant.
On the other end, we of course have North Carolina. The Tar Heels are by far the most familiar to making these deep runs, as coach Roy Williams alone is making his 9th Final Four appearance. Rocking a well balanced, talented team, the Tar Heels are slight favorites to take it all. They had a fairly easy path until running into Kentucky, where secret weapon Luke Maye put UNC through with a bucket that left just .3 seconds on the clock. Stars Justin Jackson and Joel Berry have been killing it all year and with the inside presence of Kennedy Meeks and Isaiah Hicks, North Carolina has more than enough manpower and talent to take the trophy.
Prediction: North Carolina 79-77 I see North Carolina again narrowly escaping elimination. Ultimately, this game will likely come down to muscle and determination, and I see Kennedy Meeks having another monster day on the boards. Justin Jackson and Joel Berry put up solid numbers and Oregon hits some threes late to stay close. Eventually, Oregon goes on a cold streak, and the Tar Heels get a narrow victory. Expect Oregon to make this a close game, for sure.
Outlook: I will take North Carolina over Gonzaga if they meet as predicted, but of course with the pure madness of the tourney don't be surprised if South Carolina or Oregon manage to pull off a shocker. Of course almost all of my predictions have been wrong, so the opposite of what I think could certainly happen.