Super Bowl LI: Brady to Grab Fifth Ring?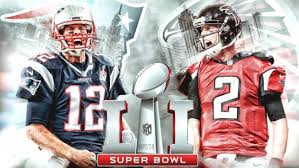 Both of the favorites won in conference championship week to set the table for a very exciting Super Bowl. The Falcons (13-5) play the Patriots (16-2) in Houston on Sunday (5:30 p.m. on Fox).
The game will feature two of the games' finest quarterbacks in Matt Ryan and Tom Brady. Brady, one of the best quarterbacks to ever play the game and a sure Hall of Famer, will be chasing his fifth ring with the Patriots.
Atlanta's Matt Ryan, after an MVP-caliber season, will look to cement his legacy with his (and his team's) first Super Bowl ring. There are no teams more deserving then the Falcons and Patriots, as the Patriots have only lost two games and the Falcons just smacked two of the league's finest in the Seahawks and Packers.
In-Depth Predictions
Since it is the Super Bowl, I am making pinpoint predictions. Right off the bat, mark Brady down for 342 yards and three touchdowns. Well, that was easy to predict. I say Matty Ice has a similar game. Let's give him 319 yards and, just like Brady, three touchdowns. 
The two quarterbacks go back and forth all game. Julio Jones racks up 9 catches for 139 yards and snags two of Ryan's touchdowns. Malcolm Butler has trouble dealing with the athletic freak. In addition, I think Patriots' running back LeGarrette Blount goes for 88 yards and scores twice, one on a goal-line punch-in. Yup, that's five touchdowns for the Patriots' offense.
The Falcons' running back Devonta Freeman stumbles a bit going for 72 and gets in the end zone as well. When most people turn off their TV to avoid watching Lady Gaga, the Pats are already ahead 24-10. Both defenses struggle the entire game, but when it matters, the Patriots end the game in the late moments with an interception, and the final score reads 38-31.
The second half was very uplifting and Matt Ryan comes close to forcing overtime. When all is said and done, Tom Brady walks away with his fifth championship and the city of Atlanta falls just short. I would say the game's MVP, but that would be a waste of space.
31                                                                                             38