Say Hello to Violinist, Marlena Stokes

Marlena Stokes is a senior at Greenwood High School and a skilled violinist. She started playing in fourth grade, after Strings directors came to her school and demonstrated four instruments: violin, viola, cello, and bass. Marlena ended up choosing to play the violin, as the instructors made it sound intriguing and violin is a class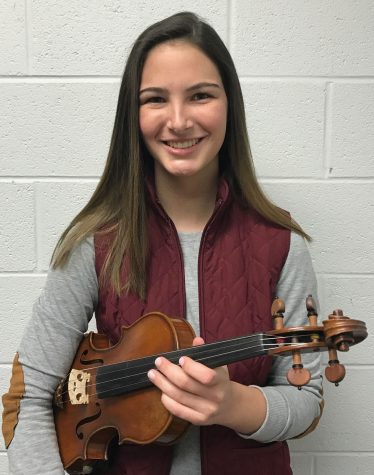 y instrument.
Marlena feels strongly about music and thinks that it is important to someone's learning abilities.
When asked about what she would say to people thinking about learning a new instrument, she said, "Definitely try it . . . (Playing an instrument) is not letters and numbers," she says, "It's hearing."
Marlena enjoys to play violin stating that it inspires her and comes with no limits of what to play. She can play anything from fiddling music to classical music.
However, Marlena states that playing the instrument did come
with difficulty. She says that she has small hands, and even though the violin is a small instrument, her hands are still too small to reach some notes. This meant that at a young age, she had to learn how to shift down to get certain notes, a difficult task normally taught to advanced players.   
One other difficulty she comes across from being a part of Strings, as well as every other Strings player in thearea, is not being recognized. She states that Strings isn't viewed as something cool, and that causes difficulty when people accomplish something, such as playing for All-District or making it into a good musical program.  
So far in Marlena's career, she has played her violin for several events. She played in All-District her junior year, as well as playing a solo for the GHS Winter Concert in 2016 for the piece We Wish You a Klezmer Christmas. She also played Vivaldi Concerto in A Minor for the talent portion of Distinguished Young Women. She has also played for a graduation ceremony for little kids.
Marlena would like to see how far she can get being a violinist and how much she can learn about playing the instrument.