Patriots, Packers Predicted to Meet in Super Bowl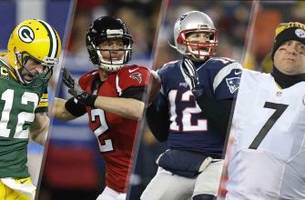 Hang on for a minute...we're trying to find some more stories you might like.
Yep, it's that time of year again for football fans. The playoffs have been bipolar so far, with blowouts and boring games in the wild-card round, and a divisional round filled with nail biters and very entertaining football. This week the Falcons (12-5) host the Packers (12-6), and the Patriots (15-2) host the Steelers (13-5). Between the teams' starting quarterbacks, there are seven Super Bowl rings. Matt Ryan will look to complete the group of four to win.
Packers (12-6) at Falcons (12-5)
If you like high-scoring games, this will be better than the Super Bowl. In fact, most fans are looking forward to this more than the big game. Contradictory to common opinion, I say Aaron Rodgers leads the Pack past the Falcons. It's a bold prediction, considering the Falcons have already beat the Pack in week 8 and overwhelmed the once mighty Seahawks last week, and are at home, hence them being five-point favorites. Like most people, I am predicting a high-scoring game, as well as an exciting one. I say both quarterbacks sling their way to over 300 yards each and there are over 60 points scored. Both defenses provide little to no resistance. Running backs Devonta Freeman and Tyrone Montgomery also have their ways with the defense. Aaron Rodgers looks to snatch his second ring. Packers 34, Falcons 30
Steelers (13-5) at Patriots (15-2)
It's always a good sign when Le'veon Bell's yardage total looks like area codes, but there is absolutely no way I see Tom Brady losing here in front of a home crowd. Anyone who takes the Steelers is a fan or just plain delusional. That's nothing against them, but picking Tom Brady to lose here is just ridiculous. I think the Steelers could make it a game, but most likely won't. The five field goals the Steelers had last week won't cut it this week. Belichick tends to always shut down one of the offensive stars. It is a very hard choice between Bell and Brown, but one of those guys will likely have a quiet game. Big Ben is annoyed by an underrated Pats defense, and Tom Brady has no issues picking apart another underrated defense. The Steelers D is better than most people think, but come on–it's Tom Brady. Patriots stampede over the Steelers and this sets up an exciting Rodgers-Brady Super Bowl where Brady will look for his fifth ring. If you have more rings than Donald Trump, you have to be doing something right. Steelers 17, Patriots 38