Top 10 Rappers to Ever Touch the Mic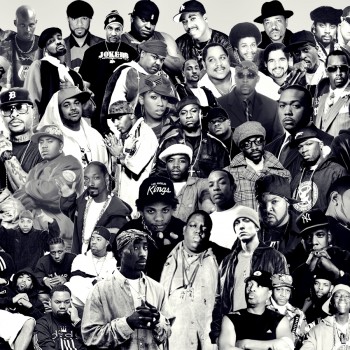 Rap. Thought to be a bad influence. Morphing into "Trap" today with artists that don't even say words anymore and rely on a hard beat to do everything. This is my list of the top 10. As we all know, no one's list is right. This is in my opinion-but I think this list is pretty darn good. I have inserted some links to show some of these rappers best work.
Honorable mentions: Eazy E, Jay Z, Big Pun, Scarface, RZA, Hopsin, Kanye West, 50 Cent, Andre 3000
                                              10. Big L

When discussing the best of all time, the name Big L is often left out. The NYC rapper was among the finest to ever spit. He probably had the best punchlines ever, and described New York "gangster" life very well. His debut studio album, "Lifestylez ov da Poor and Dangerous" was among Gangsta rap's best.  Unfortunately, Big L's music career–and life–was cut short when he was killed in a drive-by shooting after releasing just one studio album. He was just 28. Still, Lamont Coleman's legacy lives on. Check this for some of his best work.
Best Album: Lifesylez ov da Poor and Dangerous (1995)
                                 9. Immortal Technique

Another great rapper often left out is Immortal Technique. An ill story teller and lyricist, listening to him is listening to a movie without the pictures. He also has a solid flow and has many different sides to him. "Dance with the Devil" is among my all time favorites, and has been cemented as one of the most meaningful rap songs ever made. He currently has 3 albums, and plans to make another soon. Born in Peru, he has came a long way with rap
One of the most powerful songs ever written here   
Best Album: Revolutionary Vol. 1 (2001)
                                               8. Ice Cube
One of rap's most well-known names and a pioneer of gangsta rap, Ice Cube was on another level. It was Ice Cube who powered perhaps the best rap group ever: NWA. He wrote all the songs, and rapped more than any other members. When he left due to a disagreement in cash with manager Jerry Heller, NWA basically collapsed on itself. Without Cube, NWA didn't go anywhere. He went on to have a very successful solo career,  including the classics "Death Certificate" and "The Predator." "It Was a Good Day" has been cemented as a hip-hop classic. Cube could spit with the best of them.
Best Album: The Predator (1992)
                                        7. Kendrick Lamar
Drawing comparisons to a reincarnated Tupac, Kendrick runs and is the best in the game today. The only rapper currently in his prime on my list, Kendrick could be the best to ever touch the mic by the time he retires. "Good Kid, Maad City" is on the list of all-time great rap albums. His wordplay and lyrical skill is unmatched. This combines with his amazing flow and concretes his spot as one of the best.
Best Album: Good Kid, Maad City (2012)
For more fire from Kendrick click here
                                                                                                                                6. MF Doom
The king of underground hip hop and in my opinion the most underrated rapper of all time, MF Doom is the definition of a real rapper–and is a very good one and the least popular on my list. His lyrics are perhaps the strongest of anyone, and he has an awkward flow that is strangely very awesome.  Just listen to one–just one–of his songs and will learn that Daniel Dumile is no joke.
Best Album: Mm.. Food (2004)
                                             5. Rakim                                                    
One way to see if a top 10 list of rappers is legit is if it includes Rakim. One of the pioneers of rap, Rakim did it better than almost anyone. "Paid in Full" is one of the most classic rap albums ever made. Rakim Allah did it at just 18. One of the first from NYC, Rakim brought rap to fame on the East Coast. Click this to get a glimpse of just how good he was.
Best Album: Paid in Full (1987)
                      4. The Notorious B.I.G.
Christoper Wallace started rapping for fun and just to entertain himself. Soon, he became so good it got boring. He destroyed competition on the streets of NYC as a teenager. Eventually, in 1994, Biggie Smalls released "Ready to Die." It instantly blew up and Biggie was atop the rap game as soon as he displayed his top class, easy-going flow and story-telling abillities. In 1996, he released his second album, another classic, "Life After Death."  As we all know, he was often compared to West Coast rapper Tupac Shakur (who will be featured soon). In terms of pure rapping ability, Biggie could smoke just about anybody. Unfortunately, Biggie died in a drive by in 1997, cutting his career and life short at just 24. "Life After Death" went on to become one of the few rap albums ever to go platinum. Concidentally, his first album was called "Ready to Die" and was released about 3 years before he died. His second album "Life After Death" was released just after he was killed on that awful night in Los Angeles. These two were sadly the only two we would ever hear of Biggie. Still, he was so good that's all it should take to place him on any top 5 list.   Click here for one of the illest songs ever written.
Best Album: Ready to Die (1994)
                                                                                                                           3. Nas
If you look up best rap albums of all time, a cover with a little boy in front of the NYC hood will show up with the title "Illmatic" under it. This is no mistake. Like many other rappers, Nas grew up tough, was left by his father, and rapped for fun. He and his friend Will would record rap songs to entertain themselves. When Will listened to the songs, he was amazed by Nas's fundamental wordplay and smooth flow. It took a while, but eventually, someone took advantage of Nas's insane rapping ability. One night, when Nas was recording music, he heard bullets outside. He opened his front door to the horrific image of his brother screaming in pain and his best friend Will dead in the open. This would change his life and encourage him to get big in rap. He did just that when he released "Illamtic" perhaps the best rap album ever made. He was just 20 when it was released. It didn't blow up right away, but gradually more and more people realized its masterpiece. It is, in my opinion, the most lyrical album ever–of any genre. We all know Illamtic, but Nas also released classic albums such as "It was written", "I am", and "God's Son". The list of accomplishments are too long to list here. His wordplay and lyrical skill will never be matched. Click this and this for two classic songs on his classic album, "Illmatic."
Best Album: Illmatic (1994)
                            2.Eminem   
Love him or hate him, Eminem is a must top 5 rapper on any list. Once just another poor kid from Detroit, Eminem has came a loooonnnggg way. Without him, what would rap be? His lyrics are close to Nas's, his flow is right up there with Biggie, and his punchlines are up there with Big L. Let's not forget his story telling ability and his blah blah blah. I could go on and on with how talented Marshall Mathers III is. I'm sure everyone already knows. When he released "The Slim Shady LP" haters thought he would never make it- his lyrics were way too violent and he apparently didn't have any talent. But "The Marshall Mathers LP" in 2000 shut up any haters. The second best selling rap album of all time (behind another one of his albums, The Eminem Show) was a contender for the best rap album ever.  "Stan", "The Real Slim Shady", "The Way I Am", and "Kim" all helped it blow up. The album had few weaknesses. If you haven't listened to this album, you should be considered to know nothing about rap. This was followed by "The Eminem Show" which, as I mentioned, was the best selling rap album of all time. I could write a book about Eminem's success (did I mention he was the best selling artist of ANY genre of the 2000s?) but I think I gave you good enough reasons to consider him as one of the GOATs. Check this for his earliest work, this for maybe the best rap song ever, and this as a very underrated dark song.
Best Album: The Marshall Mathers LP (2000)
                       1. Tupac Shakur
On June 16, 1971, the world changed when Lesane Parish Crooks was born in East Harlem. Sure, he might not be as lyrically talented on some of the other guys on this list. But he was up there, and most importantly, his music had so much meaning. When someone claims rap is a bad influence or objectifies women, just bump up "Keep ya Head up", "Brenda's got a Baby," "Changes", and many other Pac songs. From the time 2pacalypse now was released in 1991 until a fateful night in Las Vegas, Tupac changed hip hop and the world as a whole. He was really a community guy. His songs are so powerful and speak nothing but the truth. He also has some songs in which he highlights his rapping skill, which when he focused on, was as good as anybody. He is most likely the reason your favorite rapper started rapping. If you could only listen to one guy on my list, definetly check out Pac (if you somehow haven't already). Tupac will forever be a legend in the rap game and in my opinion, was the best to ever to do it. Click this for maybe his best and this for one of his powerful popular hits.
Best Album: All Eyez on Me (1996)