Nash Earns Honor for Rookie Volunteers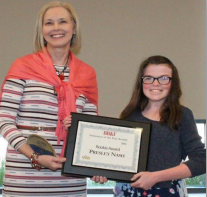 One of Greenwood's very own students, Presley Nash, won the Individual Rookie of the Year Award at this year's banquet.  Volunteers In Action is made up of a core group of diverse agencies that rely on the dedication and commitment of community volunteers.
The "Rookie Award" recognizes an individual or group who is new to volunteering in the community, starting their service in the last 24 months. Presley Nash was nominated by Community Education for all her help and hard work she does within the community.
Greenwood's Action Team was also recognized at this banquet for being a Rookie of the Year Nominee. The Action Team is a new club that has started at Greenwood that provides opportunities to volunteer and acquire service hours within the Warren County Community. Mr. Hazard is the club's faculty adviser.