Tar Heels likely to grab Sixth Championship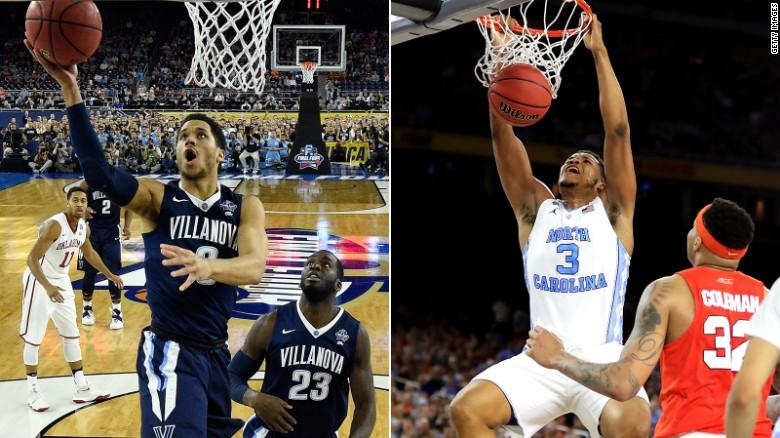 Villanova (34-5) plays North Carolina (33-6) for the Men's College Basketball final. Both teams are coming off strong performances in the final four. North Carolina's lowest winning score in the tournament has been 14 over Notre Dame. Villanova embarrassed Oklahoma by 44 points. Villanova took down tournament favorites Kansas in the Elite Eight and have been on fire the whole tournament. If I had to make one prediction about the game, it's that it's going to be a coin flip. The game will likely go down to the wire and may simply come down to who has the ball last.
Likely Starting lineups:
Villanova:
G Josh Hart: 15.5 PPG
G Ryan Arcidiacono: 12.4 PPG
G Jalen Brunson: 9.7 PPG
F Kris Jenkins: 13.6 PPG
F Daniel Ochefu: 10.1 PPG
North Carolina
G Joel Berry II: 12.6 PPG
G Marcus Paige: 12.3 PPG
F Justin Jackson: 12.3 PPG
F Kennedy Meeks: 9.4 PPG
F Brice Johnson: 17 PPG
The Deciding Factor:
North Carolina's offense has been unstoppable recently. Likewise, Villanova's defense has locked down everyone including holding Naismith Trophy winner Buddy Hield to just 9 points on Saturday. Their offense and defense are so good it kind of balances out. However, the deciding factor should be North Carolina's post game. Soon to be tournament MVP Brice Johnson, the athletic Isaiah Hicks, the efficent Kennedy Meeks and Justin Jackson. Daniel Ochefu and Kris Jenkins are no doubt great players but should have to expend a lot of energy against the elite inside group of UNC. Likewise, on the defensive side of the ball UNC limits Nova's inside game and they are forced to shoot from the perimeter more than they would like.
My Prediction:
Villanova's group of Ryan Arcidiacono and Josh Hart beats Marcus Paige and Joel Berry II, but in the end, North Carolina outscores Villanova in the paint and in the scoreboard. Brice Johnson scores 23 to go along with 11 boards, and Justin Jackson adds 16. Villanova's top scorer is Josh Hart with 19. North Carolina wins down the wire. Score: 73-71