Greenwood Singers Perform a Beautiful Concert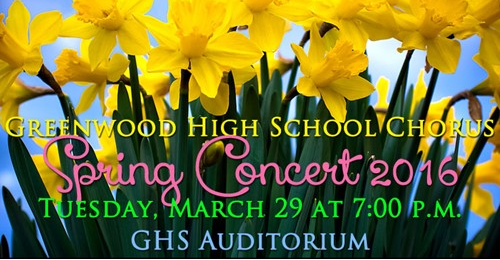 By Sophie South, Arts and Entertainment Editor/Reporter
April 1, 2016
Hang on for a minute...we're trying to find some more stories you might like.
This past Tuesday marked the yearly spring concert held by the choir program at Greenwood. This event held lots of encouragement, applause, music, and fun.
Each choir sang around four songs, and included special performances by the a cappella groups here at Greenwood. Each performance included traditional songs and hits that some audience members knew!
The first performance of the night was from the beginner's choir, which has 30 members. Their songs included: "Gloria Tibi" by Greg Gilpin; "I Had a Paint Box" by Z. Randall Stroope; "Send Down the Rain" by Joyce Elaine Eilers; and "Don't Go Breaking My Heart," originally by Carte Blanche & Ann Orson, but arranged by Adam Anders & Tim Davis.
The next performance was a spotlight of the women's a cappella group "The Crescendolls," which has 21 members. This group made many tough decisions on what song they were going to choose, but they ended up choosing The Beatles classic "Come Together." This performance included solos from Ciera Harrod, Haley Pridemore, Lydia Cantrell, Linzey Smith, Jeanette Harris, and DiDi Turley.  
The next group that performed during the night was the advanced women's choir, which has 32 members. Their songs included: "O Venturoso Dia!" by Francisco Guererro; "Shenandoah" by Mary Goetze; "Chariot Comin' " arranged by Don Besigand; and "Blackbird," originally by John Lennon & Paul McCartney, but the choir used the arrangement by Audrey Snyder. There were solos by Emma Brittenham and Dawn Burroughs, and a small-group performance from Grace Hines, Keiko Nishijima, Emma Tomlin, Emily Cox, and Dawn Burroughs.
Next up was the boys a cappella group "The Fortissibros." They thoroughly went through their song choices, and ended up choosing the song "Madness" by Muse. Soloists included Cody Wright, Seth Jones, Ben Morrison, Matt Propst, Cruz McClure, Joe Moore, Tanner Rampy, and Reed Scott.
 The night concluded with the advanced mixed choir, which holds 34 members. Their songs included: "Dixit Maria" by Hans Leo Hassler, "Seize The Day" by Roger Emerson, "For The Beauty Of The Earth" by John Rutter, "Good Night Dear Heart" by Dan Forrest, and "My Soul's Been Anchored In The Lord" by Moses Hogan.
 In the end, the students have worked very hard to make this program a success. Ms. Osborne, choir teacher here at Greenwood, worked tremendously hard to help and teach the students the best she can. All the hard work paid off by giving a beautiful concert!