Curry Redefines Unstoppable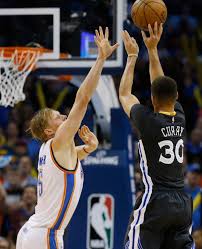 One of the craziest games in the NBA season happened recently. After the game, one thing is clear: Stephen Curry can't be stopped. We may have already known that, but his game-winning three as time expired in overtime was his 12th of the game, setting an NBA game record.
Curry shot an insanely accurate 12-16 on the day and seemed to be unstoppable at times. Klay Thompson added 32 despite shooting 2-9 from the three-point line. And oh yeah, the game. Curry made us forget about it. The score was 121-118 and ended in overtime.
See the game highlights here: http://espn.go.com/video/clip?id=espn:14862733
The Warriors advanced to 53-8 and the Thunder fell to 41-18. The Warriors won the second of the four-game season series against the Thunder. Kevin Durant led the Thunder with 37 points and had a great shooting display of his own, going 7-11 behind the arc, but may have cost the Thunder the game by fouling out in overtime. This made star Russell Westbrook force shots and finish an ineffective 10-29 from the field. He finished with 26 points and 13 assists.
The Warriors go to 29-5 on the road this season and 9-1 in their last 10. They play the Thunder again at home on March 3 at home where they have been 25-0 this season. The Spurs have actually been 28-0 at home this season, beating the Warriors out by 3 games. The Warriors are now 54-5 and need to go 19-4 in their last 23 games to beat the 1995-96 Bulls season record.