Golden State Warriors Chase Bulls' NBA Record
It's the biggest question in sports today. Will the Warriors win 73 games? Coming off a championship win, they are currently 50-5 and chasing Michael Jordan's 1995-96 Bulls 72-10 record.
Current status
Record: 49-5
PPG:            Steph Curry 29.7
Klay Thompson 21.5
Draymond Green 14.2
RPG:           Draymond Green 9.6
Andrew Bogut 7.4
Festus Ezeli 5.9
APG:           Draymond Green 7.3
Steph Curry 6.6
Andre Iguodala 3.5
Next 5 Games:
At Miami (31-24)
At Orlando (24-30)
At OKC (40-16)
Vs Atlanta (31-27)
Vs OKC (40-16)
Chase of the Bulls
The 1995 Bulls went 72-10 while the Warriors are now 50-5 with 27 games left; they must go at least 22-5 to tie the record or 23-4 to break it. I think they could do it fairly easily unless a key player gets injured. Stephen Curry has the highest Player Effiency Ratting ever recorded in a season. He is yet again challenging his own three-point season record. Klay Thompson is yet again putting up solid scoring numbers and Draymond Green is having a great year averaging 14-10-7. Their next 5 games are tough but we are talking about the Warriors. I say they win at least 4 of them, with OKC having the best chance of beating them. They have been 24-0 at home this year, and I don't see them losing at home anytime soon.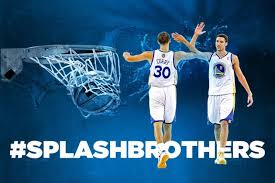 And then of course is the big question. Are the Warriors the best team ever? It's a tough question, going against one of Micheal Jordan's teams. The team had 3 great Hall of Famers on it, MJ, Scottie Pippen, and Dennis Rodman. The trio of Steph, Klay, and Draymond is a great one but perhaps not as good as Jordan's trio. In my opinion, no one will ever be as good as Jordan's Bulls teams, but if anyone is close it would be this year's Warriors. Of course, to even be compared they will have to win the Finals, which would be their second straight.
Current starting lineup:
PG: Stephen Curry
SG: Klay Thompson
SF: Harrison Barnes
PF: Draymond Green
C: Andrew Bogut
What's even crazier is that Kevin Durant has talked about joining the Warriors this summer after his contract expires. Now picture a team with KD in Harrison Barnes' spot. That would be like Barcelona in basketball. My Prediction is that they win more than 72, break the Bulls record, and win their second finals in a row.