Greenwood: An Award-Winning Education
Greenwood teacher receives Golden Apple Award
By Christine DiMeo, Editor-in-Chief
January 25, 2016
Each month, the Warren County Public Schools system recognizes two teachers and two support staff members within the district with a Golden Apple Award. Golden Apple recipients are nominated for going above and beyond the requirements of their job or demonstrating leadership and initiative.
In the month of January, Greenwood teacher Mrs. Shelly Towe was selected out of all the teachers in the district to be one of the award's recipients. Mrs. Towe teaches English as a Second Language and is known to put her all into ensuring her students' understanding.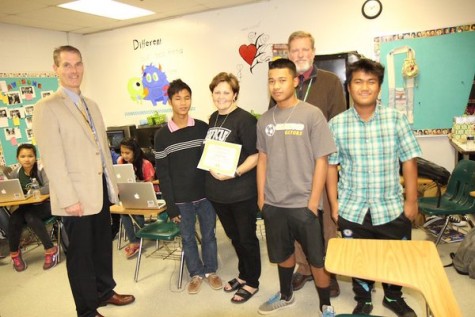 WCPS Superintendent Rob Clayton and GHS Principal Greg Dunn surprised her with the award at school last week. She was also intended to be recognized publicly at the Warren County Board of Education meeting on Thursday, January 21, but because of the inclement weather the meeting could not be held.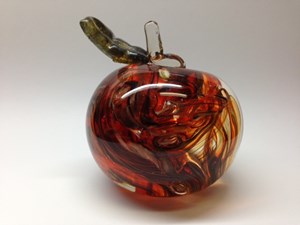 However, Mrs. Towe, along with each of the other three recipients, will still receive a one-of-a-kind glass apple. These apples are each hand-made by local artist William Van Tassel, who created Evolution Glassworks in Butler County and his own studio in Greene County, Indiana.
Congratulations to Mrs. Towe and the other January Golden Apple recipients!