South an all-around, but humble, star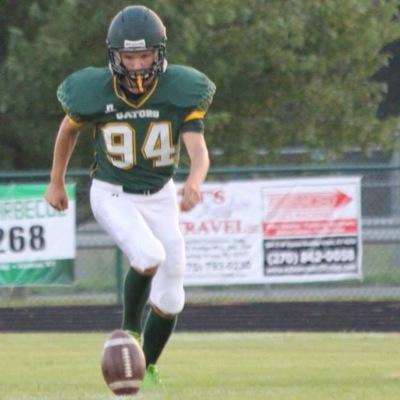 Tanner South isn't your average person to be around. He's a leader, a hard worker, caring, and personable. (Full disclosure: He's also this reporter's brother.)
Tanner is involved in several sports including golf, football, bowling, basketball, and baseball. He's also a part of Student Council, Public Relations, OAR Club, KYA, NHS, and FCA.
One of the senior's biggest accomplishments was getting invited to a National Scholarship Kicking Camp presented by Kohl's Professional Camps. He also kicked a long punt, making this kick into the Kentucky High School Athletic Association record book.
South is the kicker/punter for the football team, a guard/small forward in Basketball, and a right and left fielder/pitcher for the Gator Baseball team.
For Football, he averaged 5.5 points per game throughout this season and he was the third-highest scorer on the Gator football squad. He also kicked a 72-yard punt during the first playoff game against Graves County, and kicked a 60-yard field goal during the team's warm-up before their game against Monroe County.
"Tanner is an outstanding individual.  He was a hard worker during football practices & very coachable. Tanner did an outstanding job of punting & kicking for our football program.  He was excellent at placing the ball where we asked him to on kickoffs and at flipping the field when we asked him to punt," said Coach Seabolt.
This season, Tanner made all 49 of his P.A.T.'s (Point After Touchdowns), and each of his three field goal attempts. Sporting Times wrote an outstanding review on the Kicker, which you can view here. He also has a profile on the Kohl's kicking camp website with videos and stats from the past 2 years here.
Coaches have described the multi-sport player as a big leader on their team. "Tanner's most important role on our team was his leadership.  We had several young guys on the team who needed guidance and direction and Tanner was that role model on the team.  As a coach, it's always good to have a person on the team you can point to and say, 'Do as he does.'  Tanner was that person for our golf team this year.  The young guys respected Tanner, listened to him, and tried to follow in his footsteps," said Coach Dillingham
Tanner loves winning with his teammates, creating game-changing plays on the field or court with his brothers, and spending time with his friends and family. He is originally from Marshall, Michigan, and loves visiting his family back there once or twice a year.
In South's free time, he loves watching SportsCenter and the latest games. Tanner loves to watch the Michigan State Spartans, because he's a fan of their coaching staff, especially head coach Mark Dantonio. He also loves them because he was born into a Spartan-loving family, and he enjoys watching their family-oriented team.
Tanner also loves watching the Detroit Lions play because he was from Michigan and he loved watching kicker Jason Hanson, who recently retired, boom the ball into the goal or down the field.
Tanner would love to study Sports Marketing/Managing, and hopefully will be able to kick for a college. He says that he wants to stay around something he loves, which would be sports.
South loves watching his favorite movies: American Sniper, The Other Guys, and White House Down. He enjoys listening to Fetty Wap's "My Way" and "679"; "My House" by Flo Rida; "Separate Ways" by Journey, and "Sexyback" by Justin Timberlake.
Tanner strives to do well academically and athletically. He tries to execute plays on the field and court, and gets good grades in class. "Tanner is a self motivated young man that works hard at whatever he sets his mind into accomplishing," said Gator Bowling coach Mr. Foust.
While Tanner loves sports, his parents are his true heroes. His dad has been disabled for 28 years, and he has shown him courage with his power to try and walk. He also taught him that if you follow your heart, you can accomplish your hardest tasks. His mom taught him how to become the right kind of man and has shown him how to survive in the world.
Those good role models at home make Tanner what he is today. According to baseball Coach Jason Jaggers, "Tanner is a positive influence on his teammates. He always does what is asked of him. Tanner is a player who is always doing what he is supposed to. Always gives his best effort, picks up others when they are down, and cheers on others when they are up."