Life of A Yearbook Staff Member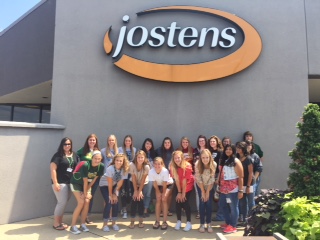 What happens in yearbook class? What do the members do?  Many people think that the a yearbook is easy to make, but they don't know what goes on to make it and how much work students pour into it to make it perfect.  The yearbook staff tries to make the yearbook fun and interesting so that the student body will want to read it and buy it, and trust me it's a hard feat to make it fun!
The yearbook staff starts to plan the yearbook the school year before, they begin to plan who will be in it and what positions they will be in.  Once they have the leaders picked out they get together over the summer to start to plan the layout and decide on the theme for the yearbook.  Once they pick the theme they begin to make sections, figure out how many pages there will be, set goals for the staff, and begin to work with our representative from Joston. On top of that some of the staff go to a summer camp, that Josten hosts, so that they can teach the rest of the staff how to use the website to make the yearbook.  
Once school is in session we begin to assign roles to all the staff and prep members on how to make pages.  Such as teaching them how to write a story, how to take good pictures, how to talk to people during interviews, how to prepare for what you have to do, and prep them so they meet all deadlines.  Once this is done we go to Clarksville, TN to meet with our representative, at a Josten base that is located there, to create our cover page and to tell them our general ideas on how the book will look.  While we are there we also get to take a tour of the base to see what goes in, on their part, for making the book.  
From then on we begin to make the yearbook, we divide work up into pages.  The pages you do are determined by which section of the yearbook you are assigned to.  (The sections we have are Freshman, Sophomore, Junior, Senior, Sports, Student Life, Photographer, Editor, Assistant Editor, Layout Designer, and Business Manager and Marketer.)  We start off by getting each class section done, which includes getting interviews, individual pictures, sending out surveys, and more.  We also have to schedule Picture Day early so we can have those ready to insert into the yearbook, we also individually go through each of those to pick out the best picture of the two taken.  We also do the same for the seniors though it is a more intricate process because they have more photos to choose from.  We also have to schedule a senior picture day so that we can make sure all seniors have a picture in the yearbook.  Once we are done with the sections we begin to fill up the rest of the yearbook with things the students have done over the year, which includes getting more interviews, pictures, and surveys done.
Each page has a deadline on it so the staff is on a very restricted schedule and they have a lot to get done in a short amount of time.  Although this all seems like a lot and makes it sounds like it's not a fun class, it really is the opposite.  Having the staff that we do makes it a fun day of work.  We talk and get to know each other as we are working and we have grown to be a close group.  A day in yearbook can be hard but somehow we manage to make it fun for everyone.  
I hope you guys loves this year's yearbook!  Make sure to think the staff members for all they do!  Also make sure you buy your yearbook this year, you don't want to miss out!