Collins' Best Series Yet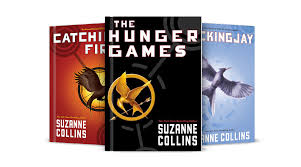 Google has calculated that there are 129,864,880 books in the world. Over the course of a few weeks, I will be recommending the top 15 books for you to read.
The first review will be on The Hunger Games Series by Suzanne Collins.
Genre: Science Fiction
The Hunger Games (Book 1):
World Rating: Five- Star Review
Personal Rating: The first book in this series will always be the one that I love (although it isn't my favorite it does run a close second) because it is the start of Katniss Everdeen's life.  It is also an action-packed story with suspense and something changing around every corner, which definitely kept me reading.  Suzanne Collins is a unique author in that she combines five genres- science fiction, action, drama, tragedy, and romance- together creating an absolute masterpiece.
Catching Fire (Book 2):
World Rating: 4.3 Star Review
Personal Rating: Although I love all three of the books this one was by-far my favorite!  Catching Fire has so many twists- and -turns that I could never put the book down.  The second book gives you just enough information to sit on the edge of your seat waiting for the suspense to end and then she leaves you right where you are by leaving a cliffhanger 'til the next book.  The action throughout the book is also amazing; and she also enlightens you about who's winning Katniss's heart- Peeta or Gale?
Mockingjay (Book 3):
World Rating: 4.4 Star Review
Personal Rating:  One reason I loved this book was because it was the closing.  Collins was finally answering all the questions that you were wondering throughout the series in one book.  The good thing is she doesn't divulge them all at once, but instead throughout the whole story which fills it with suspense and you longing to know what's going to happen next.
Overall Personal Rating: I thought these books were very intense and dramatic.  They had my attention the whole time, I could barely put any of the books down.  It also had just enough romance and fiction to make it the perfect mix, not to boring and not to lovey-dovey.  I'm telling you to read these books because I know you won't regret it, you'll be just as hooked to the 'Girl on Fire' as me!
Also if you liked these books I would recommend you to also go see the movies! They are very good, although I do have to warn you they change some things up from how it was written in the books (but that goes for all books made into movies).  Overall you get a really good picture of Katniss Everdeen's life on camera.