NFL Week 7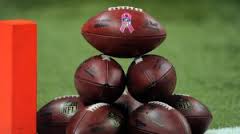 Hang on for a minute...we're trying to find some more stories you might like.
TNF: Seahawks (2-4) at 49ers (2-4)
Winner: Seahawks. While they have been disappointing so far this year, they will get back on track. Their defense makes Colin Kaepernick's life miserable. Russell Wilson has a big game against a rebuilt 49ers secondary. Score:20-10
Morning Game in London
Bills (3-3) at Jaguars (1-5)
Winner: Bills. No upset here. This game gets ugly in front of a nation, assuming Tyrod Taylor suits up. Score: 31-13
Noon Games
Buccaneers (2-3) at Redskins (2-4)
Winner: Buccaneers. Doug Martin will get lots of touches and have a big game against a rushing  defense who have been shredded in back to back games by Devonta Freeman and Chris Ivory. Score:28-24
Falcons (5-1) at Titans (1-4)
Winner: Falcons. Their offense is simply unstoppable, and Devonta Freeman has had 9 touchdowns in his 4 starts. I am predicting he gets at least 2 against a poor Titans run defense. If Marcus Mariota can't play, or is even affected by his injury last week, this game is locked. Score:28-17
Saints (2-4) at Colts (3-3)
Winner: Saints. I like the Saints a lot in this game. The Colts 3 wins have been against the Titans,Jaguars, and Texans. Those teams have a combined 4-13 record, and when they have played decent teams they have lost. Drew Brees has a big game, and the Saints stun the Colts in their own stadium. Score: 23-21
Vikings (3-2) at Lions (1-5)
Winner: Lions. This week's upset of the week. Teddy Bridgewater hasn't been the best this year, and AP struggled to find room last week against a banged up Chiefs defensive line. This week he faces a better defensive line and Teddy Bridgewater will have an off game again. Score:24-20
Steelers (4-2) at Chiefs (1-5)
Winner: Steelers. Even if Ben Roethlisberger isn't able to play, the Steelers still win. Whoever starts at QB has a good game against the worst secondary in the league. Score:27-17
Browns (2-4) at Rams (2-3)
Winner: Browns. Josh Mccown had been tearing defenses up prior to last weeks matchup with the Broncos. The Rams secondary is nothing special and should be the next team to be shredded. Todd Gurley has a big game, but it's not enough to pull out the win. Score:24-23
Texans (2-4) at Dolphins (2-3)
Winner: Dolphins. The Dolphins looked reborn last week with new Interim coach Dan Campbell, getting 4 sacks after having just one all year. The Texans simply don't have weapons outside of Deandre Hopkins, and he has a big game in garbage time. Score: 34-21
Jets (4-1) at Patriots (5-0)
Winner: Patriots. Tom Brady has been unstoppable this year, and not even a top secondary in the Jets will stop him. The Jets offense has been better than most thought but struggles here against a solid Patriots defense. The Jets have been great, but it's to hard to see them going into New England and stealing a win. Patriots are undefeated. Score: 28-24
Afternoon Games
Raiders (2-3) at Chargers (2-4)
Winner: Chargers. This game is going to be close, and many people are saying the Raiders win. However, a league worst secondary will be torched by Phillip Rivers who will get over 350 yards if the gameflow is as expected. The Raiders struggle to stop the Chargers offense. Score:24-21
Cowboys (2-3) at Giants (3-3)
Winner: Giants. The Cowboys seem to have been cursed. Starting QB Tony Romo, top 5 WR Dez Bryant, and short pass game specialist RB Lance Dunbar are all out to injuries. The defense has been ok, but they have been on the field too much due to the offense's inability to move the ball. Eli Manning leads the Giants to 4-3, atop the NFC East. Score:27-20
SNF: Eagles (3-3) at Panthers (5-0)
Winner: Panthers. While the Eagles won last week, Sam Bradford looked horribly inaccurate on some throws. Against a top defense and top CB Josh Norman, he has a terrible game, throwing for at least 2 picks while Cam Newton throws for at least 2 touchdowns against a porous secondary. Score: 31-13
MNF: Ravens (1-5) at Cardinals (4-2)
Winner: Cardinals. Both of these teams are coming off games where they lost despite being the favorites. The Ravens have just looked bad so far this year, and that continues here. Score: 38-24
Teams on a bye:
Bengals(6-0)
Broncos(6-0)
Packers(6-0)
Bears(2-4)
My Last Week Recap:
Record-8-6
My Best Pick: Even though it didn't happen, I picked the Browns over the Broncos, and they nearly won.
My Worst Pick: Giants. They got killed by the Eagles on MNF.