One Night, One Game, One Special Moment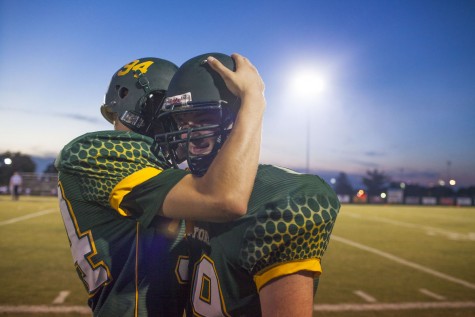 During Greenwood's Homecoming game, on September 18 against Logan County, Blake Kirby went out onto the field and was given the ball to score the two-point conversion after the first touchdown.
The play brought tears to not only the coaches and teachers' eyes but also the student section. Mrs. Terry, who was there watching the game, said, "When Blake scored that two-point conversion, I cried. I was so happy for him and proud of our team and coaches and his parents for making such an amazing thing happen for such an amazing young man. I was only Blake's teacher for 4 weeks for the Arts and Humanities Dance class, but it didn't take long to see what a big heart and work ethic he has.  To see someone make a dream come true is inspiring and made me even more proud to be a member of this amazing Gator family!"  
This moment meant not only a lot to everyone else but also Blake since it was his first time back on the field since freshman year. Although he has been very involved by being a team manager which he says, "makes him feel like a part of the team still."
Blake had to stop playing the sports he loved because he suffers from a disease called Ataxia Syndrome, which causes trouble with movement and your nervous system. This disease caused him to lose his balance quickly and movements less coordinated. This increased his chance of injury on the field so his parents decided to eliminate the possibility of it happening. Although he has been affected greatly by this, Blake has put up a good fight to get back on track and on his own two feet to power through it and improve his pace.
The whole year, leading up to this game, had Greenwood's coaches contacting Logan County's coaching staff to plan this moment out. Scoring this two-point conversion was the highlight of everyone's night, as Coach Seabolt said, "That it was a special moment for everyone attending the game."
The entire Greenwood student body would like to say a huge congrats to Blake on this awesome play!  And if you want to hear more of Blake and his story please visit these websites: The Sporting Times, BG Daily News, and WBKO.
Photo courtesy of Don Sergent