Inside The Life Of Emili Terry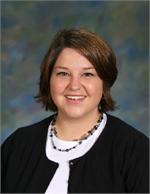 Emili Terry, a Spanish Teacher at Greenwood High School, is a devoted and inspirational educator who puts all of her hard work and motivation towards her job, students, and family. Terry has always had a passion for teaching. When asked in an interview if she always wanted to be a teacher there was no hesitation as she said yes. Terry said, "when I was little, my sister and I would always play school and act as if we were teachers. We actually played it so much that my sister became tired of it due to me wanting to play it so much. That was when I knew I was going to be an educator." As a child, Terry was the fourth of five children and lived with her mother and father. Terry said that she was, "blessed and cursed with siblings at the same time, but was overall very thankful to have them in her life." During the days, she always wanted to be involved in any sport you could think of. Raised in the Catholic faith, sports were about showing how to play the game and relating it back to finding God. Terry loved this and drove her to have motivation in everything she did. When interviewing Terry, you could most definitely tell she was a daddy's girl. That was the person that always provided for her and never doubted anything she wanted to do in life. Sadly, her father has passed away, but Terry always thinks of him and their sweet memories.
As years went by, Terry attended high school at Presentation Academy in Louisville, Kentucky. Terry explained that her high school experience was rough. Looking back, Terry realized that during her high school years she found herself trying to be somebody she wasn't. This was due to her wanting to be friends with everyone and changing the way she acted in order to fit in. However, Terry saw this and decided to be her own person and when she headed to college she would start new. As she got her high school diploma Terry attended Kentucky Wesleyan College. This college was small and consisted of only a few students. On the other hand, Terry said, " this allowed me to get that extra one on one time with my professors" Terry wanted to go into the educational field, but especially wanted to teach Spanish. An interesting fact is when Terry attended the college there was no Spanish field. As a result, the college hired a professor in order to allow Terry to become a Spanish teacher. Once Terry graduated from college she explained that, "there was no fear, but only excitement in starting her new life."
Terry first started out teaching in Hancock County for a total of two years. While she was nervous at first she was also excited to meet new people and make connections. This was when she was introduced to teaching middle school which she said she absolutely loved. However, she was also introduced to teaching elementary, but did not have the same interest as she did for the upper level grades. This was one of the reasons she decided to leave the county and pursue another area. Another reason she left the area was because she met the love of her life and now husband, Paul. Paul and Terry decided to settle their lives in Bowling Green, Kentucky. Terry then applied for a teaching position at Greenwood High School. Terry said, "within five minutes after my interview they had already offered me the job. It felt as if it was fate."
Now as Terry is in her seventeenth year of teaching at Greenwood High School she has had many ups and some downs but does not regret any of it. Terry expressed in the interview that, "the most exciting and liberating thing about being a teacher is the ability to not only be a teacher to my students, but also a mentor in life. When my students walk into my classroom they are children to me even though the students see themselves as teens." She said having the ability to watch her students thrive and mature into young adults is so rewarding. No matter if a student had her last semester or even ten years ago, each and every student knows that they can always call Mrs.Terry. Terry and her husband Paul have two children. There is their eleven year old son named William Paul and their eight year old daughter named Caroline. Terry said, "my family enjoys watching movies and eating popcorn, baking, and finally doing anything that involves Christmas." When asked what Terry's perfect day was she responded with a pretty straightforward answer. "My perfect day would be sleeping in until eight, getting up and eating breakfast with my children, packing up the car and spending the day out by the pool, and finally coming home and having dinner and cuddling up by the couch watching a movie." This clearly shows Terry's appreciation for her family and the time they have together. Overall, Terry is a hard working teacher who never fails to put a smile on her students' faces while educating them as well. Mrs.Terry has touched the lives of so many students and continues to do that each and every day. Any student would be grateful to have the privilege and opportunity to be in the classroom of Mrs. Terry.