The Longest Working Teacher at Greenwood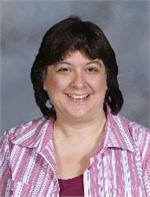 Imagine walking into a brand new job. You walk down the hallway and see your coworkers that you have worked with before. You know everyone you work with and everything is happy. Marla Lee got to experience this. Mrs. Lee has seen every bit of Greenwood except for a few years whenever she took off to raise her children. Mrs. Lee has been at Greenwood since the first day the doors opened. You may think everything is the same as it was 30 years ago. You don't think about the past, you think about the present. I interviewed Miss Lee to see the changes in Greenwood over the 30-year span that the doors have been opened.
The first thing I asked Mrs. Lee was "How long have you worked at Greenwood?" She said she started at Warren Central in 1987 and in 1990 moved to Greenwood. In 1995 she took a break to raise her kids. When I asked her "What are some changes you have seen in Greenwood over the years?" She said that when Greenwood first opened, she had room 300, the last room there was in the school. There was no auditorium and band area. The band area was in the cafeteria. The cafeteria was only half the size it is now. The AG shop was there but it was not an AG shop it was for architecture. The Greenwood sports teams did not win a game for at least 3 years. Academics dominated the school as soon as it opened. When Greenwood opened there were anywhere from 900 to 1000 students, now there are 1300 students enrolled at Greenwood.
Next, I asked about her favorite part about working at Greenwood. She said, "working with students and seeing their education grow when finally understanding something that they could not understand." I also asked what her least favorite part about working at Greenwood is, I figured it would be something along the lines of "the drama students bring" or "when students don't do work and make my job harder," surprisingly the thing Mrs. Lee dislikes the most about working at Greenwood is just the wear and tear on the building, and the overcrowdedness of a full capacity school.
The last question I asked Mrs.lee was "Do you enjoy Greenwood more now or when it first opened?" She said she enjoyed it when it first opened more because Greenwood was a brand new school and teachers actually got to help design the rooms and pick what rooms they wanted.
At the end of the interview, I asked Mrs.Lee "Is there anything you would like to say to the students at Greenwood that you would have liked to hear in high school?" She said,
"No, you will not always use your math or not even remember your math, but you will remember how you will be treated."