INTERNATIONAL DAY FOR RURAL WOMEN
Every year, on October 15th, we celebrate the International Day of Rural Women to honor the significant role these women play in guaranteeing the sustainability of rural households and communities.
The idea for the International Day of Rural Women was mentioned, for the first time, at the Fourth World Conference on Women in China, in 1995 and the first time it was celebrated was on October 15, 2008.
They chose this date because it is the eve of World Food Day, and from that day on, the hard work of women and girls play in rural households and communities has been recognized more and more.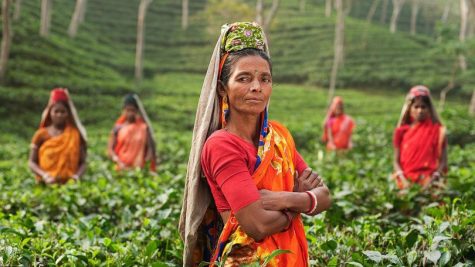 Who are the rural women?
Rural women, or women farmers, constitute one-quarter of the world's population, and most of them live in rural areas where their work is not recognized.
Women not only play important roles in the economy as farmers or shepherds, but they also take responsibility for the prosperity of their families, including food provision and care for both young and old people, and guard the traditional knowledge, which is the way to preserve their culture and habits.                                                                                                                                                                          
However, women around the world, especially in rural areas, are always facing gender-based discrimination that brings them to be less paid and to have an unequal access to education, healthcare, property, financial and other services, even though they are as productive as their male coworkers.
Rural women, as we said before, already face struggles in their daily lives. Now, since COVID-19 hit, it's even harder for them to get through it because they are less likely to have access to quality health services, like medications and vaccines. Their access to health services is limited also because of social and gender-role discriminations, other than the fact that, most of the time, they are isolated and can't easily reach a medical centre. Moreover, their lives and work conditions are compromised because of the spread of misinformation and a lack of access to critical technologies.
However, no matter what, rural women have been at the front lines of responding to the pandemic even though their personal work and life conditions were getting worse.
"The pandemic has also heightened the vulnerability of rural women's rights to land and resources. Discriminatory gender norms and practices impede women's exercise of land and property rights in most countries and COVID-19 widows risk disinheritance. Women's land tenure security is also threatened as unemployed migrants return to rural communities, increasing pressure on land and resources and exacerbating gender gaps in agriculture and food security" it's written in the article "Building rural women's resilience in the wake of COVID-19" on the United Nations website.
This International Day of Rural Women is a really important moment to support rural women to fix their lives after COVID-19 and to teach and prepare them to face future crises.
"We need measures to alleviate the care burden and better redistribute it between women and men, and between families and public/commercial services, especially in the most marginalized remote villages . We need to advocate for sufficient infrastructure and services (water, health, electricity, etc.) to support women's productive and unpaid care and domestic work, which is exacerbated by the crisis.
Promoting and ensuring gender equality, and empowering rural women through decent work and productive employment, not only contributes to inclusive and sustainable economic growth, but also enhances the effectiveness of poverty reduction and food security initiatives, as well as climate change mitigation and adaptation efforts" according to the United Nations.
But, what can we do to help them?
First of all, since we all are really active on social medias, we can spread the news and the articles we read on our accounts using the hashtag  #InternationalDayofRuralWomen, to show these women solidarity. 
Then, if you know someone who works in a rural area, today is the right day to thank her for her hard work and ask her to tell you something about her every-day work routine or interests.
It's important to remember that every action, even the smallest ones, can help to improve these women's lives.