Who is Mr. Spears?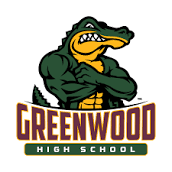 You may have been walking down the halls one day and caught a glimpse of a teacher wearing some sort of unicorn horn…that, my friend, would be the one and only Mr. Reece Spears. Mr. Spears is one of the newest teachers at Greenwood, and he can always be seen dressed to impress with a smile on his face. 
Mr. Spears was born in Paintsville, Ky., and he lived there until he went to college at Morehead State University after graduating high school at Johnson Central. He has a lot of spirit for his hometown, but he also has an excessive amount of spirit for Greenwood. 
After he went to college, he worked at Pikeville University as a college admissions counselor. After he decided he didn't want to work there anymore, he started teaching at another school, then finally decided to work at Greenwood. 
Mr. Spears' mother and brother both work as teachers, and his father works as an engineer, so he's been introduced to the educational industry ever since he was a kid. 
He also has three nieces and nephews, who he absolutely adores. He always has a cute story about them, which we all loved to hear. 
Some people may think that Mr. Spears is the strangest teacher at Greenwood, but I think he's actually pretty cool. He has a strange obsession with unicorns, and uses them in metaphors and similes all of the time. He says that "Marketing is like the unicorn. You've gotta be the unicorn, be unique, be different, stand out. Make a difference." And  I don't think I'll ever forget him saying that, walking around with a unicorn headband on, carrying a unicorn plushie. 
Here's a few cool things about him: 
Favorite Show: Boy Meets World (then); The Curse of Oak Island (now)
Favorite Movie: Spiderman 2 (then); Avengers: Endgame (now)
Favorite animal: Golden Retriever, he thinks they're "so dang fluffy and cute"
Favorite Food: Chicken and Dumplings
Favorite Sports team: Cincinnati Reds (Baseball); Detroit Pistons (Basketball);  Dallas Cowboys (Football)
Interesting facts about him: He plays the guitar and he's been to a Presidential Inauguration. 
So, the next time you see him in the hallway, give him a smile and a high-five, I'm sure he'll appreciate it. 🙂