Greenwood NJROTC Takes On Ohio Drill Competition
This past weekend, February 28 through 29, Greenwood NJROTC competed in the 12th State Region Drill Competition in Hamilton Ohio. NJROTC took a bus load of over 30 cadets to compete in various activities. It was an Aria 3 competition; the entire aria 3 of Navy JROTC schools. Over 16 schools participated in the events. The competition was a two day event starting with the Athletics and the Academics on the first day and the Drill and Color Guard on the second day.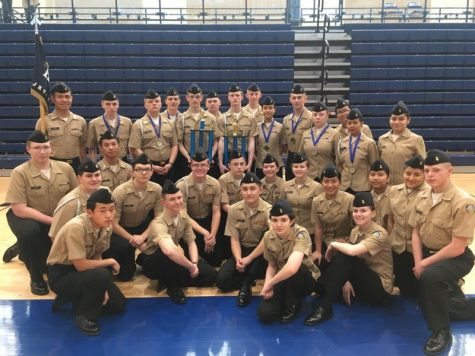 The Academics was a test on JROTC knowledge. Sadly no one from Greenwood placed in Academics.
The Athletic Competition consisted of a cadence of up-down push-ups and sit-ups. There were over 130 competitors and Greenwood cadets placed top ten in both events. The top ten placers were: Mason Clark who placed 3rd in sit-ups, Ashton Bell who placed 8th in sit-ups, Mi Meh who placed 4th in female sit-ups and Samuel Larson who placed 8th in push-ups. JROTC took 4th place overall in the Athletics Competition.
The following day was the Drill, Color Guard, Individual Inspection, Knock Out and Awards day. The first thing done that day was the Armed and Unarmed Drill. Greenwood's Drill team participated in these events and took 3rd place in Armed Drill and 7th place in Unarmed Drill. After the Armed and Unarmed Drill was the Color Guard. Greenwood's Color Guard took 6th place in the competition. After Color Guard NJROTC did Individual Inspection. In Individual Inspection the cadets are inspected individually on many things such as bearing and knowledge. The Cadets took 8th place in Individual Inspection.
The final event was the Knock Out and the Awards Ceremony. This took place at around 4 oclock pm and was the [moment of truth] for many of the cadets. In Knock Out, Cadet Blake Knight took 10th place, cadet Rowan Hunsicker took 8th place and Cadet Hen Mu took 1st place. These competitors were the last left of over 800 cadets.
The Awards Ceremony came directly after Knock Out and completed the competition. During the ceremony, Greenwood was awarded with trophies for 4th in pt, and 3rd in Armed Drill. Also all of the cadets who placed top ten in the pt events and knock out received individual awards.