How Have Music Preferences Changed With Teens Since the 50s?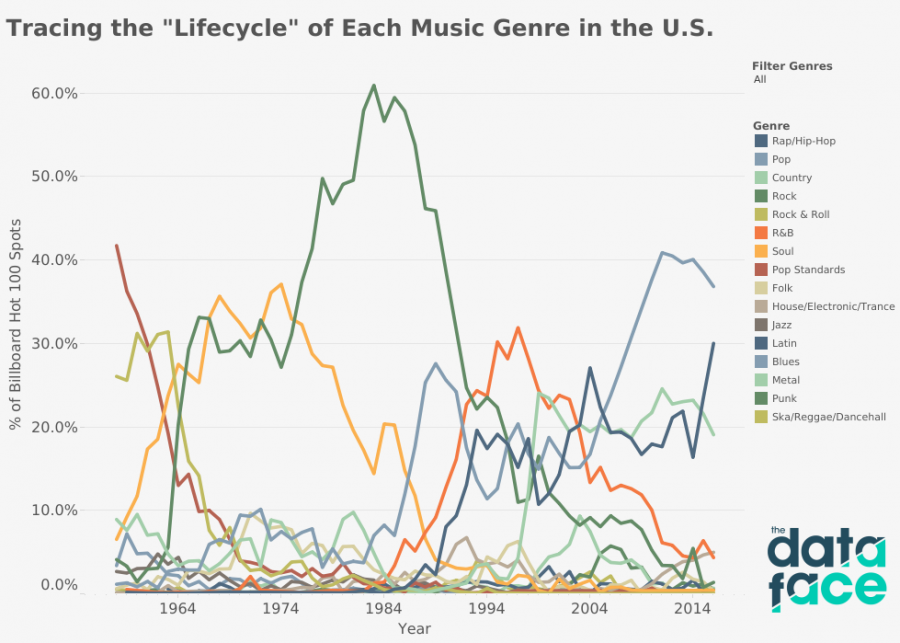 As the years have passed, so has the popularity in types of music. There has been a change in selection of the many music genres in recent years. Teenagers specifically have embraced different genres as musicians have expanded to create more unique sounds that appeal to them in modern day. How have the music interests switched? 
There has been one revolutionary music genre that has gained a popular following since as far back as the 1950s. Teens have enjoyed rock for a while and continue to. Although through the 50s to the late 90s, rock had peaked. Teens introduced to rock in those time periods felt they could better express themselves in society. The classic genre was appreciated for different reasons but it supported how teens, at the time, identified themselves. 
As the 20th century was closing, pop began to surface with teens in the 80s. Rock was still most popular and was by far, but pop was mixed into the music trend amongst teenagers. Pop was recognized as a rather catchy genre in both lyric and rhythm, earning it's fame. Alongside pop, hip-hop had established its own popularity in the start of the 2000s. 
The style of remixing was what hip-hop specialized in, it was refreshing and easily was widespread with early 2000s teens. Hip-hop did not purposefully glorify, but enhanced rebellious aspects within teens. Nonetheless, similar to rock the genre had supported teens to have a sense of belonging. 
The latest type of music teens are often listening to is rap. The genre wouldn't have a significant boost in popularity until the 2010s but since then it has resumed to be fairly popular. Hip-hop is intermingled with rap as it delivers the same style of beats however lyrics become a lot more controversial. The vulgarity though is what attracts  teenagers but not all rap artists produce  songs deemed as inappropriate. Teens have begun to be the target audience for rap due to the newfound fame. 
Music consumption has been enjoyed by teens more than ever thanks to modern technology exposing many genres. On another note, there has undoubtedly been a mental illness crisis with teens in recent years. The variety of accessible music can be a helpful coping mechanism for teens undergoing difficult stages in life. Returning to the subject of music genres, they will certainly change as we do.
Featured image credit: https://public.tableau.com/views/TracingtheLifecycleofEachMusicGenreintheU_S_/GenrePopularity?:embed=y&:embed_code_version=2&:loadOrderID=1&:display_count=y&:origin=viz_share_link