President Trump Delivers Third State Of The Union Address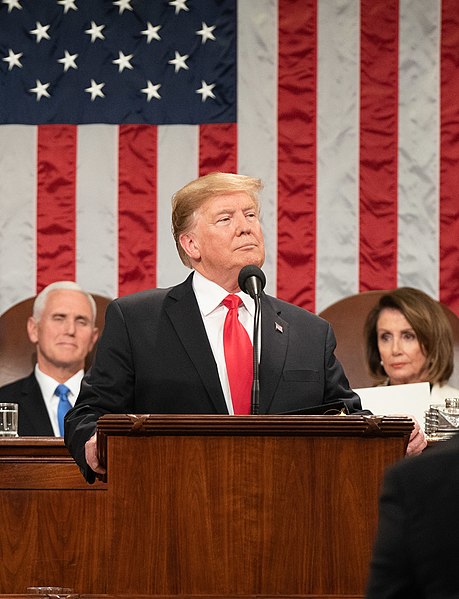 Earlier this week, President Donald Trump gave his third State Of The Union Address. The speech, taking place in the same room where he was impeached in December, had some dramatic surprises. It also was very heavy on reelection themes.
The tension between the Democrats and Republicans was very obvious. At the beginning of the speech, Speaker of the House Nancy Pelosi offered a handshake to President Trump. Trump, however, refused the handshake. At the end, Pelosi is seen ripping up the speech.
When the Presidential Medal Of Freedom was presented to conservative radio host Rush Limbaugh, who was recently diagnosed with late-stage lung cancer, the Democrats chanted "No."
President Trump also reunited a family with Sergeant First Class Townsend Williams, who was home from his fourth deployment in the Middle East.
Trump covered events in the Middle East such as the killing of ISIS leader Abu Bakr al-Baghdadi on October 26, 2019. Trump also addressed healthcare legislation that is the top priority for both parties in the next few months.
Trump recognized one of the last surviving Tuskegee Airmen, retired Brig. Gen. Charles McGee, who just turned 100 years old. Trump promoted McGee to the rank of Brigadier General. "General McGee our nation salutes you. Thank you, sir,'' Trump said.
President Trump also welcomed and spoke to Ellie Schneider, a 2-year-old girl who had been delivered at just 21 weeks, weighing less than one pound. "Ellie reminds us that every child is a miracle of life," Trump said.
Trump also awarded a scholarship to the school of her choice to Janiyah Davis, a 4th-grader who lives in Philadelphia.
"Janiyah I have some good news for you because I am pleased to inform you that your long wait is over,'' said Trump. ''I can proudly announce tonight that an opportunity scholarship has become available, it is going to you, and you will soon be heading to the school of your choice.''