Four Greenwood Beta Members Win State-Level Competitions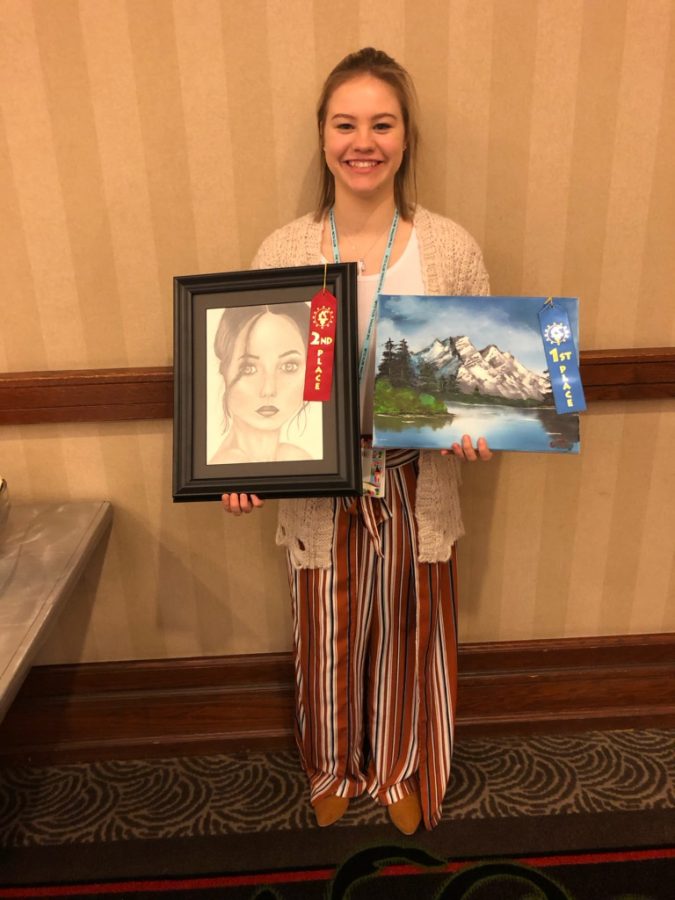 Four members of Greenwood's Beta Club have won competitions at the recent Kentucky Senior Beta Convention, including three first-place wins.
Ella Crowe, Caden Trevor, Camila Archega, and Jonathan Foust all competed at the Kentucky Senior Beta Convention in Louisville from January 19-21, 2020. A variety of competitions occurred throughout the convention center, from artistic showcases like sculpture or performing arts to academic competitions in math, science, social studies, and language arts. 
Greenwood students left the convention with a total of five awards that qualified them to go to the national convention later this summer. Jonathan Foust earned fourth place in mathematics; Ella Crowe placed first in creative writing; and Camila Archega won first place in Spanish. Sophomore Caden Trevor won awards for two art pieces–first place in painting and second place in drawing.
"The painting took me three hours," Caden stated, "and the drawing seventeen."
"Finding out that I'd won was really exciting. They moved the first place winners to a separate table and I kept asking people where mine was thinking someone had taken it, because it wasn't with the rest of the [art pieces]."
"[Overall] it was a fun experience to go to it with my friends…it was a school event, but it was fun to have a little bit of freedom with school. I would go to it again."
All four students will have the opportunity to attend the national Beta convention in Fort Worth, Texas.  There, they will compete with winners from state competitions all around the country.
The national convention will take place at Fort Worth Convention Center from June 15th through the 18th. More information, including nearby hotels, a schedule, and a list of exhibits, is available here.