Greenwood Marching Band Express Emotion in their 2109-2020 Theme
A close look at "VR- Beyond Reality"
The Greenwood High School Marching Band, directed by Nicholas Collar, has previously had some amazing years. The most notable is their show "Infected" that took place in 2015.  The band has had downfalls in its recent years, losing them state for the past four years, yet the band is still hopeful, putting all their effort into a win.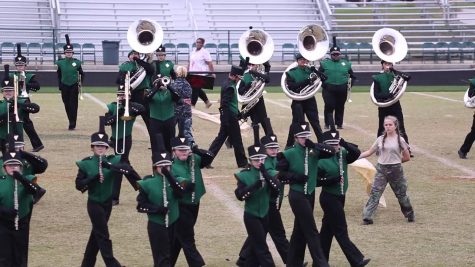 The 2019-2020 program was entitled "VR- Beyond Reality" where the show focused on virtual reality, and its effects. The lack of interpretation; the music and choreography not portraying the theme in a manner that told a story, but showed emotions. Though the setting was there, with metallic glasses, circuit wire flags, technological looking dome props, and a blue/gray color scheme.
The marchers gave their all, but were overpowered by other 4A bands such as South Warren."VR- Beyond Reality" sadly did not take home any 1st place trophies this year, but better luck next time!