NFL Week 14 Predictions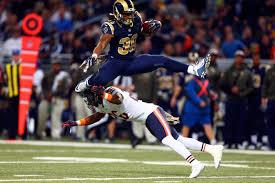 The Fantasy Football playoffs begin this week- but let's not forget that there's actual football going on in week 14. This week is full of games with heavy playoff implications and features several crucial divisional brawls.
Jaguars 16-10 Titans
The Titans somehow fell behind 16-0 to a pathetic Jets team last week, but got their stuff together and rallied to win on a last minute Corey Davis touchdown. In order to slide into the AFC Wildcard, the Titans likely are going to need to win out. The Jaguars, offense, led by Cody Kessler, isn't exactly scary, but Myles Jack and Jalen Ramsey and the Jaguars defense are. Marcus Mariota has less passing touchdowns this year than games played, so Jalen Ramsey and AJ Bouye aren't exactly who he wants to see lined up opposite of his receivers. I fully expect this to be an ugly, unexciting game to kick off Week 14.
Panthers 27-23 Browns
After a hot start, the Panthers are an absolute mess. Coming off a "how did you lose that" game to the Buccaneers in which Cam Newton threw 4 interceptions, the Panthers appear a long shot now to even make the playoffs. A match-up with the Browns could be what the doctor ordered, but a loss to Baker Mayfield would just kill their season. Christian McCaffrey has had a monster year, but no one else on the Panthers has really helped Cam Newton, and Newton himself has become notorious for making bad decisions. With Greg Olsen likely out for the season, the Panthers will need to grind out a win at all costs.
Chiefs 27-24 Ravens
The Ravens have a big decision at their hands that they are probably overthinking. On one side, a promising rookie on a hot streak. On the other side of things, a veteran Super Bowl winner. In my opinion, there shouldn't be a debate. Joe Flacco was 0-3 in his last 3 games before his injury, while Lamar Jackson won three straight and has given the Ravens an identity they didn't have with Flacco under center. The Ravens have shaken up the playoff picture with Jackson after being counted out, so there's no way we should see Flacco out there on Sunday. But regardless of the quarterback situation, they will lose this week. The Chiefs are 10-2 and get Arrowhead, where they haven't lost yet this season. The Ravens have a top defense, but it's nothing that Patrick Mahomes can't beat, even with the loss of Kareem Hunt.
Packers 28-24 Falcons
"What a great match-up! I can't wait to see Aaron Rodgers and Matty Ice in an offensive shootout," Said the 2014 NFL fan. In 2018, though, both teams are struggling to even win 6 games. Of course, the Packers will begin the post-McCarthy era. Aaron Rodgers and Aaron Jones should both be better with McCarthy gone against a struggling Falcons defense. The Falcons, another disappointing team, will be desperate after suffering another loss in what has been a lost season.
Dolphins 13-30 Patriots
Tom Brady has just four touchdowns over the last five games- something that would be concerning if the Pats weren't 9-3. They might not be "the" team to beat this year, but they are still among the NFL's finest.  On the other hand, the Dolphins are somehow 6-6, yet remain one of the most mediocre teams on both sides of the ball, as they don't have a top 20 offense nor defense. I'm expecting Brady to end his low touchdown streak Sunday.
Redskins 24- 23 Giants
No, the Giants will not make the playoffs. Sorry. I don't see Saquon Barkley and Odell letting the team down, but let's not forget that a washed up Eli Manning is under center and a pathetically bad offensive line is in front of him. Even with Mark Sanchez under center, I like the Redskins to pull this one out.
Saints 55-30 Buccaneers
It might sound stupid to predict a team to score 50 points, but if there's ever a time for that, it's on one of the best offenses of all time taking their anger out after a lackluster performance on one of the worst defenses in the league. I fully expect for the Saints offense to run wild against a bad defense without K'Won Alexander.
Jets 17-24 Bills
Josh Allen literally can be Drew Brees on one play and then Vince Young on the next. He has one of the worst receiving cores in the league, yet he has made some of the best plays this season, and I think that with experience and hard work, he can turn out to be a great quarterback.  He takes on a pathetic Jets team on Sunday, and he should show some of his potential and get the Bills a win.
Texans 22-20 Colts
Can anyone stop the Texans? If anyone has a chance to end their 9 game win streak, it's going to be the Colts, as they close out their season with some soft match-ups. But the Texans match-up well with the Colts in almost every aspect. Marlon Mack shouldn't have any room to run, and despite the Colts offensive line showing extreme improvement this season, JJ Watt and Jadeveon Clowney should do their favorite thing: sack Andrew Luck. Lamar Miller is on a bit of a hot streak, and a match-up against a lackluster secondary could be what Deandre Hopkins needs to start another touchdown streak.
Chargers 41-17 Bengals
With the most impressive comeback of the year, the Chargers rallied to get a huge win SN against the Steelers. The Chargers now have as many wins this season as Phillip Rivers has kids, which is an accomplishment that is more impressive than you'd think. They are just one game back of the AFC leader Chiefs, and with match-up next week they have a chance to overtake the AFC West. Of course, first they have to "deal" with the Bengals, who are pretty much this years Browns. Without AJ Green and Andy Dalton, and featuring one of the worst defenses in the league, the Bengals should get absolutely annihilated by an elite Chargers team.
Broncos 23-20 49ers
The Broncos are now 6-6 after winning 3 straight, including wins over the Chargers and Steelers. Phillip Lindsay is giving Saquon Barkley some serious competition as best rookie running back/overall rookie of the year. And of course the Broncos still have parts of the feisty defense that won them a Super Bowl. The Broncos have caught fire at the right time, and perhaps we could see 3 AFC West teams in the playoffs.
Cowboys 25-27 Eagles
One of by upset picks this week might not make much sense. When these two teams played in week 1o, Ezekiel Elliott ran all over a Eagles defense that has regressed since last year, and won 27-20. The Cowboys started their 4 game winning streak in which included the dismantling of the seemingly match-up proof Saints offense last Thursday night, so it doesn't make sense to bet against them. But I believe that the Eagles, who have a solid defensive line going against an injured Cowboys offensive line, will bring their A game with their season on the line. Carson Wentz still has to prove that the Eagles could have done even better in the playoffs with him last year.
Steelers 31-21 Raiders
The Steelers have only beaten one winning team this year. Thankfully for them, the Raiders are far from .500. The Raiders deserve credit for not quitting on Jon Gruden, and I think they will continue to fight this week. But ultimately, they have no chance against AB and Big Ben. The Steelers need this win to remain on top of the AFC North.
Lions 20-19 Cardinals
In a game with two teams who have suffered lackluster seasons, I think the Lions running game will win them their 5th game of the season.
Rams 26-23 Bears
As much as I'd love to use the "California team playing in cold weather" logic, it simply doesn't matter in a situation like this. The Rams have already won one game below 35 degrees, and the fact is that they are better than a team that could be led by the mistake prone Chase Daniel. Todd Gurley going against the likes of Khalil Mack and a stiff Bears defense will be interesting, but the real beatable part of the Bears rock solid defense is their secondary. If the Rams are going to win this game, Jared Goff is going to need to make some big throws, something he might struggle with as his performances on the road have been not as good as those at home.
Seahawks 30-27 Vikings
In a big Monday Night game, there's a lot at stake. But never bet against the Hawks at home, right? While the Vikings has been rock solid as of late, they have shown vulnerability earlier this season- they aren't a group that are match-up proof, especially against a hot Russell Wilson at home.