Siberian Husky Sniffs Out Owner's Cancer Three Times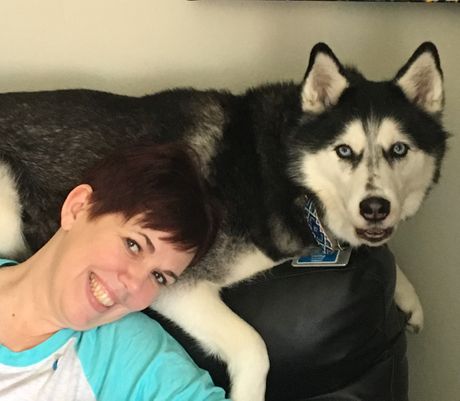 Marine veteran, Stephanie Herfel, says that her Siberian husky discovered her ovarian cancer three different times.
Two years after Herfel got her dog, Sierra, from her son in the Air Force, the dog started to act strange around her.
Herfel had been experiencing abdominal pain so when Sierra started vigorously sniffing her abdominal area it worried.
"She put her nose on my lower belly and sniffed so intently that I thought I spilled something on my clothes. She did it a second and then a third time. After the third time, Sierra went and hid. I mean hid." Herfel told the Journal Sentinel.
After seeing Sierra so afraid Herfel decided to visit her gynecologist. A few weeks later Herfel was diagnosed with stage 3C ovarian cancer. She underwent a hysterectomy and lost her spleen in the process.
Two years later, in 2015, Sierra began to act strange again. Herfel discovered that once again her cancer had returned.
The situation happened once again in 2016.
Herfel wrote on Facebook, "Sierra smelled my cancer not only the first time by smelling my belly and hiding, but hid on my two recurrences where my scan showed an area of suspicion and I had to wait 3-4 months for another scan to confirm – she was right!"
Herfel told the Journal Sentinel that she eventually plans on writing a book about her relationship and experience with Sierra.