Mother Risks Her Life For Her Baby When Fire Hits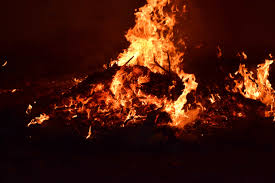 Recently a mother had to choose a life or death situation for her newborn child during a wildfire, Rachel Sanders gave birth to a healthy baby boy via-c section at a hospital in Paradise, California. During this time Rachel had to prepare for a heartbreaking choice yet to be discovered. This happened  November 8, 2018 in Butte County Rachel had to evacuate from the Campfire, and during this time Rachel was placed in a wheelchair, Rachel was rushed to the local hospital.
On the way to the hospital the guy driving the car was a hospital employee at the time. The guy driving was named David, and they were attempting to flee, but the fire was too intense to get through. Even the fire would get into the middle of the road. When this was happening Rachel was unable to run or walk from her recent surgery, and keep in mind that her and David were strangers, but she made a dramatic request for David. In this moment Sanders said " I want you to take the baby and go as far as you can."
On Monday Sanders was speaking to CNN from Chico, and they said it never turned out like that. Rachel, David, and baby Lincoln ended up driving 20 more miles in about 9 hours to safety on the road. Rachel reported that she thought she wasn't going to make it in time and she said she was very scared. This is isn't the first time Butte County has heard of these life or death situations, During the wildfire Rachel and David along with the baby had to turn around many times during the fire. In this moment of time David and Rachel are happily home and thankful for being alive and having baby Lincoln at home and safe.