Dumbo is Coming at You In Live-Action!
Dumbo and other Disney films are coming at you live-action style!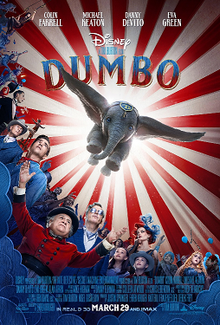 As you know, Walt Disney created a young circus elephant in 1941. The big floppy ears stole our hearts, and they will once again. On March 2019, Tim Burton will bring the story of the elephant to us in live-action. We will be able to see the bullied elephant come to life again. Dumbo won't be the only live-action film to come.
Aladdin is on its heels in May, followed by July's The Lion King. There's also a Lady and the Tramp announced for Disney Plus, a Mulan film coming in 2020, as well as movies of The Little Mermais, Lilo and Stich, and the villain of 101 Dalmations Cruella De Vil. May the classics come to life again!