Eric Smith: a Marine, a Firemen, and a Paraplegic
 My brother Eric Smith was born September 11, 1976. He has two brothers, Tyler Smith, the second oldest, and me, Bennett Smith, the youngest.  
Eric was born here in Bowling Green, Kentucky, but moved to Oakland, Kentucky, when he was two. He lived in Oakland for 10 years and then moved back to Bowling Green.
Throughout 7th, 8th, 9th, and 10th grade Eric ran cross country; he also participated in karate for 8th, 9th, and 10th grade. For 11th grade, he ran track where he did the high jump and the 400-meter dash and played soccer in 12th grade.
When Eric wasn't playing sports, he was helping our dad with hauling hay and raising tobacco. The first time he started raising tobacco was when he was eight years old.
By 15, Eric had raised over ten thousand dollars to buy his first car, but within six months he wrecked his car and had to pay for it. Our dad told him that he had to find a way to get to and from school  and he decided to sell his car to buy a Jeep for $2,800.
At 17, he went to Parris Island to enlist in the Marines. He graduated from boot camp and went to Camp Geiger, North Carolina, for infantry school. He graduated from that and then went to 1st Battalion, 2nd Marines Division at Camp Lejeune, North Carolina.
Eric was on active duty from 1994 to 1998. He went to Japan, Panama, Korea, Africa, Tunisia, Spain, Italy, and Greece. Eric said that every place he went to was completely different. That Africa was extremely hot; Japan and Korea were cool because of the shopping; that Panama was very dangerous because everything is venomous; and that Spain, Greece, and Italy had very beautiful women.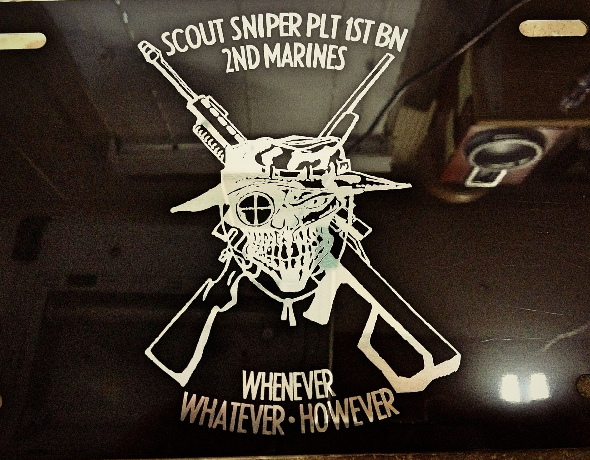 After the military, Eric went to college at WKU. He didn't know what he wanted to major in, but he decided that he wanted to pledge Sigma Chi fraternity. He met people through the fraternity that were majoring in corporate and organizational Communication and decided he wanted to do that.
He went to a lot of public speaking classes for the major and had to write a lot of speeches. He graduated from Western in 2002 and interviewed for IBM; out of many people they only picked two and one was Eric.
The people Eric met in the Marines he still knows today, he said. "As far as the people I met in the Marines, we grew friendships that will last forever. The guys I met while in the fraternity I still stay in touch with as well, just on a different level."
Every other year, Eric holds a platoon reunion at his farm for STA ½. STA stands for surveillance and target acquisitions and around 30-50 guys come from around the world. They have a tight bond that will last forever.
Eric interviewed for Wyeth Pharmaceuticals while he worked at a cheese and spirits shop. He met his future wife Danielle while working at the cheese and spirits shop. He didn't get the job at the Wyeth though because he had no past sales experience.
Since Eric couldn't get the job at Wyeth he decided to go into Enterprise Rent-a-Car. He worked there for over eight months and said he did very well while he did it. He went back to Wyeth and interviewed six times and got the job.
After getting laid off after five years due to downsizing, Eric interviewed for Apria Healthcare for selling medical equipment. After working for Apria for a couple of years, he decided to go back into pharmaceutical sales.
He got married in 2007 to his girlfriend Danielle, proposing to her after running in the Marine Corps marathon in Washington D.C.
He worked for Inventive pharmaceutical for 1 year, then got promoted to a specialty representative for Beringer Ingleheim. He worked another couple years for Beringer before going back to Medical device. He worked inside of operating rooms as a sales representative for Johnson and Johnson Deputy Mitek.
He got tired of his sales career and decided he wanted to become a fireman. In 2013, Eric became a fireman and in 2014, he had Rogan, my nephew. He worked for the Fire Department for four years.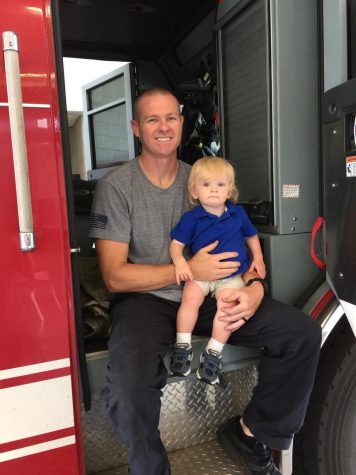 Eric had to know how to pump water to a fire, be able to drive the fire truck, throw a ladder in order to climb into a house, how to be very good with ropes and knots. Eric even had to be comfortable in the water and know how to swim for water rescue. He also had to know how to be an EMT to that he could help save lives in car accidents and different types of events. He even needed to know how to use tools to cut people out of a car.
In 2017, though, Eric was skiing in West Virginia and hit a tree. He broke his C6-7 spinal segment, his T1-2 spinal segment, and bruised his C7 spinal cord.
Eric's life changed completely. He said that if it wasn't for Danielle he would be living in a nursing home until he could take 100% care of himself.
Something I really took out of what Eric said is, "The only good thing that has come out of this for me is it has deeply increased my faith in the Lord and the love I have for my wife and kids."
Eric said when talking about his wife, "Seeing what she goes through on a daily basis for our family shows not only how strong of a person she is, but how much love shines through. She is most definitely my rock."
His accident has taught him to live every moment to the fullest and try to find positive in every situation. My brother's accident will live with him for the rest of his life, but he will always be humbled by everyone's acts of kindness and prayers.
My brother no matter what will always push forward and always stay motivated. He will always seek to push forward, to live by his Scout Sniper motto whenever, whatever, and however.