Greenwood Volleyball Finishes Successful Season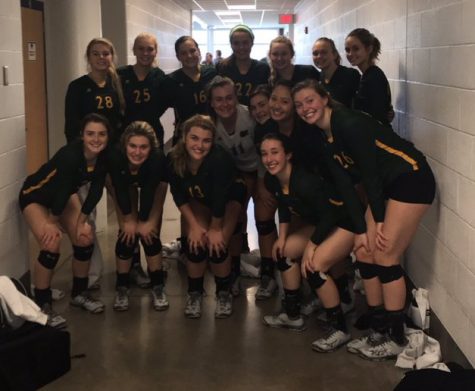 The Greenwood High School volleyball team can now add yet another trophy and list of achievements to our school's long history of success in athletic programs.
Finishing the season with one of the best Greenwood volleyball records since 2008, the Lady Gators were far from average this year.
With an unbelievable 30-5 regular season record it was no surprise when Greenwood volleyball won the district and regional championship, securing an impressive spot in the Kentucky High School Athletic Association (KHSAA) volleyball state tournament.
After defeating our hometown rivals, South Warren High School, in both the district and regional tournaments, it was devastating to come up short in the state tournament against Mercy Academy.
However, finishing in the elite eight of the KHSAA state tournament was still a bittersweet ending for the four seniors graduating this year (Emmie Bender, Julia Kennedy, Lauren Pearson, Carly Miller).
"It was really exciting. We've gone to state before, but I think this year our team was a lot more bonded and so we had more fun." Emmie Bender told me.
Bender, who plans to play college volleyball at Transylvania University, agreed that the Greenwood's volleyball season was a success. "This is probably the most successful season I've had in my whole high school career." 
"
I love my teammates and I will never forget them."
— Emmie Bender
Like in any KHSAA athletic program, some players receive district, region, or state awards recognizing their above average performances.
On Thursday, October 12, four of Greenwood's players were recognized by being placed on the District All-Tournament team: Julia Kennedy, Katie Howard, Annee Lasley, and Anna Hewitt.
Kennedy, Howard, Hewitt, and Lasley were also named to the 4th Region All-Tournament team, with Lasley being recognized as the most valuable player. Howard was also awarded with the volleyball player of the year by the 4th Region Athletic Directors Association.  
After falling short to Mercy in the KHSAA state tournament, hearing that Howard was also selected for the 2018 KHSAA State Volleyball Championship All-State Tournament team made everyone feel happier.
Bender was selected for the second All-State Tournament team by the Kentucky Volleyball Coaches Association (KVCA). Howard was recognized as a honorable mention.