Marvel Fans Mourn the Loss of Beloved Stan Lee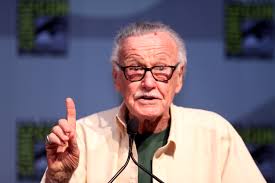 Stan Lee, legendary comic-book writer, editor, film executive, producer, actor, and publisher died at the age of 95 on November 12, 2018.
This icon created some of the most beloved characters in the Marvel universe, including the X-men, Iron Man, Thor, Deadpool, and Black Panther. He also co-created Spider-Man, Doctor Strange, and Daredevil.  
Like some of his heroes, Lee rose from humble beginnings. Born "Stanley Martin Lieber" to Romanian immigrants in 1922, Lee grew up in Harlem and The Bronx.While his family struggled through the Great Depression," Lee bore witness to the golden age of Hollywood while wearing a movie-theater usher's uniform",according to Sean Howe, author of "Marvel Comics: The Untold Story ". 
Decades later, he would grace the screen himself — as part of the massive film empire built from heroes he helped create. Lee spent time at the Army Training Division in Astoria, Queens and briefly worked as a lineman in the Signal Corps, before Uncle Sam recognized his prowess as a scribe and put him to work as a technical writer.
"We are deeply grateful for his service to our country and for his tremendous support to service members. #Excelsior!" the US Army tweeted Monday, a nod to Lee's signature sign-off in countless Marvel Comics letters pages.
"He was almost 40 when Marvel became a real success — where he would admit to people at parties what he did for a living,"  said Howe. 
By the 1980's, Lee moved west to begin the long and arduous fight to get comics onto the big screen.  Years later, he practically revolutionized modern superhero films and fashioned himself into a comics ambassador, endearing himself to the newer generation with his regular cameos in the Marvel films.
He will be missed tremendously and will be mourned by millions. Marvel fans across the world have been posting amazing tributes to this marvelous icon who has taught us all that that no matter who we are or what we do, we are all capable of being heroes.