Reduce, Reuse, Recycle Refreshments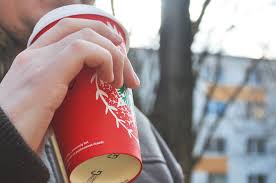 Starbucks red holiday cups — the unofficial retail marker to the start of the holiday — are back this Friday, November 2.
This year's holiday cup line also includes an environmentally-friendly reusable red cup. Customers who buy a seasonal holiday beverage on November 2 will get a free reusable plastic cup.
The reusable cup does not feature the new 2018 designs, but rather has a white lid and a Starbucks logo on a red background.
From Nov. 3 through Jan. 2, any customer who brings in their reusable cup after 2 pm will receive 50 cents off a grande holiday beverage.