Songs I've Obsessed Over in 2018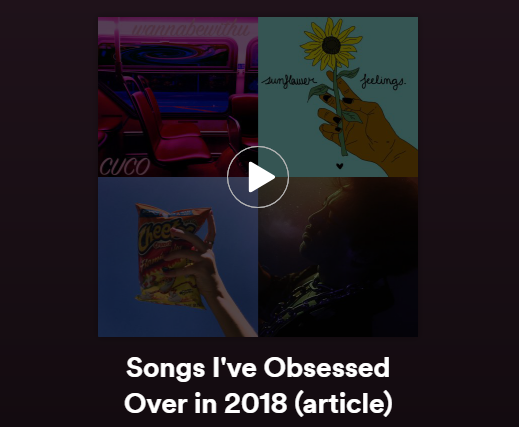 Over this year, music has been a huge focus in my life. I have been exploring all different types of genres, and building up my favorite song list. Recently, I wiped my song library to restart with the songs I still love; currently, I have over 300 songs in my library that I have downloaded over the last month.
Out of these songs, I have compiled them into a categories, with one list entitled "Songs I've Been Obsessed Over in 2018." This list consists of songs I've been in love with, put on replay, and/or recommended to all my friends, at least once each; I've also added some songs you can 'party' to (the trap stuff), and my favorite throwback songs. Here is that list.
Many songs may contain explicit language.
Click here to go to a Spotify playlist with all songs included:
Songs to help you chill out; the aesthetics:
– "Demons" by Joji; Genre -R&B/Soul, Released in 2017
– "Lo Que Siento" by Cuco; Genre – Chill Rock, Released in 2018
– "Sunflower Feelings" by Kuzu Mellow; Genre – Chill, Released in 2017
– "Yeah Right" by Joji; Genre – R&B/Soul, Released in 2018
– "Flamin' Hot Cheetos" by Clairo; Genre – Alternative/Indie, Released in 2018
– "Amor De Siempre" by Cuco; Genre – Dream Pop/Rock, Released in 2016
– "Is It too Much to Ask For" by Jordan Maxwell, feat. Shiloh; Genre – Chill, Released in 2017
– "Will He" by Joji; Genre – R&B/Soul, Released in 2017
– "Lover is a Day" by Cuco; Genre – Dream Pop/Rock, Released in 2016
Songs to get you in a fun mood; for the happiness:
– "Dead to Me" by Kali Uchis; Genre – NeoSoul/Reggaeton, Released in 2018
– "Mr. Brightside" by The Killers; Genre – Rock, Released in 2004
– "Love Galore" by SZA, feat. Travis Scott; Genre – Contemporary R&B, Released in 2017
– "Never Enough" by Rex Orange County; Genre – Indie Pop, Released in 2017
– "Smother Me" by Olivia Nelson; Genre – R&B Soul, Released in 2018
– "Drew Barrymore" by Bryce Vine; Genre – Hip Hop/Rap, Released in 2018
– "Doves in the Wind" by SZA, feat. Kendrick Lamar; Genre – Contemporary R&B, Released in 2017
– "Sunflower" by Rex Orange County; Genre – Indie Pop, Released in 2017
– "The Light is Coming" by Ariana Grande, feat. Nicki Minaj; Genre – Pop, Released in 2018
– "COPYCAT" by Billie Eilish; Genre – Alternative/Indie, Released 2017
Songs to put you in your feelings; for crying all night:
– "Falling Down" by Lil Peep and XXXTentacion; Genre – Hip Hop/Rap, Released in 2018
– "Cherry" by Lana Del Rey; Genre – Alternative/Indie, Released in 2017
– "Call Out My Name" by The Weeknd; Genre – R&B/Soul, Released in 2018
– "Hostage" by Billie Eilish; Genre – Alternative/Indie, Released in 2017
– "Daddy Issues" by The Neighbourhood; Genre – Alternative/Indie Rock, Released in 2015
– "Broken" by Lund; Genre – Hip Hop/Rap, Released in 2016
– "I Fall Apart" by Post Malone; Genre – Contemporary R&B/Alternative Rap, Released in 2016
– "Video Games" by Lana Del Rey; Genre – Alternative/Indie, Released in 2012
Songs to get lit to; for the hype:
– "Unique" by GoldLink, feat. Anderson .Paak; Genre – Hip Hop/Rap, Released in 2015
– "Mo Bamba" by Sheck Wes; Genre – Hip Hop/Rap, Released in 2017
– "Big Bank" by YG, feat. 2 Chainz, Big Sean, Nicki Minaj; Genre – Hip Hop/Rap, Released in 2018
– "Plain Jane" by A$AP Ferg; Genre – Hip Hop/Rap, Released in 2017
– "All Mine" by Kanye West; Genre – Hip Hop/Rap, Released in 2018
– "Nonstop" by Drake; Genre – Hip Hop/Rap, Released in 2018
– "Barbie Dreams" by Nicki Minaj; Genre – Hip Hop/Rap, Released in 2018
– "Chun Li" by Nicki Minaj; Genre – Hip Hop/Rap, Released in 2018
– "Monster" by Kanye West, Jay Z, Rick Ross, Nicki Minaj, Bon Iver; Genre – Hip Hop/Rap, Released in 2010
– "WORKIN ME" by Quavo; Genre – Hip Hop/Rap, Released in 2018
– "FEFE" by Tekashi 6ix9ine, Murda Beatz, Nicki Minaj; Genre – Hip Hop/Rap, Released in 2018
Songs for a throwback; the nostalgic ones:
– "Promiscuous" by Nelly Furtado, feat. Timbaland; Genre – Pop, Released in 2006
– "Toxic" by Britney Spears; Genre – Pop, Released in 2003
– "Wannabe" by Spice Girls; Genre – Pop, Released in 1996
– "Say My Name" by Destiny's Child; Genre – Contemporary R&B and Pop, Released in 1999
– "Kiss Me Thru the Phone" by Soulja Boy, feat. Sammie; Genre – Hip Hop/Rap, Released in 2008
– "Fire Burning" by Sean Kingston; Genre – Pop, Released in 2009
– "Whatcha Say" by Jason Derulo; Genre – Contemporary R&B, Released in 2010
– "DJ Got Us Fallin' in Love" by Usher, feat. Pitbull; Genre – Pop, Released in 2010
– "Airplanes" by B.o.B, feat. Hayley Williams; Genre – Alternative/Indie and Pop, Released in 2010
– "One Wish" by Ray J; Genre – R&B/Soul, Released in 2005
– "Heartless" by Kanye West; Genre – R&B and Electropop, Released in 2008
– "Sexy Can I" by Ray J, feat. Yung Berg; Genre – Contemporary R&B, Released in 2008
– "Replay" by Iyaz; Genre – Contemporary R&B, Released 2010
– "Tik Tok" by Ke$ha; Genre – Pop, Released in 2010
– "Down" by Jay Sean, feat. Lil Wayne; Genre – Contemporary R&B, Released in 2009
– "Love Like Woe" by The Ready Set; Genre – Pop, Released in 2010
– "DONTTRUSTME" by 3OH!3; Genre – Electropop, Released in 2008
– "Bulletproof" by La Roux; Genre – Electropop, Released in 2009
– "Womanizer" by Britney Spears; Genre – Pop, Released in 2008
– "Baby" by Justin Bieber; Genre – Teen Pop, Released 2010