Hurricane Michael Surges Into a Category Two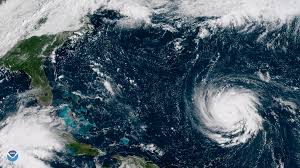 The north side of Florida's Gulf Coast is bracing for impact as the Category Two hurricane, Michael, approaches quickly.
The National Hurricane Service predicts that on Wednesday, when Michael hits the Gulf, the hurricane will become a Category Three. The winds have reached up to 110 miles per hour and when it breaks landfall, should increase as it gets closer to the coast.
The severe threat of Michael has caused for evacuations to occur on the northern part of the gulf.
Many events, including schools and fights, have been canceled due to the impending danger that Michael has instilled.
Michael is supposed to stretch up to the southeastern part of the United States, hitting close to the same path and states that are recovering from Hurricane Florence, which caused extensive damage just months ago.
Florida, Alabama, Georgia, the Carolinas, and the southern part of Virginia are the states that maybe feeling the after effects of this hurricane. The hurricane may create storms for these states, along with flooding.