Khabib Nurmagomedov Dominates Conor McGregor In the Ring, Chaos Follows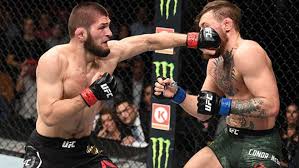 On Saturday, October 6, Khabib Nurmagomedov (26-0) fought Conor McGregor (21-3) in probably the most anticipated fight in UFC history. The fight took place in Las Vegas and had a very intense lead up that featured both parties talking down on each other.
Both rounds 1 and 2 were won by Khabib, as McGregor was controlled on the ground, allowing Khabib to register two takedowns. The third round saw things go McGregor's way, as the Irish native landed 44 of 62 total strikes compared to Nurmagomedov's paltry 17 of 39. Khabib failed his lone takedown attempt, and McGregor walked away with the round.
By the fourth round, both fighters looked fatigued. Nurmagomedov scored one takedown and one guard pass, while his submission attempt-a neck crank- ended up winning the fight.
Immediately afterwards, Nurmagomedov jumped out of the ring and went after Conor's team. While he was doing this, a member of his team jumped into the ring and threw punches at McGregor while he was distracted. Security broke things up, but the whole scene made the UFC look pretty bad. Fans didn't help, with many McGregor fans throwing objects such as beer and Irish flags at Nurmagomedov, creating a scene reminiscent to that of the infamous Pacers-Pistons brawl in 2004. Due to the chaos, UFC president Dana White decided not to give Nurmagomedov the UFC Lightweight belt.
In addition to the immediate aftermath, videos have surfaced online of Russian Nurmagodev fans fighting Irish McGregor fans while leaving the fight. A video in particular of a McGregor fan has gone viral, as in the clip he got knocked out by a Nurmagomedov fan.
As of today, Nurmagomedov still hasn't received his belt or been given his pay cut for the fight. White and the UFC is going to decide when/if to give him them soon. At the very least, a suspension for Nurmagomedov is likely to be enforced.
McGregor has already asked for a rematch, and we should be getting one in the future.